This post may contain affiliate links which may give us a commission at no additional cost to you. As an Amazon Associate we earn from qualifying purchases.
Annabel Candy is back again today to highlight her book, Successful Blogging in 12 Simple Steps, and help us to focus on how format your blog. Formatting your blog properly is critical to ensuring that your readers want to return again and again. Read on for a great exercise that will ensure your blog format is in tip-top shape!
It's harder to read on a computer screen than on paper. If your blog readers struggle to read your posts, then they won't spend long on your blog. Make it easy for your readers to get the information they want from your posts by designing your blog for easy reading.
Blog Format Check List:
Here is a quick list of items you'll want to make sure you have covered when it comes to your blog format:
Column Width: Is the column width too wide? If your columns are so wide that your text stretches halfway across the screen, people can easily lose their place when reading.
Font: Is the font easy to read? Sans serif fonts (without any squiggly bits) are generally easier to read on screen, in particular Verdana. My travel blog, Get In the Hot Spot, uses the serif font Georgia (with squiggly bits), which is also designed for easy reading on screen. Play it safe and use a sans serif font most people have on their computers, such as Verdana, Geneva or Arial.
Background Color: Is the background color right? Make sure there's good contrast between the text and the background. Most blogs have dark text on a light background. Be wary of using a solid white background: they can create a harsh glare. Pale grey or pastels offer a more restful read.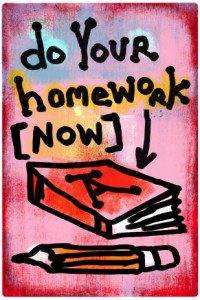 Activity
Let's put this advice into action! Choose an old blog post that deserves more attention than it originally got and rework it.
Follow these steps:
Come up with a compelling new post title.
Edit the post title to make it more concise, removing all unnecessary words.
Add sub-headings to break up the text and make it easier for people to scan before reading.
Check the language – does it sound natural or too formal? Rewrite it as if you were talking to a friend.
Add numbered or bullet-pointed lists where you can to make the post easier to scan, read and understand.
Shorten the paragraphs to add more white space and make the post easier to scan.
Take time to find a really compelling image which adds to your message and will make readers want to read on.
If you'd like, you can change the date of publication so that the updated blog post displays first on your blog and looks like a new post.
Share your feedback in the comments below or write a blog post and share the link to it in the comments. We'd love to follow your progress and get inspired by what you're doing.
More From the Successful Blogging Series
Get 35% Off the Successful Blogging Ebook Now!

If you're a blogger, then you know how much information there is about blogging out there and how hard it is to get started. The whole process is overwhelming and confusing, which is why Annabel wanted to make it easier. To help people set up or relaunch a blog that will help them reach their goals and get the results they want, Annabel wrote Successful Blogging in 12 Simple Steps. It's main goal is to help other small business owners and writers tap into the power of blogging. If you'd like to check out the book and receive 35% off the cover price, then simply use the code, 35off, here.
About Annabel Candy

Annabel Candy is a copywriter, web designer and teacher with an MA in Design for Interactive Media and 16 years experience in online marketing. She set up her first blog Get In the Hot Spot in 2009 and has written for Zen Habits, Copyblogger and Problogger. Annabel shares her blogging tips at Successful Blogging and writes travel stories and personal writing at Get In the Hot Spot.