This post may contain affiliate links which may give us a commission at no additional cost to you. As an Amazon Associate we earn from qualifying purchases.
When it comes to your blog marketing strategy, do you have one? And if you do, are you avoiding the most common mistakes that bloggers make when marketing their blog?
In this post, you'll discover three secrets to enhancing your social media marketing for your blog and jump starting your big break!
So, what exactly do we mean by diving into your blog marketing strategy?
It's that once-in-a-lifetime chance to turn your blog into a real business. You have great content, you're working your blog marketing strategy mojo and you're ready – you've been ready. You know you have what it takes, but something somewhere is crumbling your path.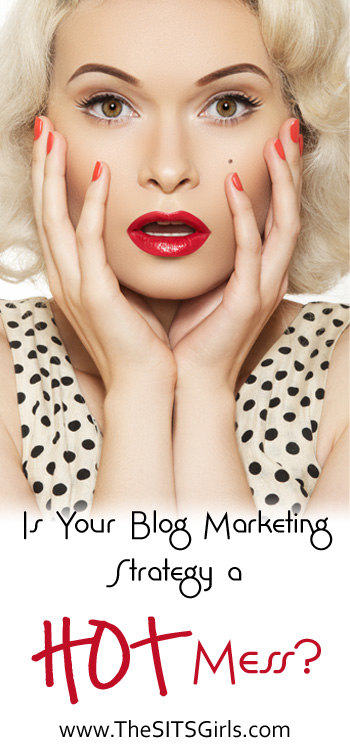 Top 3 Blog Marketing Mistakes to Avoid
First, let's get a few things straight. Your blog IS capable of becoming that once-in-a-lifetime chance. It CAN be a dream come true and it CAN be a catalyst to open doors you never dreamed of, but it will take regular refining of your blog marketing strategy to avoid potential disasters along the way.
Creating great content is 30 percent of the equation, having a blog marketing strategy and promoting your blog is the other 70 percent. So don't miss this chance. YOU CAN DO THIS.
You may just need a few reminders and a little motivation along the way!
Blog Marketing Strategy Mistake #1
You have no plan. You're flying by the seat of your pants in anticipation of all the fun milestones and possibilities without a concrete, deliberate way of achieving them.
You may be spending hours a day marketing your blog, but your blog marketing strategies aren't reaching their potential.
Fix: Any effective blog marketing strategy should have three essential components: audience, interaction, milestones
Define your audience and where they hangout. The more targeted you can be the more powerful results you're going to get. In other words, your blog promoting strategies shouldn't be tied to courtesy. For example, people often ask me how if the hours of blog commenting and social interaction are really worth the investment.
My answer to them is yes and no.

Blog commenting and social interaction – within the bounds of a deliberate plan – YES!
Blog commenting and social interaction just to 'build a link' or increase your presence – NO.
When you comment, participate in forums and other social platforms, make sure every move you make is focused on interacting with people who can help you move your brand forward and vice versa. That is part of a plan – knowing WHO pulls more weight and WHERE to find them and interact with them.
You could, and may have already, spent hours and hours just commenting and interacting hoping that your mere presence was sufficient to market your blog and drive more traffic. Make a plan. Know your who and where and focus your interaction to deliberately move you towards reaching milestones you've set along the way.
Blog Marketing Strategy Mistake #2
You have a plan, your marketing is deliberate, but you aren't regularly evaluating your results
When was the last time you were on Pinterest and thought to yourself – I HAVE to make that recipe!

Can you imagine gathering these incredible new recipes, getting the ingredients, slaving in the kitchen for a delicious end product and then NEVER tasting it!?!
That's exactly what happens with your blog marketing strategies when you don't take time to regularly evaluate and make adjustments. You invest the time and energy, make connections and then neglect to dig in and enjoy! Some of those new recipes may need a few adjustments, a little cinnamon here and nutmeg there, and they would be perfect, just to your liking.
So is the case with your blog marketing strategies. They are going to need a little tweaking to get the results that you want. Tracking, testing and adjustments are necessary if you want optimum results.
Fix: Test, Track and Adjust
You should be getting measurable results for every blog marketing strategy you apply. If you aren't getting results, move on. That' makes total sense, right? Thank you Captain Obvious! But the problem comes when you don't know what's getting results, or if you are getting results, what's driving them?
You don't have to go ninja tracker on me or your blog (at least not until you have the revenue to hire a ninja to track for you – then it's totally worth it). Right now you just need to do a few things regularly to track your blog marketing results.

Google Analytics, use it simply to track where your traffic is coming from. Don't worry about all the bells and whistles right now. Focus on traffic sources. If you are commenting on a blog and not getting traffic from it, then it's time to pull back.
If you're tweeting like crazy and not getting traffic, it's time to re-evaluate your tweets and refine your engagement.
If you're spending hours on Facebook and not getting results, then it's time to change things up.
If you're commenting for hours for courtesy and 'presence' – stop it. Make a plan. Be deliberate. Spend time commenting on blogs where you have a goal to guest post.
Measure the leverage your marketing brings you by the results it creates: opt-ins, guest posting opportunities, cross promoting opportunities etc…
A decent rule of thumb: When it comes to Google Analytics, if a source isn't sending you at least 5 percent of your overall traffic, move on, focus on the sources that are sending you the bulk of your traffic and keep testing new sources.
Blog Marketing Strategy Mistake #3
Your not consistently implementing new blog marketing strategies
Don't resist testing new strategies: forums, commenting, guest posting, tweeting, curating via sites like Paper.li or Scoop.it, podcasting, video, slideshows. There are so many ways to promote and market your blog. Don't hesitate to try new mediums. Re-purpose our content to test, test, test and then test a little more. It may shock you to see what drives traffic and what doesn't.
Fix: Watch for patterns and apply them one at a time
If your spending all your time blog commenting and your not getting the results you want, then blog commenting is not the place for you (or most likely your commenting approach needs a few tweaks). If Twitter used to be a great source of traffic, and it's not anymore – apply new tweeting tactics, test them and adjust.
Watch for patterns of promotion coming from industry leaders and influencers. Mirror their patterns. Go be where they are and find out if your market is there too.
If you've been frustrated about your blog marketing strategies and if you just aren't getting the results you want, then applying these three practices is just what you need to get that second wind. Sometimes trying something new and experiencing the exhilarating effects of stepping out of our comfort zones is just what the marketing doctor ordered.
If you have questions or suggestions, I'll stick around to chat in the comments below 🙂 You can join us on our Facebook fanpage for more great conversation! Thanks for stopping by!
More Posts Similar To Our Blog Marketing Strategy Mistakes To Avoid
We've got more great posts on blogging for you to read! Check them out: