This post may contain affiliate links which may give us a commission at no additional cost to you. As an Amazon Associate we earn from qualifying purchases.
When it comes to writing tips to help you write better blog posts, do you find yourself floundering?
Want to sharpen your skills and whip your brain into Writer's Mode?
Read on to get the blog writing tips you need to capture your audience and keep them coming back for more.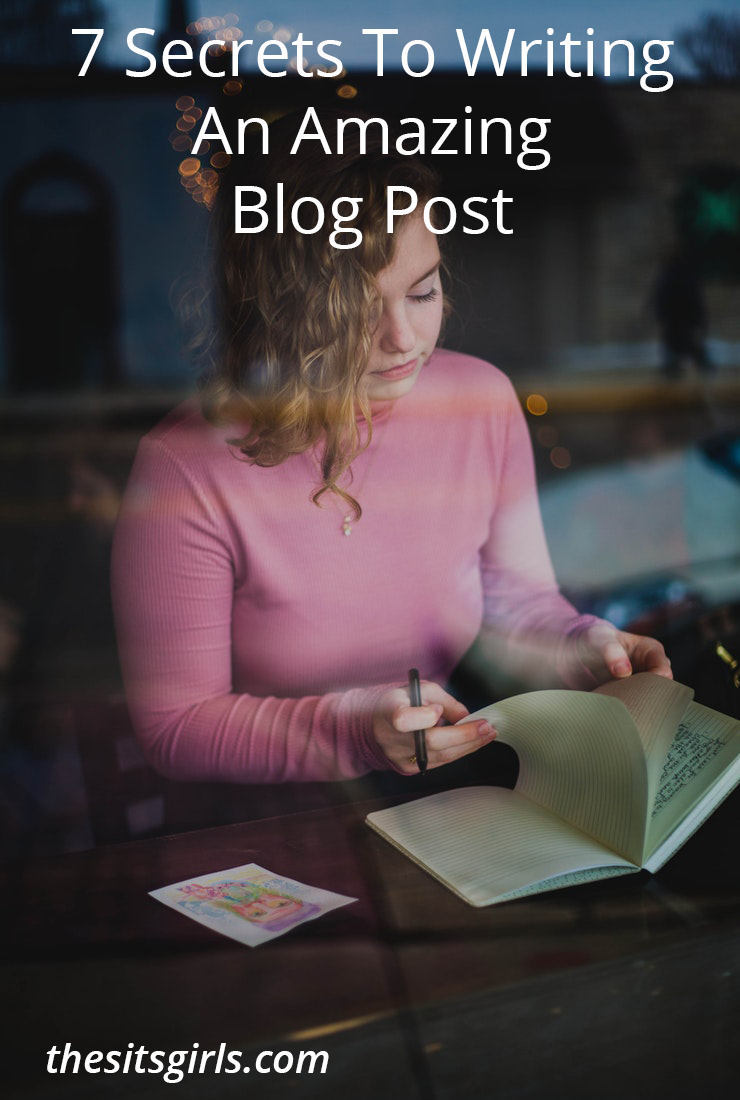 Writing Tips to Help You Write Better Blog Posts
Writing is the worst…and also the best. (But rarely on the same day.)
Here are our top 7 writing tips to help you write better blog posts.
7. Cocoon
Or go outdoors. Stake out your favorite corner booth at an Arby's- it really doesn't matter. The important thing is to find a place where you do your best writing. And then you've got to respect that space and the value of your work. Pencil yourself in, and hold yourself to that date. Your opus ain't gonna write itself in between segments of Jeopardy. Nor will your muse hang on a sec while you hose off your children. A lack of child-hygiene and an overfull TiVo won't hurt anyone. Go write.
6. Flow
During your first draft- be it a blog post, a chapter, or a sonnet- just let it ride. Don't self-edit, and definitely don't over-think it. The worst thing writers can do when trying to get out that first burst of a story is to second-guess. There are no wrong choices in a first draft. None. Even that nine page description of the babbling brook. Keep it. It's all awesome. Best thing anyone's ever read. Go write.
5. Edit
That said, there are absolutely, positively wrong choices in a second draft. Re-read, and edit as ruthlessly as you would your Fall wardrobe. Better yet, edit it like you would a friend's Fall wardrobe; you know, that friend who only wears pastels and shirts way too big for her? The one who constantly wishes someone would come in and tell her what to keep and what to donate? Your second draft is her closet floor, and your job is to make those tunic tops line up and hang nicely. (Your job for this draft is also to cut that ode to the babbling brook. Because it's the equivalent of a nine page-long pile of sweater vests. Throw 'em out.) Clean some literary house. And then go write.
4. Emulate
Make a list of people whose style you dig. That's not to say you should copy; but for unblocking your brain, it's great to step outside of your own hand. Ever tried to write verse like Shakespeare? How about a good ol' fashioned haiku? Rest assured, you're gonna be awful at it. And it's gonna feel ridiculously freeing. Play around, come back to your [wonderfully unique] style…and go write.
3. Read
All the time. Anything. Everything. Novels, blogs, newspapers, memoirs, and bathroom wall graffiti. Every single bit of it was written by someone who is not you, and every single piece of it will make you react in some new way. Read all the words in the world, filter them through your writer's brain, and then put it all to use. Go write.
2. Share
Cultivate a small- and very, very select- group of trusted peeps who a) know their stuff, writing-wise, b) know your stuff, writing-wise, and c) know when to back off and let you keep going with your spark. This trifecta of skills is crucial. One friend could be a Pulitzer prize-winning journalist three times over, but if she doesn't have the right way of looking at your work and encouraging you to keep up with that scathing babbling brook exposé, then she's not the right editor for you. Listen to your crew (but keep in mind that their edits aren't the end all be all, either) and then go write some more.
1. Show Up
This is the biggest writer's "secret" of all. Even when the words just aren't coming, and even when you don't much feel like it, you need to train your body to physically get to that place (desk/field/Arby's) where you know you need to write. Just keep arriving. Some days, you'll have a Microsoft Word doc full of inventive curse words and a spot where the letter 'a' was held down for twenty minutes. But then you'll have days so good that you'll want to wear a badge proclaiming you to be the world's most awesome writer. So show up. Find those days. As Stephen King so eloquently wrote in his amazing memoir On Writing,
"Amateurs sit and wait for inspiration, the rest of us just get up and go to work."
So get to work and start thinking about how you can put these writing tips to use. And go write.
What do you find to be your biggest challenge when it comes to following these writing tips?

Looking for More Writing Tips Like These?
When it comes to blog post writing tips, we've got you covered: