This post may contain affiliate links which may give us a commission at no additional cost to you. As an Amazon Associate we earn from qualifying purchases.
We're finishing up our discussion today on WordPress today with Sharon Hujik, the author behind the How to Move from Blogger to WordPress eBook.  On Monday, she helped us to understand whether it might be time to make the change for your blog.  Today, Sharon is sharing the top 10 mistakes people make when moving from Blogger to WordPress.
I have to admit, I even learned a thing (or three!) by reading this post…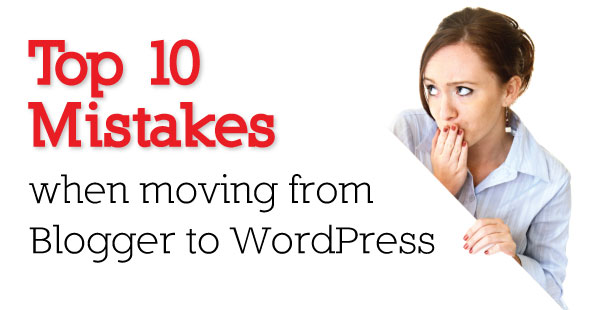 If you've arrived at the point when you're ready to move from Blogger to WordPress, then congratulations! This is an exciting decision – it's rather like "graduating" into a new level of blogging.
While moving your blog from Blogger to WordPress is a smart move strategically, the technical part of the process can be a little complicated.  Unfortunately, many bloggers go into the process without guidance and unwittingly make mistakes that negatively impact their blog.
Listed below are the ten most common errors I see when people move from a Blogger to WordPress self-hosted blog:
They don't correct the permalink structure on the content they import from Blogger.
Since Blogger and WordPress create their permalink slugs differently, leaving those uncorrected causes 404 errors and causes a big hit on your Page Rank.
They don't edit their internal links to drop the .html.
Internal links are an excellent SEO tool and help readers find relevant content in your blog.  However, links you created in Blogger end with the tag .html – but on WordPress they don't.  If you don't fix these, you will have more "page not found" errors.  And you lose the chance to engage your readers!
They don't redirect their domain name – instead they keep a blogspot.com on Blogger and have the .com on WordPress.
If you have never done a blog migration before, you might not understand how your domain name can be redirected to a new server.  If you leave your content on Blogspot you can have a lot of issues and lose a lot of your readers!
They delete their Blogger blog.
If you delete your Blogger blog from your Google account you also delete all the pictures you uploaded that are stored on their servers.  You don't have to do this; just block the search engines instead.
They don't update their FeedBurner feedsource.
FeedBurner is the life-blood of your blog.  If you don't correctly update it to pull from your new WordPress home, you are leaving your readers in the dark.
They don't update their Google Friend Connect feed.
While it is simple to install the GFC widget in your new WordPress blog, people don't realize that seeing faces in the widget doesn't mean that they are getting updates.  You also have to redirect the GFC feed (which is different than FeedBurner!).
They don't stay current with WordPress or Theme updates.
WordPress software is constantly evolving.  Themes are constantly evolving.  Plugins are constantly evolving.  If you don't stay up to date, your blog won't function well.  And if you create a backup first, you don't have to worry is something goes wrong.
They install too many (often unnecessary) plugins on their WordPress blog.
Three important rules about plugins – they are not benign, they don't always play nicely together, and less is more.  Don't overdo it with plugins.  They are the number one source of problems.
They don't use the "Category to Tag" converter.
When you import from Blogger your tags become categories.  Too many categories slooooooow down your blog's functionality.  Try to have as few categories as possible.
They don't install a SPAM blocker.
SPAM is bad, annoying, and it adds drag to your database.  You should block it.
And a bonus tip:
They don't verify their new WordPress blog with Google.
One of the best tools to help you identify problems with your blog is Google's WebMaster Tools.  In order to use this valuable (and free) resource you have to verify your site with Google.
Fortunately, these mistakes are all avoidable as long as you have good guidance.  That's why I've written How to Move from Blogger to WordPress.  It walks you through the entire process and shows you how to avoid all these mistakes.
You can even get a free preview of the first few chapters.

Graduating from Blogger to WordPress is an exciting move as your blog matures. However, because the two blogging platforms are different, there are some important steps that you need to cover so everything works properly – otherwise you risk losing your backlinks or followers. Sharon Hujik has written a wonderful book that is easy to follow and walks you through the entire process. Even if you are going to hire someone to do the transfer for you, this will help you speak intelligently about the process! It's a great resource that we recommend. Click the button above to learn more!