This post may contain affiliate links which may give us a commission at no additional cost to you. As an Amazon Associate we earn from qualifying purchases.
One of the biggest perks we bloggers have is the ability to set our own hours and have time to enjoy being with our families.There is no time of year that brings this home quite the way the holiday season does.  In one of those strange twists that life likes to toss our way, the holiday season is also one of the busiest and most lucrative times of year for many bloggers.
Creating a plan for your blog now, before the holiday season hits, is a great way to get the best of both worlds. I know what you're thinking – September just started.  It cannot be time to think about the holidays yet. But they'll be here before you know it, and there are a number of things you can do to plan ahead for the holidays.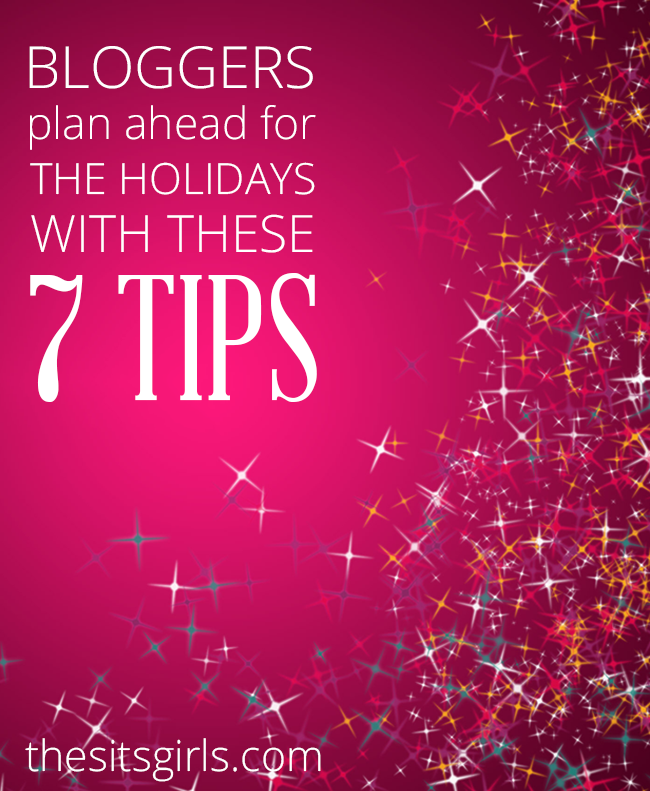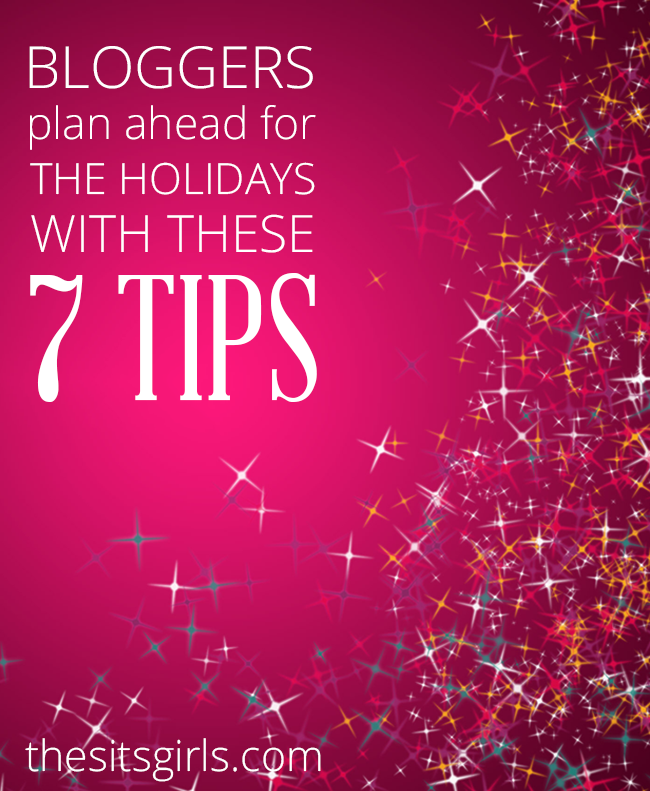 What Bloggers Need To Do To Plan Ahead for the Holidays
With a little preparation and planning you can make sure that you are prepared to make the most of the holiday blog traffic and also take some much deserved time off to enjoy the holidays with your nearest and dearest. It won't take a lot of time, but it's important to get some of these things done before December comes. Even if you're not planning to take time off, having a plan in place will still be beneficial.
Before we continue, you might find it helpful to have Google Analytics, your blog, and your editorial calendar open in other tabs. That way you can refer to them as we go through the list step by step.
Use Google Analytics to Create Your Content Plan
The first step in planning for the holidays is figuring out what worked last year. If you haven't done so already, open your Google Analytics and follow the steps below.
Set a custom Data Range for December 1st – 31st, 2014.
Go to Behaviour – Site Content – All Pages
Set the number of entries to 25.
Now you can see what your most popular posts and pages were last December. Use this list as inspiration for what topics and projects to plan on publishing this year.
If you're not familiar with Google Analytics, our post, How to Use Google Analytics, is a great starting point.
Brainstorm Ideas
Using what was popular last year is a great place to start, but you're going to want to build on that. Take some time to jot down your ideas and make a loose plan for what you need to gather and do to complete each one. For example, maybe you plan to do a few posts about holiday decorating. Are you going to make your own decorations and if so, what supplies are you going to need? Are you going to be using what you have on hand? Can you create a source list to include in your post? What kind of photos will you need? Can you set them up ahead of time?
Write Your Posts Ahead of Time
Use the inspiration you gathered from your Google Analytics and your ideas from your brainstorming session to plan what posts you're going to write and when you're going to publish them. This will, by far, help save you the most time when the holiday season hits. There are twelve weeks from now until December 1st, plenty of time to prepare content ahead of time. Even if you can only manage to create one extra post per week between now and then, you'll have twelve posts ready and scheduled. Depending on what your posting schedule is, that could be almost the whole month of December finished before it even starts.  All you'll need to worry about is sharing them out via social media, but even that can be scheduled ahead of time if you want.
Start Scheduling Social Media Posts
Just like writing an extra post per week is a great way to have content ready for the holiday season, so is scheduling some social media posts ahead of time. Remember that list of the top 25 post and pages you pulled up in your Google Analytics? Schedule all of those to your social media networks. Do the same thing with your other blog posts from last year. Use what you already have to have some social media posts ready to go out when the holiday craziness hits.
Get creative if you can. Find some holiday pictures from previous year, edit them and upload them to your phone so you can share them on Instagram. Or create TBT posts to share on Facebook and Twitter. Have some stuff ready to go out so that you're not dealing with a full social media schedule when you would rather be baking holiday goodies with the kids.
Monetize Those Posts
The holidays are probably the most lucrative time of year for most bloggers. Take a little time to make sure you've monetized your most popular posts. Not just your holidays ones, but your most popular evergreen posts too. Now is a great time to update some of your older holiday posts. Spruce up pictures and add in affiliate links where appropriate. Use this post, How to Get New Traffic to Old Blog Posts, as a guide.  It never hurts to spend a little time updating old posts, you never know when simply changing a photo could lead to a post gaining popularity.
Look over the ad spaces you have your site. Are they doing well or do you need to make some changes? If you have an ad manager, now is a great time to ask them what you need to do to make the most of the holiday advertising.
If you've been sitting on the fence about adding ads to your site, or monetizing in other ways, now is the time to do it. You have a couple months to work out the kinks before the craziness of Black Friday and Christmas start in full force. Don't wait until the last minute, you want this stuff set up before the holidays.
Back Up! Back Up! Back Up!
If you're not already backing your site up on a regular basis, now is the time to start. Weekly back ups of everything may sound like a pain, but if something should happen, you'll be thankful for having them rather than losing a month or more of your hard work. This is a good idea year round, not just during the holidays, but I like to be extra careful during this time of year. I blame that Murphy guy and all his laws, but I believe it's better to be prepared just in case.
Plan Your Holidays
We've done the hard stuff, now it's time for the fun! Plan when you're going to take your time off for the holidays. Grab your calendar and highlight the days to remind yourself that this is what you're putting in a little extra time for. If there are things you need to do that you just can't do ahead of time, make a holiday work schedule so you don't forget about them, but so that you still have that free time. And most importantly, enjoy your holidays. You've earned them!
I know planning for the holidays now, when summer isn't even officially over, might seem excessive, but I always find that December seems to arrive before I know it. Planning for it now, means extra time with the family later. It allows the freedom to accept that last minute sponsored post or better yet, that invitation to a holiday get-together with friends. Trust me, a little extra time spent now is one of the best gifts you can give yourself.
I'd love to hear how you prepare and plan for the holidays. Do you write posts ahead of time? Schedule your social media in advance? Any tips or tricks you'd like to share?
Keep Reading! For more holiday blogging advice, check out 5 Ways To Make The Most Of Blogging During The Holiday Season.