This post may contain affiliate links which may give us a commission at no additional cost to you. As an Amazon Associate we earn from qualifying purchases.
In thinking about this post, and how best to present it, I thought, "What has been the most important blogging advice I've adhered to as a creative?" I opened an Etsy shop back in October of 2015, and that's when I really started looking at my online platform and presence as a creative, even though I was creating content and branding long before that. With that thought in mind, here is my must have blogging advice for creatives — get your pens ready because I am giving away a TON of secrets + tips (that even non-creatives can use)!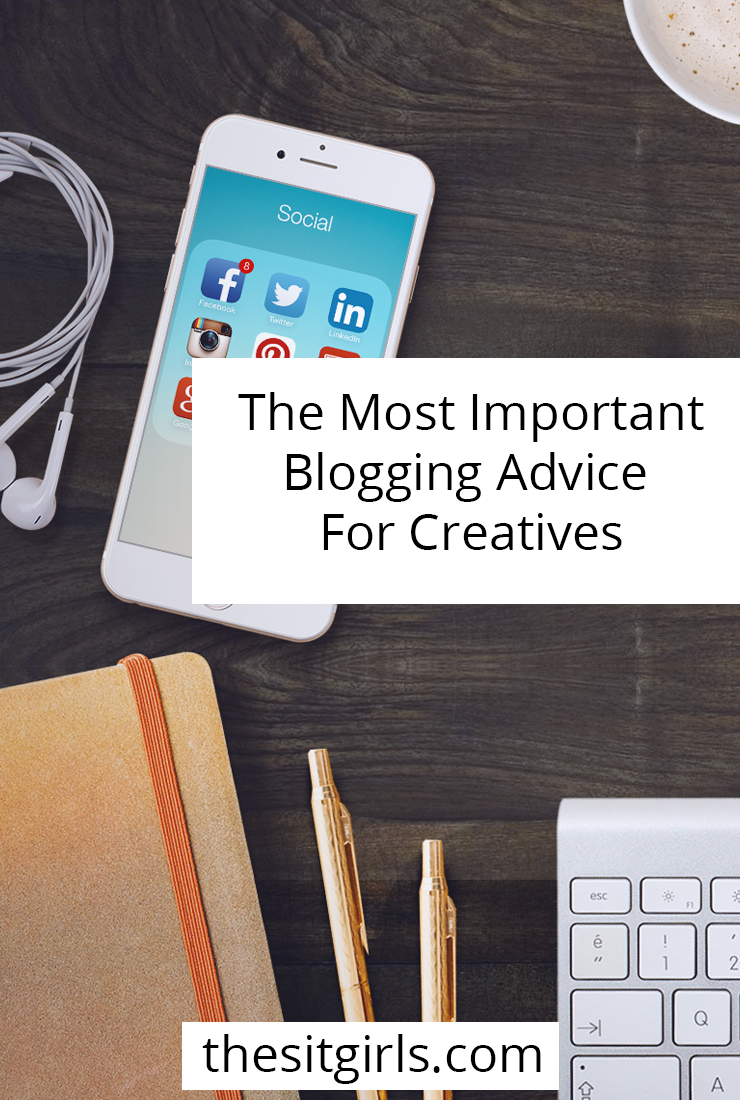 The Most Important Blogging Advice For Creatives
Have an online presence that you own.
As a creative, you want to be sure you own what you create. Think about the late, great Prince (who I can't stop thinking about). He was always so concerned with owning his creations and not transferring that ownership to anyone that he turned down multi-million dollar deals for advertisements, started a name (or symbol for a) name war, and even neglected to sign a will because he was so jaded by contracts and the finality they held. Same is true for you, dear creative. You want to own your online presence, because your blood, sweat and tears are infused within your creation. You should be the beneficiary of all the rewards that come from it, both monetary and buzz making.
For example, I always advise fellow creatives to have a self hosted shop in conjunction with their Etsy shop. Why? Etsy can shut your shop down with the snap of a finger, for whatever reason, whether legitimate or not. I am not saying this happens all the time, but in groups in which I participate, there is always the one person crying out at 3AM because their shop is closed and they can't get answers as to when it will reopen. Their questions run the gamut from "where do I send customers," to "how am I going to sell my products now?" If you had a site that you owned, you would have already established your presence that you control. It would be a nuisance that Etsy shut your shop down, but not the end of the world.
This holds true for any social media platform. Yes, build a following, for sure! Don't rely on it. Facebook is going to do what's in the best interest of Facebook, as will Instagram, Twitter, Snapchat, Pinterest, Ello, you name it. Instead of putting all your eggs in the social media basket, create your platform as your living, breathing brand. Use social media, and hosted shop platforms like Etsy, as ways to leverage your platform. They have teams waist deep that manage SEO and reach, use that to your advantage, but don't rely on it.
Execute on brand.
You first have to create a brand, am I right? I don't mean just a logo, either. Who are you trying to reach? What do they look like, what do they wear, where do they spend time, how old are they, do they have children or pets? This sounds exhausting to come up with, I know. Most people, when they read this about branding, give a light eye roll and move on to the colors and fonts. Colors and fonts are fun, but they come about based on the persona you've created that executes the brand or feeling you want to convey. Buying is emotional. You want to tap into that emotion.
Think about how someone would feel if they spent 30 seconds on your site. What would you make them feel? Once you've nailed that, duplicate it on your Instagram feed and your Facebook page. Pivot and share articles and images from other creatives that evoke the same feeling you want your reader/customer/client to feel. Position yourself as the authority of that sentiment, whether it's peaceful, light and airy, or fun, bright and neon.
Before sharing any piece of content, match it up to your brand. Does it fit, or does it stick out like a sore thumb? I take pictures all the time of everything and anything. Only when I am planning out my content, do I push it through my brand lens. If it doesn't flow seamlessly with my brand, I don't care how gorgeous the photo, it's out. Done and done.
This doesn't count for your finsta account though…don't know what that is, well let me tell you!
Have a content plan.
This is SO important, I can't even stress it enough. Why? Let's say you are in a creative funk, the last thing you need is writer's block on top of that. As a creative, your focus should be on creating, not what your next blog post is going to be (especially if you've got the added extra pressure of not posting in a while, and feeling like you should, yesterday!).
Take a morning you would otherwise spend trolling, ahem, scrolling on Instagram, and come up with topics that you'd like to explore, or write about. If you need help, I've created a list of 48 blog post topics for creatives and makers to get you started!
You'll also thank yourself for creating a content plan when you match it up to seasonal releases of your product. Think about the year-end holidays, and how you can share your holiday product with a special behind-the-scenes at a holiday craft fair blog post series? You can sprinkle your products within the post, while you share all that you've learned, are learning, and mistakes you don't want others to make. Remember, your online platform is a living, breathing brand. Blogging is a way for you to serve up your products in a non-salesy way!
Cultivate a healthy email list.
People, this is not rocket science. You know you should be cultivating your email list. It's so important for creatives. With platforms like Etsy, you can't market to people who have purchased from you. This means you can't send emails to past customers with "Hey, I just posted this in the shop; I think you'll love it!!"
If you get them to sign up for your email list with an incentive, then you can do what you like (within CAN-SPAM act laws, of course). You have to be smart about where and when you include your incentive and opt-in link.
I give away a hand embroidered hoop each month. Anyone who subscribes has no idea what that hoop will be each month, but if they've signed up, they like my aesthetic. The newsletters I send, bi-monthly, will reinforce that aesthetic, getting them excited about the embroidered hoop drawing, as they see my creative process unfold.
When they sign up, they receive a special series of emails  sent over a period of a couple of weeks that includes, behind the scenes, my "why", and more (what?! I can't give it all away!). It's called an automated email series, or a drip campaign.
I have the link to sign up for my newsletter in all of my social profile bios (even Pinterest!). I include my email subscription sign up when I ship the order to the customer (on the printed packing slip), and again, when I check in with them, after the item has arrived, to be sure that all is well on their end. I even have it as the signature on both my personal and business email accounts!
I am not just spamming people when I ask, either. I am not saying:
Dear Amazing Customer,

Sign up for my email list! Please, pretty please!! -LINK-

Mmmmk?

Bye,
Cristina
I have a quick, three sentence, punchy invitation, after the closing of my email/listing/content complete with cute emoji:
Sign up and be automatically entered in a monthly giveaway. You can win a hand embroidered hoop stitched by yours truly! You'll also receive exclusive discounts, pre-sale notifications and more! <3 bit.ly/thestitchyscoop <3
I'm sure you noticed that I have a branded bit.ly url. Why? Because there was no way I could remember a regular link with random letters and numbers. There's nothing secret-saucy about that.
Need some ideas on an opt-in for creatives? This post by Danielle of Merriweather Council was just published for product sellers, and has a great worksheet available for download that can help you with the brainstorming process.
On my blog, I have an opt in bar at the top, an opt-in slide in (after a few seconds of lingering over my content), and another opt in as straight text, at the end of every single blog post. Check this post for 5 Targeted Ways to Rock Your Email Newsletter.
You may think, Cristina isn't that overkill? Considering that people need to see something 7 times before they opt in (whether that's a physical or digital purchase), I would say that's about right. If you guest post, put that link in your bio — if the blogger will allow it; always check with them first.
Cultivating this email list is important because you will own it. See the first point. These people want to hear from you! They want to see all the inner workings of your business, and they love that you make it about them with your incentive, because what you're giving away has worth. Your incentive should have just as much investment as your product offering. Go back to the second point and be sure that your opt-in is something that your audience wants!
Now I could go on all day here, but it's the end of the month as I'm writing this, and that means I have to finish that hand embroidered hoop for one lucky winner!
Your turn. What must have blogging advice for creatives do you have?! Share it in the comments!!