This post may contain affiliate links which may give us a commission at no additional cost to you. As an Amazon Associate we earn from qualifying purchases.
I sat down to write on blogging communities, ready to wax poetic over all of the amazing benefits I have discovered since joining a few of my own. I thought hard about how to best express the value of hanging out with people who think like I do as a writer. But when I started fleshing out this piece in my head, I thought about all of the colloquialisms that surround groups of people: "Three's a crowd," "Misery loves company," and "Too many cooks spoil the broth."
It's possible I hadn't had my coffee yet.
Finally, after I had been properly caffeinated, I remembered the saying "It takes a village to raise a child." That was more like it. As writers, we labor over our work, taking care of ourselves as we write with quiet, space, and (in my case, anyway) coffee. Those things are the prenatal vitamins that let us produce our babies, our completed essays and blogs posts and books and articles.
When you are part of a blogging community, you are part of the village that will help you raise your writing to its highest levels. When we send our actual babies into the worlds, there are a host of people who help in our child's development- teachers, coaches, family and friends. Although we are in charge of the show as parents, the people we surround our children with help to shape the person they become.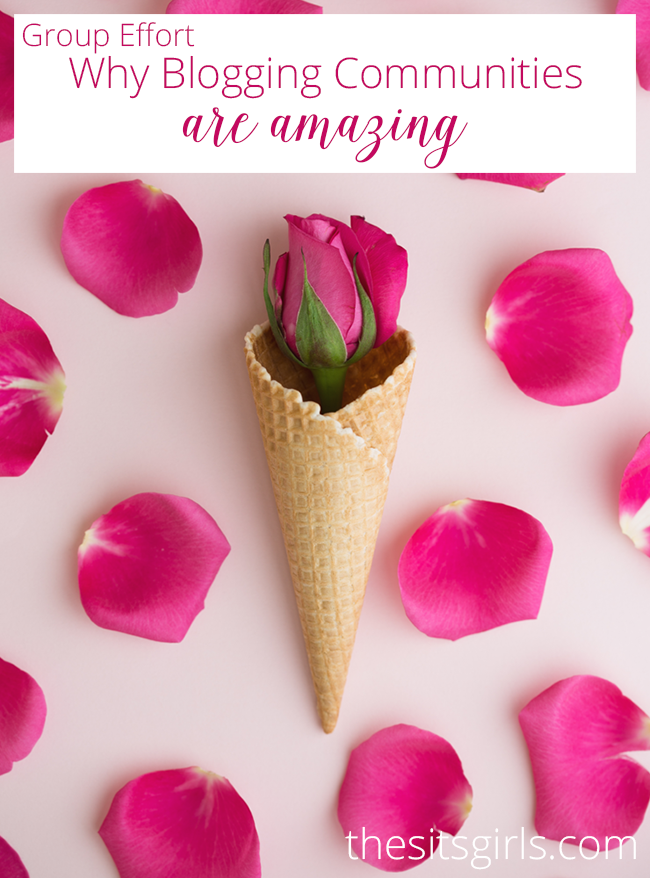 Why Blogging Communities Are Amazing
1. Support: When you hit those moments in your writing career that are less than ideal, your friends and colleagues in a blogging community become the place you can turn for suggestions on ways to improve your work and, even better, can offer plain old support and love. When [insert large blog with a huge audience here] rejects your third piece in a row, the people in your blogging community can offer perspective and support. Most of the writers in any given group have been through the exact same thing, and a few sincere words of encouragement and virtual high-fives can change your views and remind you again of why you love to write in the first place.
2. Honest Critiques & Helpful Suggestions: It never hurts to have a fresh pair of eyes take a look at a piece, particularly if it a previously-rejected piece that you would like to re-work. All it takes is a "Would anyone mind taking a look at this?" to have a flurry of like-minded offers to help in your Facebook feed. Blogging communities can also offer a sounding board for recommendation on where to submit a piece you can't find a home for. The overall climate is very supportive and non-competitive, and you don't have to fear sabotage if you put yourself out there. These communities form with the knowledge that there is room for everybody, and this view makes it easy to ask for help from your writing contemporaries.
3. Friendships: Imagine going to a party. At first, you don't know anyone, but you start chatting with someone by the onion dip and it turns out that she is a writer and a mom and a working woman and all of the things that you are. Then imagine that all the other people at the party are EXACTLY THE SAME! You start talking to more people and realize how much you all have in common, even though you all bring so many different, amazing things to the table. You leave the party with the recipe for the onion dip and a ton of new friends. If you hold the party online and take out the onion dip, this is everything that a blogging community can offer. Take advantage of the chance to meet such talented people!
All of those quotes that came to my mind when I originally sat down to write this post can be true. They can be, but in this case they just don't apply. The connections you can make by joining a blogging community can help you spread your wings in the best way. I headed to the internets to try and find a better quote, one that fit the spirit of blogging communities. I'll just leave that right here for you:
"As you navigate through the rest of your life, be open to collaboration. Other people and other people's ideas are often better than your own. Find a group of people who challenge and inspire you, spend a lot of time with them, and it will change your life." –Amy Poehler
That is exactly what a good blogging community will do for you!