This post may contain affiliate links which may give us a commission at no additional cost to you. As an Amazon Associate we earn from qualifying purchases.
Like everything in life, there are seasons and cycles in blogging. In the broader view of a blogger's life, there are stages: enthusiastic beginner, trying to learn it all, trying to do it all, getting burned out, hopefully eventually achieving some kind of balance between blogging for fun and blogging for money, for passion and for work, as it were. Every blogger goes through blogging cycles.
But through the year there are seasons you'll go through, too. There's a natural cycle to traffic, with peaks and valleys that might happen at different times of year depending on what you write about. And there will be cycles to how much time and energy you have to devote to your blog as well.
How to deal with all these blogging cycles? Everyone's approach will be a little different but here are some ideas.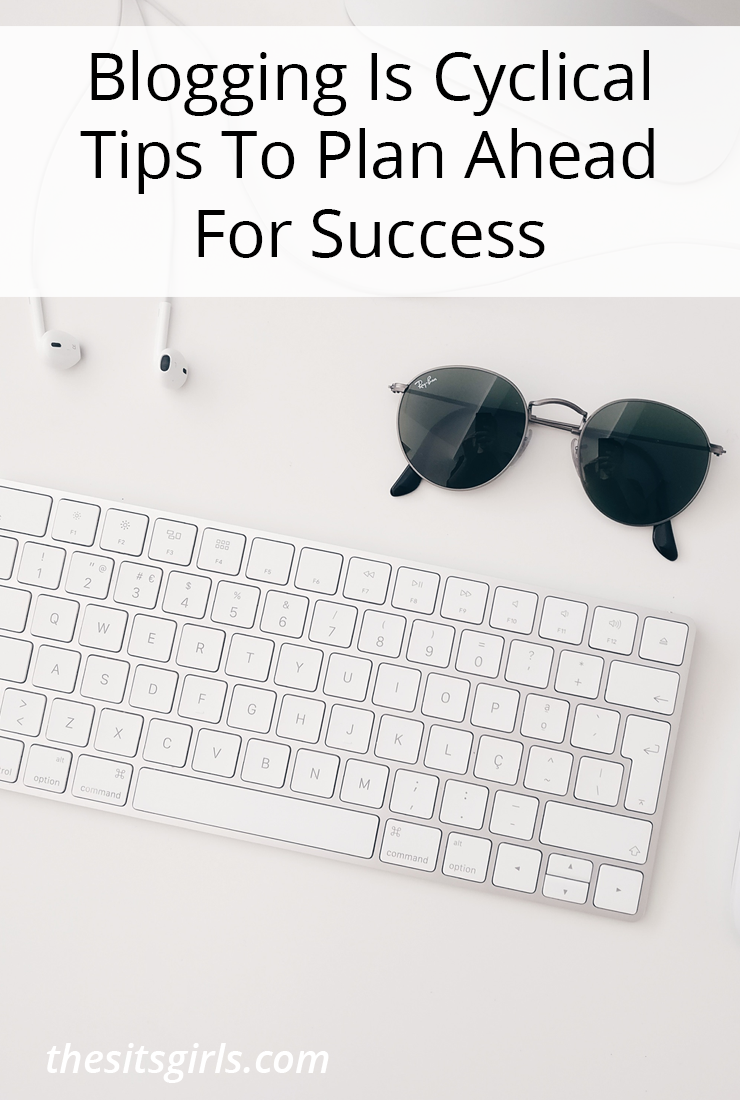 How To Plan Ahead For Blogging Cycles
Find Your Peak Traffic Times
I used to work for a big online content company that worked under the philosophy that every topic has what it called its Super Bowl, that time of year when there's naturally more interest in the topic and therefore more traffic (or more potential for traffic, anyway).
As a knitter, I look to fall and winter as being times I will get more traffic than in the spring and summer. Someone who writes about politics might see a boost in the fall or during primary season, while someone who writes about fashion might have a potential for more traffic when the big shows are happening.
Look at your traffic for the past year and see where your peaks happened. Look by month and by day to see which months are best and which days were your highest performers.
For my blog, which is about creativity for moms and other busy people, crafting with and for kids and creating the life you've always wanted, my best month in the past year was January. My biggest-traffic days happened in August of last year and January and May of this year.
What is that telling me? For one thing it's telling me I had one really popular post in January. But it might also be telling me that people are interested in the things I write about at the beginning of the calendar year and the beginning and end of the school year. That's good information to have.
Find Your Most Popular Posts
Likewise, it's important to know which of your posts are the most popular and whether they are seasonal or more evergreen. Luckily most of my most popular posts are evergreen, meaning they can be read and used any time of year.
But that's also a challenge because I don't know, for instance, that my readers love Christmas crafts or teacher gifts. If something like that is hugely popular on your site, writing more content like that is a good use of your time and ought to be worked into your schedule.
Scheduling for the Cycles
How does having all this data help you work through or around the cycles of your blogging year? Because it makes it easier to more thoughtfully plan your workload and what you want to write about throughout the year.
Consider the next few months as a starting point for planning for blogging cycles. Pull out your calendar, or the digital equivalent thereof, and note all the things you know of that are coming up. Vacations, days the kids have off from school, business trips, birthdays, and holidays. This will give you a pretty good idea of the days you might not want to be working on your blog, but may still need to have content for it.
Look back at your list of peak times or peak events that bring you lots of traffic. Are any of them happening soon? It's great if you can plan at least six weeks ahead of holidays, so look ahead on your calendar to see what's coming that you might want to have content in place for before the fact.
Next, brainstorm post ideas. They might be related to those peak times or high-traffic posts, or to the time of year, or just things you want to write about. Just get down all the ideas you can.
Set your schedule. Do you already post a certain number of times a week or month, or is it more sporadic? Decide how many and which days a week you want to post, bearing in mind that if you want to work ahead for those times you'll be away from your computer you'll need to be able to do twice as much to get ahead of yourself, or get in the habit of working ahead regardless (always a good plan, because you never know what might be coming up that you don't expect).
Start building your editorial calendar to plan for blogging cycles. If there are particular seasonal posts you need to get in before holidays or the start of the new school year, say, plug those in first. Then add those posts that are related to your big-traffic posts, spreading them out at regular intervals (say one a month or every couple of weeks, depending on how many of those sorts of post ideas you have).
After you have that cornerstone content in place, plug in other projects and posts you want to include. Resist the impulse to schedule posts every day unless that's something you're already comfortable with, or you'll end up back in the burned-out phase mentioned above.
Work the Plan
Don't freak out that a calendar will make your blogging life less fun. It's not an assignment from your blogging professor; you won't fail if you ignore your calendar from time to time.
But it is without a doubt one of the most important things you can do to keep blogging through the crazy times and the slow times, the high traffic and the low. Knowing what you need to do next and what's coming is essential. Having a plan can help you bust through writer's block and get you through creative slumps, too.
How do you plan for the cycles of the blogging year or your blogging life? I'd love to hear your thoughts.