This post may contain affiliate links which may give us a commission at no additional cost to you. As an Amazon Associate we earn from qualifying purchases.
I have been blogging since 2009. I first started out as a closet blogger. I did! I wrote and wrote but no one came. (That's not entirely true. One person actually did come. I had no idea who this person was nor did I know how they found me.) I secretly blogged for about a year. How crazy was that? There are a few tips and tricks I wish I would have known from the beginning. Oh boy, how it could have made things easier!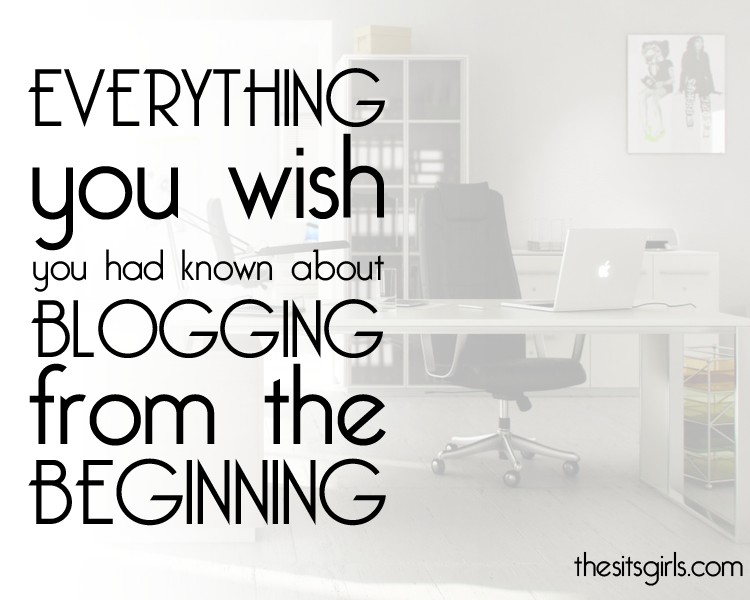 Starting a Blog – What You Should Know from the Beginning
Here are a few things I wish I would have known from the beginning:
Have a purpose- a reason to write. If you don't know why, the how doesn't matter.
Build a tribe. That is probably the biggest thing I wish I would have known about blogging from the beginning. I didn't. The SITS Girls do an awesome job of helping people connect and build a tribe.
Don't compare to other bloggers. That's a hard one, especially when visiting other blogs and seeing their 88 comments on a consistent basis. Not a good idea to compare.
Keep writing. Find a schedule that works and keep at it.
Balance social media. The many platforms that are available is a great thing. Concentrating on one or two at a time just makes sense. Rome wasn't built in a day and neither is a successful blog.
Work smarter by using tools that are available: editorial calendars, Hootsuite, Twitterdeck, Google Analytics and Picmonkey to name a few. It aids in time management. The SITS Girls Facebook page is a great tool for getting started in social media, and so is their forum and Twitter chats on Wednesday and Saturday mornings. I wish I would have found this group a lot sooner than I did. You can seriously go to the Learn tab on their site and stay there for as long as it takes to learn everything you need/want to know about blogging. Seriously!
I also wish I would have known about the different conferences that are held all around the country. I have a friend who just started her blog (Grammy's Life So Far) the week before she accompanied me to Women Get Social in San Diego. I almost envy her. What better way to begin a blogging career than by attending a SITS conference?
With my new blogging friend in mind I decided to ask some of my other blogging friends what they wish they had known when they first started blogging and this is what they said:
Ilene from The Fierce Diva Guide to Life said this: "I wish I would have done my homework upfront, taken the time to research the different blogging platforms, and educated myself on the pros and cons of using a self-hosted platform instead of the free site I began with. I could have avoided a few issues when I made the switch."
I love what Chris from The Mom Café had to say: "Blogging is relational. I had NO idea the amount of time I would spend connecting with other bloggers and that there was an entire community of countless other writers I would need to engage with."
Tamara from Tamara Like Camera said something similar: "I wish I had known I didn't have to do this alone. I had no idea about the communities, linkups, sharing and connecting. It took me almost three years to discover blogging communities and to begin to build my tribe."
Kendra from Stop Lookin' Get Cookin' said: "The one thing I wish I had known when I first started out was photo etiquette.  Linking back and giving credit is great but if you ask permission first oftentimes the owner of the photo will take the opportunity to say thanks by amplifying the post to her readers, which is a win/win situation."
Thanks to my friends for sharing. And now I'd love to hear what you wish you would have known when you first started blogging!
LOOKING FOR MORE POSTS SIMILAR TO THIS ONE?
Looking for more posts similar to this one? Then be sure to click through the below links!
Disclosure: This post includes affiliate links.