This post may contain affiliate links which may give us a commission at no additional cost to you. As an Amazon Associate we earn from qualifying purchases.
It happens to the very best of bloggers occasionally – lack of blogging motivation and writer's block. You know you have to write a post, but you just can't seem to think of anything to write.
What do you do when you need blogging motivation?
Blogging Motivation vs Blogging Discipline
Everyone asks how to get motivated, and that's really the wrong question. The key is developing discipline. Motivation is fickle – discipline is something you can culture in yourself to get things done when motivation has taken a long weekend off.
So before we talk about how to cure a lack of motivation, let's take a minute to discuss how you can avoid it by being disciplined. The best thing you can do is create a good editorial calendar. Schedule out themes and topics so there's a bit of a rhyme and rhythm to your posts. When you have time – or when motivation comes to town – write as many posts as possible in advance and have them saved as drafts, ready to go.
It's also a great idea to carry a notebook with you at all times, so when blog post inspiration hits, you've got a place to quickly jot down your ideas. When you can't think of a topic, just go through your notebook and see what jumps out at you.
But now, let's assume that you haven't done those things. What are you going to do? Sometimes, just a change of pace or scenery will be enough to get you up and motivated. Any kind of physical activity gets the blood moving and carries more oxygen to your brain, stimulating your thought processes and awakening your creativity. So spend 15 or 20 minutes dancing in your living room, or go in the backyard with the kids for a game of tag – it's a total win for your brain and your health!
You can also try changing locations – pack up your laptop and head somewhere with wifi. Hit the mall, a coffee shop, or your favorite restaurant. Sometimes, being stuck in the house for long periods will stifle our creativity, so exposing our brains to new surroundings helps oil the gears, so to speak. You can combine this with the first trick too – head to the gym or just go for a long walk.
What if you've tried that and still nothing? Here are a few ideas for pulling a blog post out of thin air.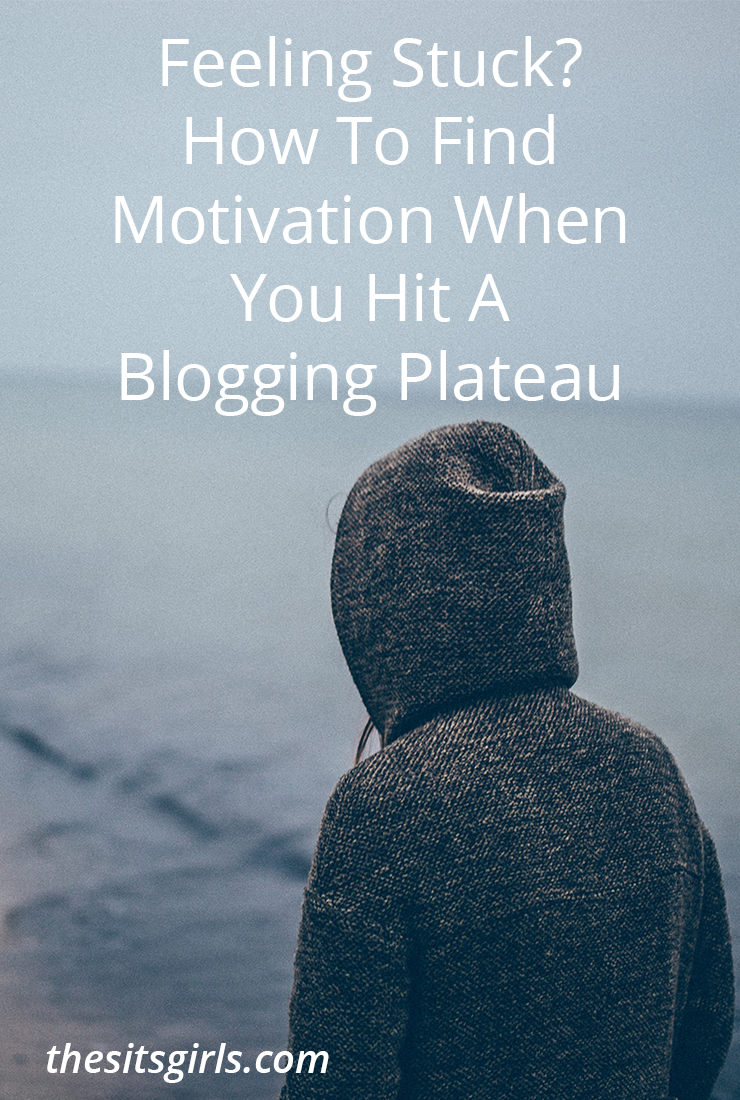 10 Tips To Find Motivation When You Hit A Blogging Plateau
1. Check out Amazon
Go to Amazon.com and do a search in the books for a keyword in your niche. Find books or ebooks pertaining to your topic and check them out – many will let you look inside at the topics and chapter headings. Use those for ideas to get a post going.
2. Failure and Success
Writing a post about a big failure of yours can be a great way to get a blog post going, and at the same time teach your readers how to avoid making the same mistake. You can turn it into a two part blog post, with the second part being how you took what you learned and turned it into a success.
3. Visit Other Blogs
Take a half an hour to make the round of some of the top blogs in your niche and check out their most recent posts. Surely something is going to interest you! But I'm not telling you to copy their post, not at all. Instead, look for something they've written that you disagree with, or a specific point that you can focus on in more detail, and write a post about that.
Of course, you'll want to link back to the original article, and make sure you let the other blogger know!
4. Blog Comments
Lots of times, people read a blog post and have a related question, so they ask in the comment section. This is a great place for you to look for post ideas! Check out the popular blogs in your niche, and look for any questions in the comments that interest you. Instead of answering, flesh your response out into a full blog post – then go back to the article later, and leave a comment with a link to your new post.
5. Forums
Same thing as blog comments – go to forums and look for questions you can answer, topics you can expand upon, or problems you can solve. If the forum allows links, you'll again want to go back and share your post.
This also works in Facebook and Google groups – just go through the posts looking for questions or problems people have.
6. Google Autocomplete
Go to the Google.com page and try typing in the first part of questions about your niche. For example, if you blog about pets, you could type in "Why are dogs…" or "How do cats…" and see what kinds of autocomplete responses Google comes up with.  You can even take it a step further to get more options; simply type "Why are dogs a…", "Why are dogs b…" and so on.  You just might come across something you've never thought of before.
7. Infographics to the Rescue
Need something fast and can't think of a thing? Do a quick search for an infographic in your niche. Most sites that post infographics include code that allows you to post it to your site with a link back to the original. Add a quick paragraph of your own as an introduction – blog post done!
8. Greatest Hits
If you've been blogging for a while, you probably have a few posts that you consider your best – why not make a "Best of" blog post, linking to each of them with a quick paragraph describing what they're about? Bring a little new life to some old posts – and give yourself a little SEO boost at the same time!
9. FAQ
Do you get asked a few of the same questions over and over? Then a Frequently Asked Question – FAQ – post is a great choice! It can work a lot like a greatest hits post if you've written blog posts that answer the questions. Just put links to them all in one post, and let people know about it.
10. Thank Your Readers
Every once in a while, a blog post thanking your readers for being there is a nice thing to do. It doesn't have to be a long post, and you definitely don't want to go overboard or you'll look a little nutty – but just a heartfelt "Thanks for being there" can really help you connect with your audience.
You may even want to throw up a free gift – a short report or checklist that you've created or purchased. Just something to let them know how much you appreciate them being there.
Want even MORE inspiration?
Check out our writing prompts. We have one for every day of the year!