This post may contain affiliate links which may give us a commission at no additional cost to you. As an Amazon Associate we earn from qualifying purchases.
We all know how important an editorial calendar is, but do you struggle with finding just the right format to suit your blogging needs? I have been experimenting with a new format for my blogging organization, and I'm more productive and on top of my deadlines.
Blogging Wall Planner For Visual Types
I have tried all kinds of different blogging planners. I enjoy using the editorial calendar taught in Content Brew, but I also like to have notes and a schedule visible to me at all times. An electronic planner can be easily forgotten. Same with a printed blogging binder. So I decided to make my own wall planner.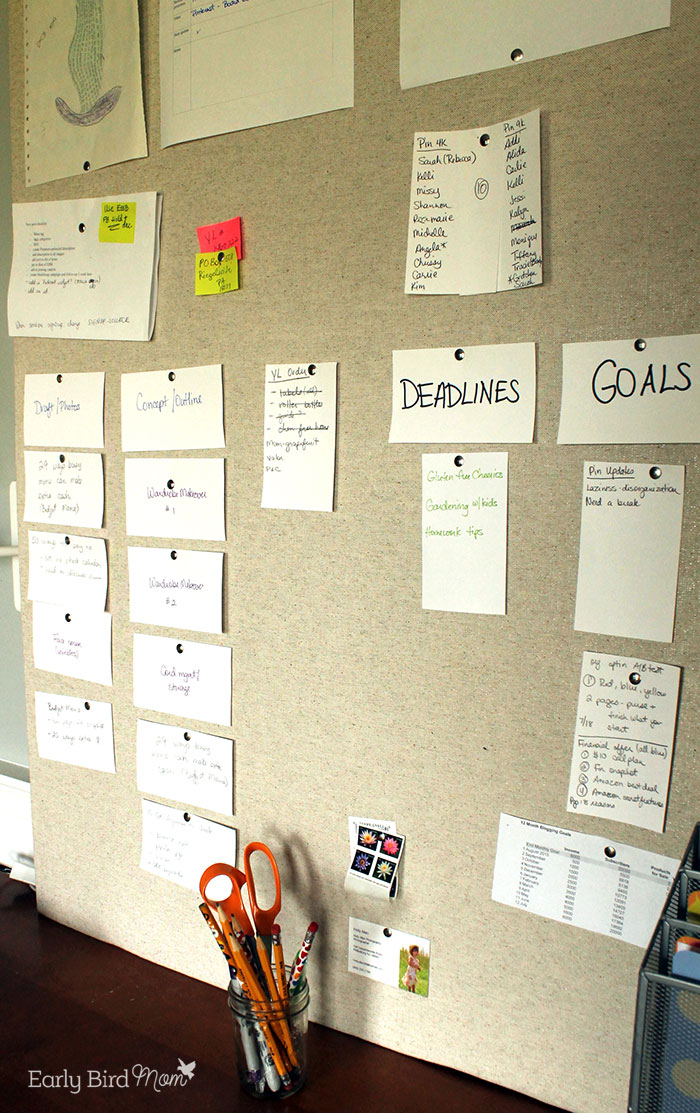 I whipped up an inexpensive oversize bulletin board out of foam core insulation covered with pretty linen fabric. It's light as a feather and tons of room for me to hang all kinds of notes, schedules, reference materials and such. Occasionally, my board gets hijacked by a 4 year old with a love for painting.
I wanted an easy way to keep track of:
blog posts in progress and scheduled
upcoming deadlines
a cheatsheet of colors, fonts, and sizes I use on my blog
goals for the week and month (get a couple of free printable blogging checklists here)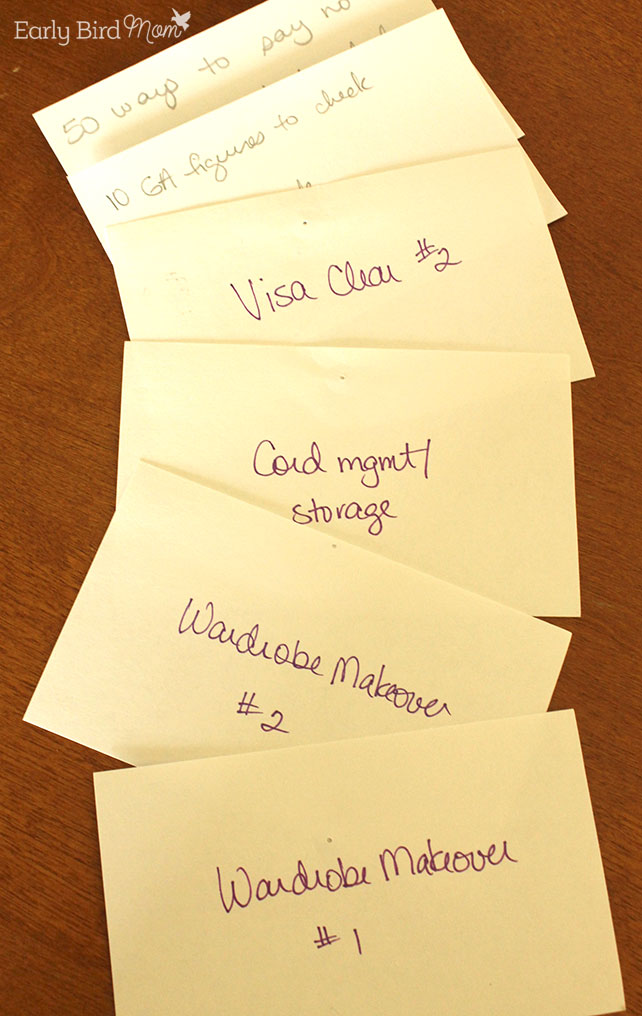 Keeping things simple
To keep my time focused on revenue-producing activities I didn't want to stop and print something to add it to my board. Instead, I turned to index cards. With some pretty pens and a stack of cards, adding a blog post to my schedule takes seconds. When my post is written and ready for photos, I just move it over to the Photos column.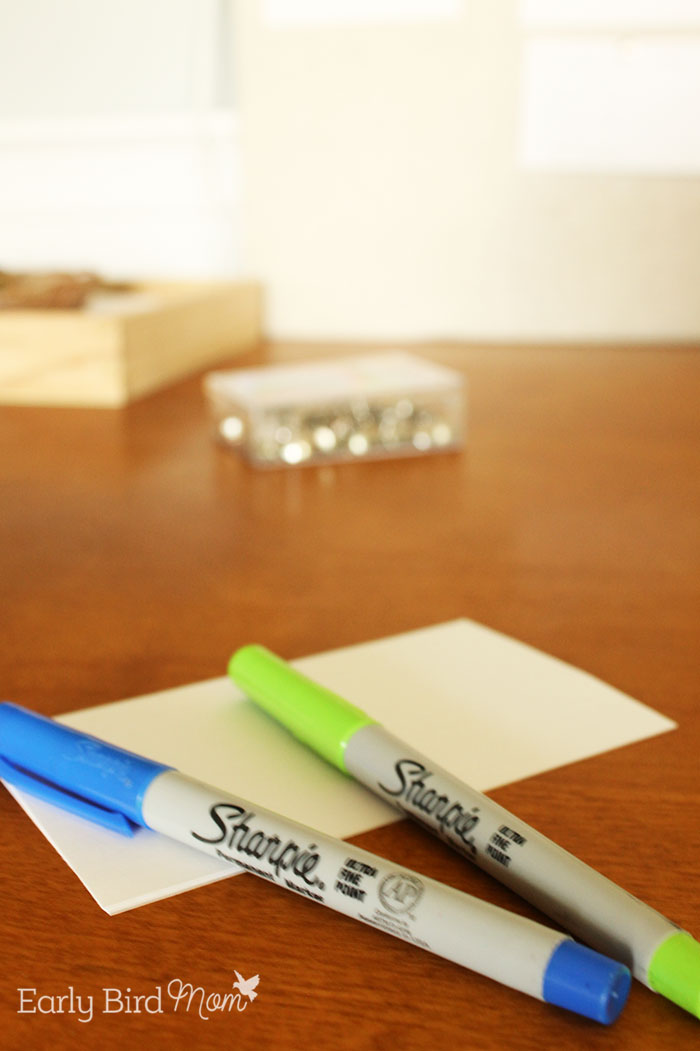 The thumbtacks and cards have a fun kind of retro feel. They keep me from agonizing over getting my board to look perfect. Perfectionism is not productive! When a post is finished, I add it to a stack of finished cards. It's motivating to see that stack grow!
With my calendar in front of me while I work, I stay focused.
And having my goals and to-do's there as well keeps the big picture in view. Sometimes it's easy to get bogged down in the details and forget about the long term, isn't it?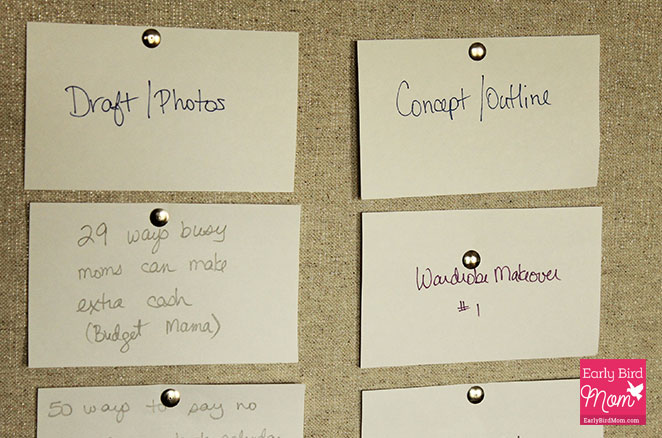 Advantages of this visual planning method:
It's inexpensive and quick to set up. I think I paid $8 for the board and $20 for the fabric.
It discourages perfectionism.
It keeps your notes in view but not messy.
Physically rearranging the calendar provides a tactile experience that I find easier than doing on the computer.
It sets a professional mood for your workspace.
Disadvantges of this method:
You need some wall space (or your board will have to be able to be stowed away)
You can only hold so much detail. If you want your notes to be lengthy, you may prefer an electronic version (or use both!)
Thumbtacks are a hazard for small children and bare feet.
If you allow too many things on your board, you may feel overwhelmed. Don't let this happen!
If you don't have a dedicated office space, you can even create a portable board that folds up and stores out of the way.
I still use an electronic planner with more notes and longer term deadlines, but for a month at a glance, my wall board is the perfect solution!
Do you use a wall planner to plan your blogging work?
Share your photos on social media with the hashtag #visualblogplanner – I'd love to see them!
Keep Reading
Want more ideas for getting your blog organized and planning ahead? Check out these posts: