This post may contain affiliate links which may give us a commission at no additional cost to you. As an Amazon Associate we earn from qualifying purchases.
Don't be afraid to make a change for yourself and your business if something you are doing isn't working for you. Even if that change means going back to what you originally began with.
You see, I used Blogger when I first started blogging. I loved it, but I wanted to expand so many ideas and themes. I wasn't getting out of Blogger what I wanted, and my blog was growing  very fast! I decided I needed to look at other blogging platforms.
So I made the jump over to Sqaurespace.
Did I love it?
Yes.
Was it easy to customize?
You betcha!
Then why on earth did I switch back to Blogger?
I'll tell you why!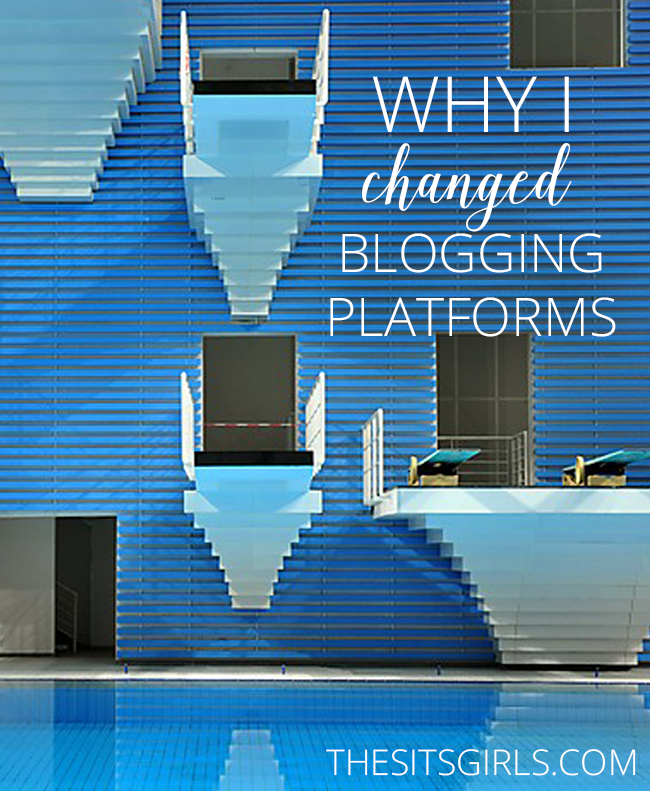 Why I Changed Blogging Platforms
Way back when I was growing my Blogger account, I wanted to change everything and make it look more professional. I figured, because of my steady growth, it was time to invest in a better-looking blog. I would contact designers, get quotes on price, and end up backing out, because it simply didn't seem worth it. Then Squarespace came up.
I was in the middle of a discussion of how I wanted my blog to appear, navigate, and ultimately create a sense of professionalism about it. The designer told me Blogger would not be able to do any of the things I was wanting out of their templates. Her suggestion: Squarespace.
As I researched more and more, I found this might be the place I needed to be in order to make my site EXACTLY how I was wanting.
So I "jumped on the sqaurespace bandwagon."
I loved it. I went to town with everything, customizing it, dragging and dropping things how I wanted. It was a blogging dream!
I was able to have the drop down menus, sub-menus and create it how I wanted.
So what was the problem?
I begin to find out that my "steady stream of monthly visitors" came to a halt! With Blogger I was getting close to 1,000 visitors a month (which for me was a huge deal!). When I switched to Sqaurespace? I was getting consistently 2-10 visitors a day! And this was on a good day!
I began to find myself not motivated to blog, create posts ahead of time, or finish customizing it.
I also found that even though it was "so easy" and a do it yourself type of program, it still lacked a lot of things I essentially loved about Blogger! I loved that I was so unique with design. Whenever I checked out another site, I found because they used Sqaurespace there were SO MANY similarities to my blog that I could not be my own person.
One thing I also found was the lacking sidebar customization. The sidebars were essential to advertising partners, and navigating around the site. It wasn't easy to customize the sidebar due to a lot of lacking features they still "are working on."
What did I do? I ultimately moved back to Blogger.
I didn't just want to pay someone another fee to fix it how I wanted! So I began to teach myself code, read books on blogging, and how to make your blog the best according to me! But that wasn't enough for me.  I decided to get the things I want out of my own blog, I needed to be professionally taught. I decided to go back to school and get my minor in Graphic Design. This has been the best decision I have ever made. It has enabled me to design my blog how I want without having to pay yet another person to fix something I do not like!
Of course I have bought little add-ons here and there from other designers, because I admire their work. But I have been so happy to be back "home" to Blogger. I have since seen an increase in my growth and continue to make changes to fit  my needs for the business.
It is OKAY to go back and retrace your steps if it is going to be good for your business. Sqaurespace just happened to be not what my business and blog needed at this point in its growth.
Do you have to use Blogger to be happy?
Absolutely not.
There are so many blogging platforms that work for different people. I tried just one move and found it simply wasn't for me at this point in my blogging career.
Would I go back to Squarespace?
Maybe, if I saw the need to move. But right now I am completely happy with the choice to stay put in Blogger and have found I can make it look just the same as any professional website with a few adjustments here and there.
So whether you use Sqaurespace, Blogger, WordPress, or any other form of blogging platform, have you found this is your HOME, right now? Have you been happy with the choice to make the big move to any of these? Or move back to one you have before?
Blogging is constantly changing in design and what we are capable of doing. Make sure you are able to make your blog the best blog it can be with the all the resources you have!