This post may contain affiliate links which may give us a commission at no additional cost to you. As an Amazon Associate we earn from qualifying purchases.
It's so easy to start a blog. Find your platform, come up with a name … well, maybe it's not that easy. But when it comes to writing, if you've started a blog and know what you want to write about? It's easy.
It becomes simple. You write every day. You've got things to say. Important stuff on your mind that you want to share. Of course you do – that's why you started a blog to begin with.
And that's great. I'm thrilled for you. I'm thrilled for all of us, because that feeling — that motivating and inspiring boost we go through that gets us to write every day, or sometimes even twice a day? It's what creates a blogger.
And it's pretty amazing.
I'm guilty of being one of those people who started my blog and posted teeny tiny posts 2-3x/daily.
Who would even read those now?
Not many people. That's what Facebook and Twitter and Instagram are for.
Looking to post often? Tumblr could be just what you need.
But bloggers who post all day every day? Not the norm anymore.
So, the age-old question remains. How often SHOULD you post?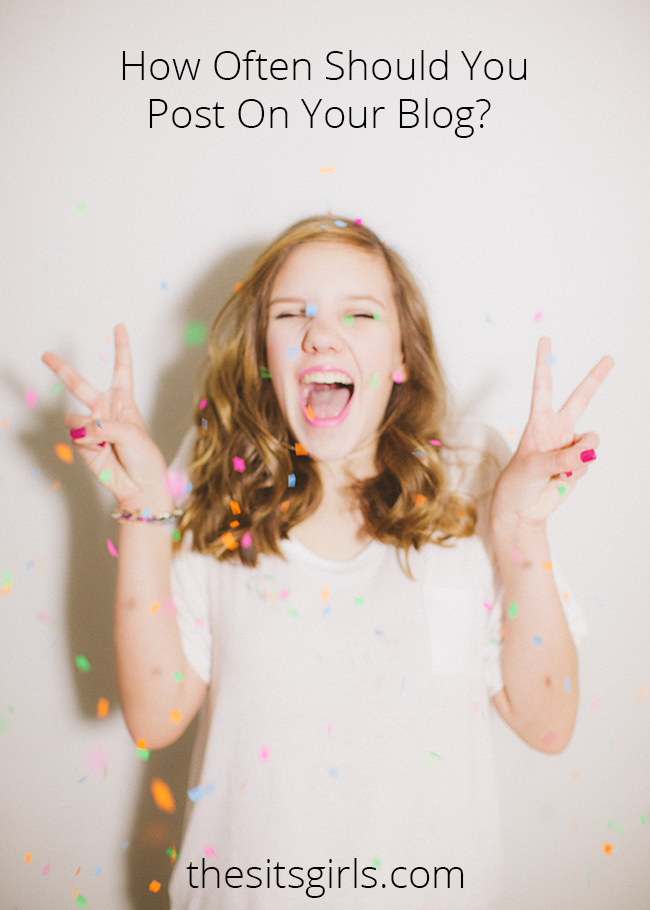 How Often Should You Post On Your Blog?
Honestly, there's no perfect answer. And if you haven't heard this before I'll tell you. And if you have? I'll tell you anyway. There's no real "should" in blogging. What works for me might not work for you. And vice versa.
So, do you want to write something and publish it every.single.day? Go for it. Just because it's not the norm doesn't mean you can't do it. People write every day and don't post. People write every day and submit their content to other sites. And people write every day and don't post. It's really up to you.
Do you want to post a few times a week? Honestly? You might find that to be a bit better as far as numbers are concerned. If you're worried about that sort of thing. Sometimes if you leave a post up as your top post you will see an increase in hits and views and the like because that's where people go first when they stop by your blog. I've heard time and time again that reading blogs is a pass-time that's disappearing. People have told me they spend too much time working on their own sites to be able to read what their friends are up to. Personally, that's not how I do things – but I understand it. I think this change in flow might be why it's better for many to post a few times a week.
Want to skip entire weeks? I can't advocate for this, but I've absolutely been guilty of it. Recently I was traveling and although I had some guest posts lined up, I blinked and realized I hadn't posted in a week. My monthly numbers will – of course- take a hit, but at the same time I'm okay with that. I enjoyed my family time and traveling. I wrote when I wanted to and didn't when I didn't.
It's a tricky thing, this blogging world we participate in. Go with your gut and what you're comfortable with, and you'll find that a pattern develops. You'll know when you want to sit down and write and when you're okay with leaving your site unattended for a little bit. There's no harm in either outlook, it's all dependent on what your goals are.
Because despite all of the ideas and recommendations out there, there really isn't an absolute when it comes to any aspect of blogging.