This post may contain affiliate links which may give us a commission at no additional cost to you. As an Amazon Associate we earn from qualifying purchases.
Over the last year or so, some of my fellow bloggers have started calling me the "Queen of Blog Posting & Commenting." Now while I feel there are many others who share my title with posting, commenting or both, I take pride that my blogging schedule, my consistent writing and commenting, is something people notice and appreciate about me. I've been interested in reading blogs for about ten years now, but I never learned until more recently that not only could I join in the fun and start my own blog, but I could interact with other bloggers as well! I'm so inspired by the many bloggers who have come before and after me. To me, blogging is a community activity.
People joke that I have powers of time travel or that I never sleep and that's how I am able to post on my blog three times a week and comment consistently on many blogs. That could not be further from the truth! I just use my blog writing, reading and commenting time as wisely as I can manage. I post and comment consistently because I love to do it and because it's important to me in my blogging career.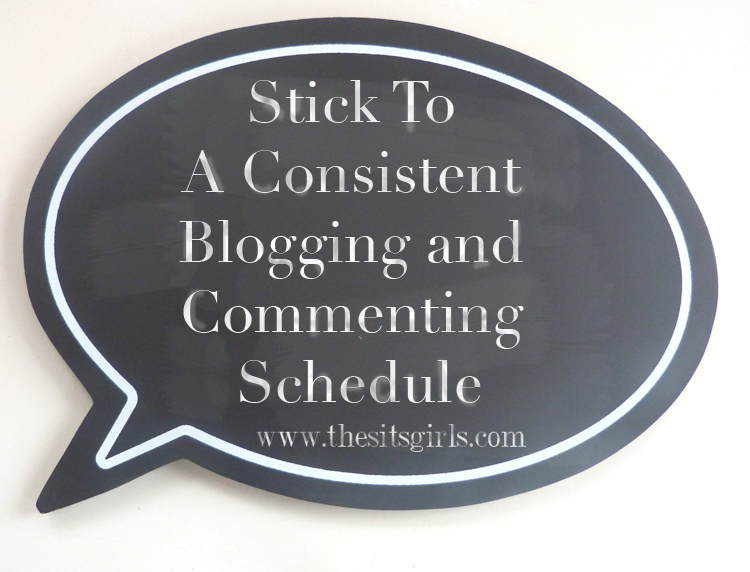 I have blogged my way through bouts of anxiety, through the birth of my second-born and his subsequent NICU stay, through moves and changes, births and deaths of loved ones, parties, pets, and all of the other wonderful and painful changes that life has thrown my way. I can't imagine not writing, but like everyone else, I have blogging ruts, burnouts, dry spells, and periods of self-doubt.
Through time, experience, and with the help of many other bloggers, I have learned how to stick to a consistent blogging and commenting schedule.
Five Ways To Stick To a Consistent Blogging Schedule
First of all, why should you stick to a consistent blogging schedule? The number one answer is trust. There is absolutely room for blogging breaks. We work, travel, and want to experience our in-person lives to the fullest. I believe there is room for everything, with a little planning. The reason for blogging on a schedule is that it allows readers to trust that they can come to our blogs on a regular, or even semi-regular basis, and see new posts. Consistent blogging will help with building trust and relationships, with driving traffic to your blog, with helping your SEO, and with making you look like an authority on the subject(s) you choose to write about.
In my blog, I post mostly about photography and my family stories. It's challenging to post photo and word-heavy posts three times a week, so I balance my workload by following these five tips:
1) Write and write some more.
I write every day and I write on a timer too. It's important for me to walk away from writing periodically so that it's fresh when I come back to it. Write down every idea you have – in notes, post-its or in drafts and docs. Write in bulk if you're having a day in which the words keep coming. I like to keep some drafts available for future dry spells and vacations.
2) The power of connection.
Create or participate in weekly or bi-monthly series. It can be about anything! Create or participate in prompts and linkups. Consider having guest writers or being a guest writer. Keep a running list of topics and Google "blog topics" and you will get tons of hits to sort through. I love to find or create Q&A's and memes to write about.
3) Develop an editorial calendar.
Consider a program like CoSchedule if you use WordPress. Write out a workable outline for each post for next week or even month. Follow the calendar year and seasons. What topics do you want to cover for the next few weeks or months? What messages do you want to send about your blog, and what do you want your readers to know about you?
4) Old news can be new news.
Consider reposting old material that didn't get a lot of attention when you originally posted it. It can take a long time for a blog to grow followers and it can be beneficial to show your readers some of your old content.
5) Make your life your inspiration.
This is the main theme of my blog, and I aim to do a post about my family/photography once a week. Use photos and compelling stories. You can review products, restaurants, movies, or other things you experience in your daily life. Blogging doesn't have to be in the front of your mind, but I find that if I keep it in the back of my mind, the posts will come.
Now that you have some tips on keeping your posts consistent and fresh, let's talk about commenting on other blogs.
Five Ways To Stick To a Consistent Commenting Schedule

Why should you stick to a consistent commenting schedule? What's in it for you? Maybe more than you think.
You can add value to other blogs and also add value to yourself. Regular blog commenting brushes up your reading and writing skills. Not only that, consistent commenting puts your name out there as not only a blogger, but as a thoughtful reader and writer. You can gain traffic and backlinks to your website, build relationships and tribes with other bloggers and blogging communities, increase your authority, improve your search rankings, and make other bloggers happy!
Not only that, blog commenting is fun too! I learn so much about my fellow bloggers, and so much about myself along the way:
1) Commit to it.
Why do you want to comment on other blogs? Are you seeking relationships, SEO, backlinks, support, etc? For whatever your reason, and there may be many, make the commitment first and the rest will follow. You can start at a volume that you can handle with your lifestyle. Whether that's commenting on two blogs a week, or 200, you can set realistic goals.
2) Organize it.
My funny story is that before I discovered blog readers, I would just bookmark EVERY single blog I wanted to read/comment on and I'd just go down the list daily and see if they published any new content. This was so time consuming! Luckily I discovered Bloglovin – a wonderful blog reader in which you can subscribe to all of the blogs you want to read in one spot, and even categorize them. I've heard that people love Feedly too. One last thought is that if there is a blog you simply can't miss, you might want to subscribe via email. The feeds can suffer from server problems and lags, and sometimes you won't see new posts for days.
3) Find your time to comment.
For me, it's that sweet spot in late morning, in which my daughter is at school or camp and my son is napping. I catch up on weeknights and weekends. Don't rush it. You don't want to spend all of your precious reading/commenting time skimming. You want to add quality comments to blogs AND learn about blogging and writing more along the way.
4) Take breaks too!
I was teased last summer because I was still commenting while I was on vacation in Cape Cod. I was traveling without my husband, and my mother-in-law and children would fall asleep early. With no TV or books to read, I did follow along on blogs late at night. This is not always recommended, though! Give yourself breaks. If you post three times a week and you follow a blogger who posts five times a week, it's ok to comment two or three times (or less) a week on their blog. Your daily life outside of blogging comes first.
5) Find your people. Find your tribe.
There are many ways you can find blogs to follow. I start with SITS Girls to check in every day and comment on the blogs of the other women I found there. This leads to many other overlapping circles. How do you find your blogging tribe? Blogging communities are the best way to start. From there, you may find other blogs through your current blogs, through Facebook groups, through Twitter, Pinterest, and Instagram linkups too. You may find bloggers who are in your niche, or close to it. I personally develop commenting relationships with bloggers who will commit back to reading/commenting, and/or bloggers I can learn from.
Lastly, have fun and learn something! Generally you have to give to get, unless you're lucky from a viral post, or you hit a special niche. Mainly you should want to comment consistently in order to succeed and grow. It's meant for enjoyment and building connections, and not just going through the motions. You just never know who you will discover and benefit from in this vast world of blogging.
Keep Reading
Looking for more information about organizing your blogging and commenting schedules? Here are a few posts you'll find helpful: