This post may contain affiliate links which may give us a commission at no additional cost to you. As an Amazon Associate we earn from qualifying purchases.
Our blogs often start out as a hobby but soon become something more. We read blogging tips and tutorials, and as we gain experience, we learn that our blogs need daily attention and care. Blogging tools help maintain your blog. My favorite tools include things that help me with organization, images, proofreading, and social media.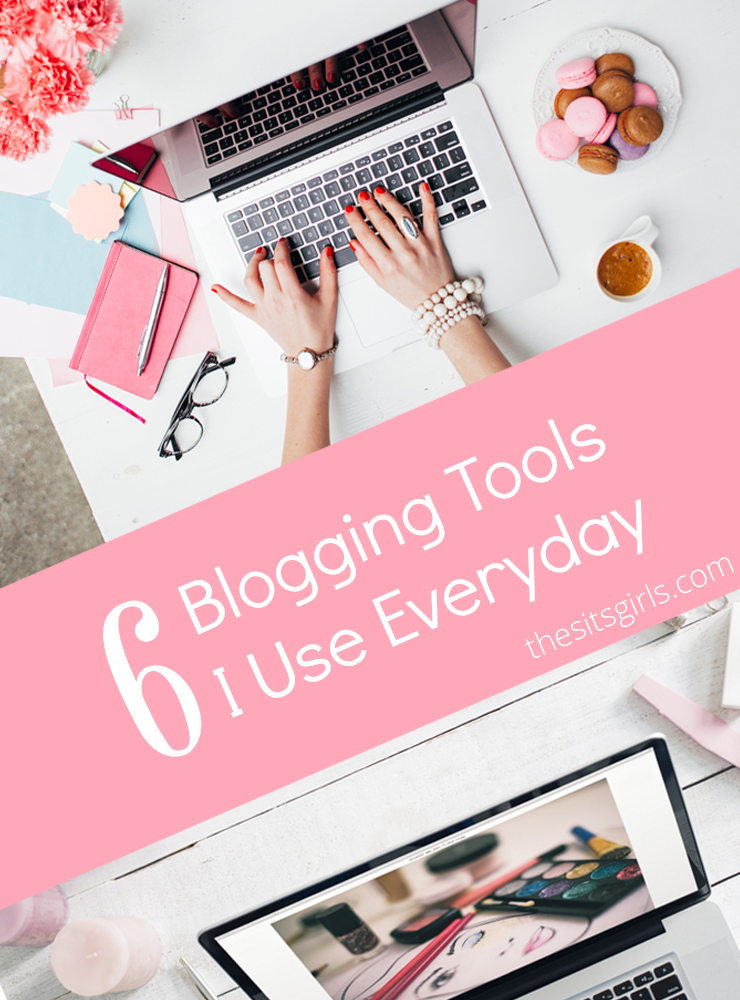 Six Blogging Tools We Use Everyday
1. Editorial Calendar
The editorial calendar is the most essential of my everyday blogging tools. An editorial calendar will become your best friend as you continue blogging. Use a printed or digital calendar to plan post topics. Your editorial calendar also organizes guest posts, social media shares, and analytics. Since starting an editorial calendar, my blogging life has become more organized and manageable.
2. Grammarly and HemingwayApp
Writing a great post is more than just getting it done. It must be readable with proper grammar and punctuation. My favorite editing tools include Grammarly and HemingwayApp. Copy and paste your text into either of these tools. They will scan the text and give suggested edits. These are free to use and perfect for the final proofreading check. I use Grammarly to check grammar and punctuation. HemingwayApp checks for readability, grammar, and punctuation. I use each for every post.
3. Canva and PicMonkey
What's a well-written post without amazing images? Canva and PicMonkey are perfect for creating pinnable images, graphics, and editing photos. They are easy to use, free (Canva does charge $1 for some images and graphics), and professional quality. As a bonus, check out these resources for free images.
4. Social Media Scheduling Tools
Your post is done with perfect images. The next step is to plan social media shares. My favorite tools for this include CoSchedule, Hootsuite, and Tailwind. Coschedule has a plugin for WordPress that lets me schedule shares before the post goes live. It also has a calendar feature. Hootsuite is amazing. Pick a social media platform, link your post and image, and schedule. Hootsuite also has a bulk upload feature so you can schedule a month or more out. Tailwind is an auto scheduler for Pinterest. I am in complete love with Tailwind. It is easy to select a board, write a description (remember keywords), and schedule as many times as you like. It also has a plugin for your browser that allows you to schedule pins while on the internet.
5. Google Analytics
Once everything is posted and shared you want to analyze the success of  your post. In steps Google Analytics. For me, there is no better tool to analyze traffic, posts, shares, etc. It takes some time and practice to learn how to navigate and find information. But it is well worth the effort to learn how to use Google Analytics. The information will help you find underperforming posts and decide if a revamp or reshares are necessary.
6. Readers And Google Alerts
A good writer and blogger reads. Stay informed using Bloglovin, Feedly, and Google Alerts. Follow blogs using Bloglovin and Feedly. Use Google Alerts to receive topic specific articles and stay abreast of a particular subject. Simply search with keywords to find topics of interest. Set up alerts if you would like to receive articles about that topic.
I'm not finished yet…
I've heard a lot about Periscope and Pocket. My goal is to check out Periscope (looks fun) and play with it a bit. Pocket looks terrific for saving articles and posts for reference later. It links with Feedly making it functional and easy to use. This is the thing about blogging – you are never finished finding new tools or tricks to help you on your path to blogging greatness.
There are so many other tools available to bloggers. What are some of your favorites?