This post may contain affiliate links which may give us a commission at no additional cost to you. As an Amazon Associate we earn from qualifying purchases.
I am blogging with Squarespace now, but for a long time I was a hardcore WordPress.com chick. I never went self hosted, but I also don't own a home either. I'm the renting kind. 
When I speak to clients and they ask the difference between self-hosted and hosted blogs, I give them this analogy:
When your blog is hosted on WordPress.com (or Squarespace), for example, you don't really own anything. It's like renting a home. Sure, you can change the wall colors, add furniture, maybe plant a few flowers, but when something breaks you call the landlord and they take care of fixing the place. In the case of blogging, if someone hacks into your site, if it goes down in the middle of the night, or there's an update that needs installing, you don't do any of it. WordPress (or Squarespace) does.
When your blog is self-hosted, it's like you own a house. You can change everything. You can move walls, build extensions, even have a pond in your living room. Should the roof cave in though, you better have money saved because the only person you're calling is a contractor to fix it. In the case of blogging, should you log in and your site is blank, or hacked into, you have to be the one that calls your hosting provider to figure out what is going on and take care of the problem yourself.
For more on the differences between hosted and self-hosted as it relates to WordPress, this is a really great breakdown Differences between WordPress.com and WordPress.org (and the relationship too!) by Julie of Fabulous Blogging. And check out the pros and cons of WordPress and Blogger (another popular hosted blogging platform). 
I was afraid of going self-hosted as a working mom. Personally, I didn't have the bandwidth to handle frantic phone calls should something go wrong. I know there are bloggers who love going self-hosted and can't see any other way to blog. I get it, but for me? When I found out about Squarespace, that looked like condo living and I was all about that.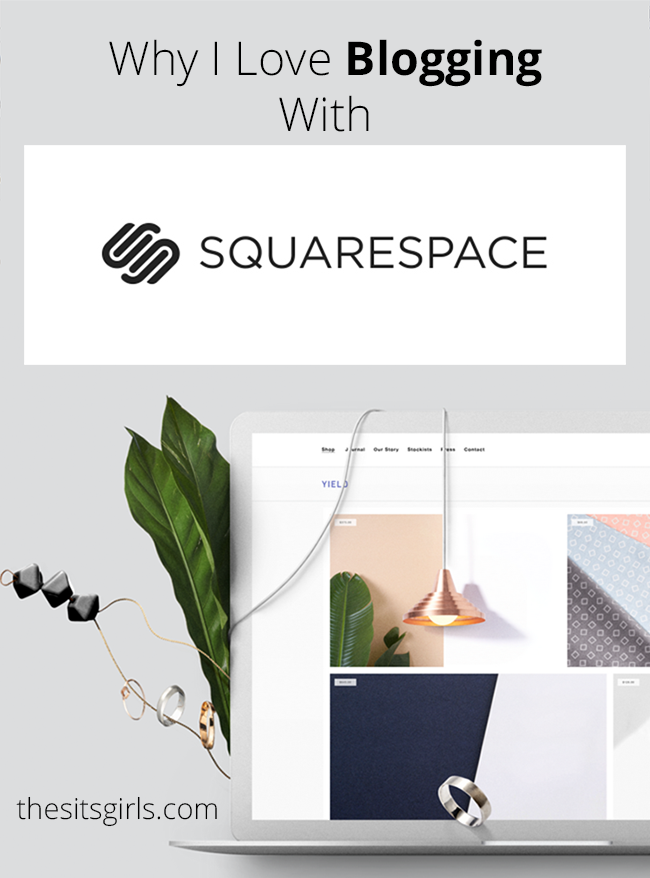 Here's Why I Love Blogging With Squarespace
You get a two week free trial to work on your site, then you can go live and be ready to go! I spent a day at most transfering my wordpress.com site to Squarespace. There are plenty of free online guides to get you started and you don't have to keep refreshing and checking the front end to get a "preview". You can customize to your hearts content. When you're ready, you literally turn your site on, and go! Not to mention, the transfer was as easy as whipping up a cappuccino. It took that long. I will recommend that you reach out to Bloglovin' to get your RSS updated as the format is slightly different.
One payment. Period. I don't have to pay for hosting, a theme, plugins, a designer, a developer, what have you. I pay $20 a month and that's it. I don't have to worry about anything else.
Their customer service can't be beat. I actually thought that I deleted my blog. Really. I jumped on Squarespace chat and was immediately connected with someone who walked me through recovering my blog. Who am I kidding? I am making it sound like I did something complicated. Who knew that I had a trash can in my back end?! Squarespace did. And they knew that people like me would need that kind of safety net. In addition to email and live chat support, they provide (and are always adding) video tutorials, community forums.
The back end is SUPER intuitive. As in, I can create gallery walls like I did for my archives page.
Minimalized templates. I can't have all these choices! They slay me. I would buy a new theme each month. With Squarespace, they have a tight selection and an even tighter subset that has a sidebar (which I need). The less options for me, the better.
Instant rich pins & SEO. I don't have to apply for anything when it comes to Pinterest. Pinterest Rich Pins comes with Squarespace. Period. End of story. SEO? I don't have to Yoast anything. I write solid content and be sure to name my images properly and add alt text (that's slightly different – but easy to do).
Don't just take my word for it, read what other Squarespace users have to say!
Jessica from pocketfullofsunshineevents.com says:
I ADORE the fact that the templates are clean, simple, and precise. You don't need a degree in HTML coding to make it look like a higher-end, custom designed website. It's also great because you get the two week free trial. You can build the website behind the scenes, get all of your images & SEO taken care of, then flip the switch when you're ready. Your clients are never any the wiser. It comes with a free custom domain with a year long subscription. Did I mention you don't need a degree in coding to make it look nice? It's simple, it's intuitive, and any questions I've ever had can be answered in the help forums or with their awesome customer service reps.
Brooke from befedagain.com says:
Everybody compliments me on how clean my site is. I hired out the build but I have been able to do all the maintenance and the help desk people have been amazing. I ran a giveaway and had some issues with getting it off the ground and Squarespace walked me through it step by step.
Teresa from tiarasandtantrums.com says:
I ADORE Squarespace. I have been hosted by them for 5 years now. I started on Squarespace 5, and am now on Squarespace 7. All the transitions were seamless. I switched from blogger to Squarespace all by myself years ago. I have always designed my own sites and Squarespace makes everything so easy from their tutorials to their help desk. If you can't find something they will help you promptly. I was hacked a couple of years ago and my site was shut down by it. I contacted Squarespace and they assisted me with all of it. Plus their templates are A-MAZ-ING! I don't think you can break your Squarespace blog!
Lauren from andtheteachersays.com says:
I have no design or coding experience, and I found Squarespace incredibly easy to use. Once you get the hang of it, it is incredibly intuitive. Their customer service is wonderful. When I've had a question or stuck I can send them an email or chat online. Their help desk has been extremely helpful.
I am not a WordPress hater, I just chose what was right for me. If you're curious as to what the other camp says, I've noted some other resources to help you make a decision. I highly recommend you weigh and consider all of your options, what you can manage, and what you can't, to make your final decision.
Are you on Squarespace? Chime in and tell us why you love it.