This post may contain affiliate links which may give us a commission at no additional cost to you. As an Amazon Associate we earn from qualifying purchases.
Do you boost sponsored Facebook posts for brands or networks?
A meme about how rough mornings are, a funny story about one of my kids, a question about dealing with homework, sharing a parenting article from another page, a meme about liking pizza much more than working out, a sponsored post, and a quote about strong women. That's a pretty typical day of topics on my Facebook fan page. Sometimes I don't post quite that much, but I've figured out what my audience likes.
And that's why I always say yes to boosting sponsored Facebook posts.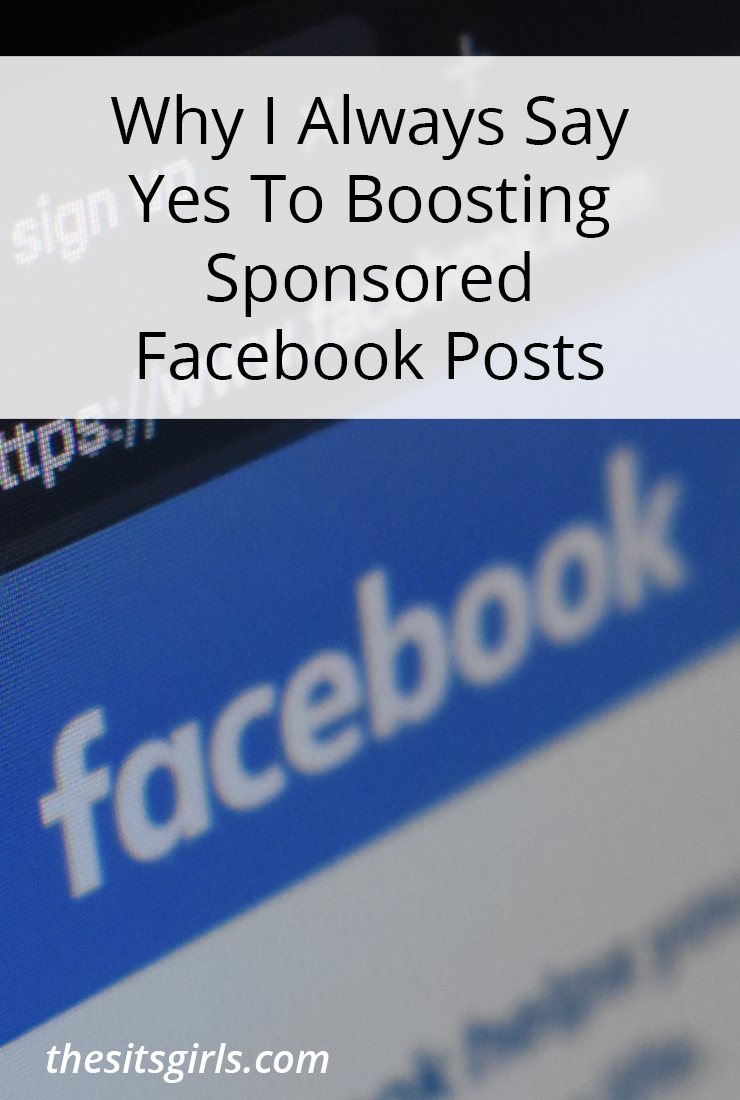 Why I Always Say Yes To Boosting Sponsored Facebook Posts
Over the years, I've built a pretty fantastic, engaged community on Facebook. However, if you look at my sampling of Facebook posts, do you know which one is most likely to receive the least amount of engagement? The sponsored post, which is the one whose performance I'm the most concerned about.
Since I only accept sponsored posts that fit in with what I'd usually post anyway, which are topics of concern to my audience, I have a hard time believing that those posts don't do as well simply because they are sponsored.
Yet, my organic reach on Facebook is never as good on a sponsored post as it is on something random I think my community will like. I want these sponsored posts to do well because I want to feel like I did the best job possible with the brand or network who hired me. And in the hopes of getting more work from them later.
I don't tend to do a paid boost on my own Facebook posts, because it feels like I'm losing out on some of the money I'm being paid for the post that way.
Luckily, a lot of networks and brands build in a boosting budget for Facebook posts.
In addition to being a blogger, I also am part of the insights team here at Sway. I run the numbers after a campaign closes and evaluate the results. Our team knows that organic reach on Facebook is trending low these days. So, we do boost some of these posts. Sometimes it's all posts on a campaign, sometimes it's posts that we want to help gain traction, or sometimes it's content we love and really want to highlight.
From the blogging side of things, I love when one of my posts is chosen to be boosted on Facebook. It means more people will get to see my Facebook post and engage with my page. It usually means more clicking over to my blog, as well. And maybe that will mean they'll poke around a site they'd hadn't been on before and decide they like what they see. It's a way to reach new people without any additional effort on my part.
What do I need to do to say yes to boosting sponsored Facebook posts?
The only thing I might have to do is provide advertiser access to my Facebook page to the brand or network if I haven't worked with them in the past. It's super simple to do, and then they take care of the rest (deciding on the budget, figuring out who to target with the boost, and paying for it). With advertiser access to my page, the brand or network can see which admin created a post or comment, create ads, and view insights. They cannot change any of my existing settings or create new posts on their own.
I can see how much they're boosting my post for, as well as view the results when it's complete. It's an interesting way for me to be able to see what sort of return I could expect to see on a post if I were to spend my own money on a Facebook boost.
Allowing a network or brand to boost your Facebook post means you'll get more engagement than you would have received otherwise. So, if you are asked about this, I definitely recommend saying yes. It's a win for you and the brand.
Looking for more Facebook tips? Read How to Get the Most Out of Your Facebook Ads!