This post may contain affiliate links which may give us a commission at no additional cost to you. As an Amazon Associate we earn from qualifying purchases.
You want your readers to stick around on your blog for as long as possible or for them to come back often. One way to do that is by adding calls to action in your blog posts.
A call-to-action is basically an invitation for your readers to take a certain action: subscribe or sign up for something, click to tweet or something else. They can consist of buttons, or well-written lines of text.
Holly covered why you need call to actions with your posts a few months ago so now I'm going to cover sample call to actions.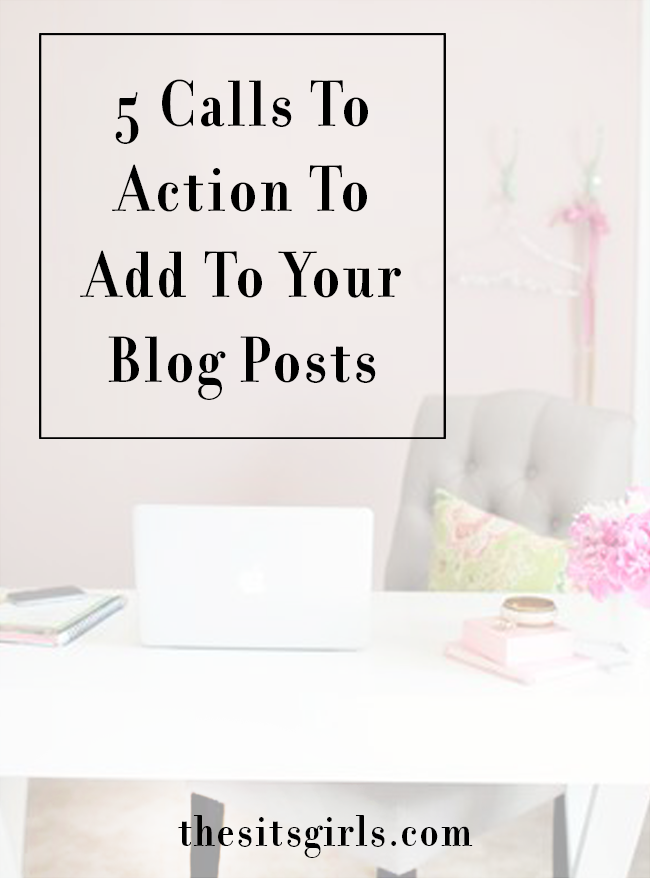 5 Calls To Action To Add To Your Blog Posts
Words are very powerful and learning how to use the right ones in your call to action phrases can dramatically increase your conversions. An effective call to action will act as an extension of your blog posts.
1. Comments — Ask for comments. By simply asking a question you are asking your readers to engage with you.
2. Pint It – Leave an image for your readers to post in Pinterest.
3. Click to Tweet – Leave a little blurb, message, or quote that's relevant to your post and can be tweetable. I recommend using the Click to Tweet plugin if your blog is on WordPress.org.
4. Subscriptions — Email subscribers are one of the most important kinds of followers your blog or website can have.  Your readers want to know "what's in it for them" if they give you their email address. Offer them a gift or something exclusive just for email subscribers. Ideas include: printables, a blog series, an invitation to an exclusive Facebook group, your latest e-book, additional training invitation, a freebie opt-in, or invitation to join a social media challenge.
5. Connect on social media — Get your readers to become your newest Twitter followers or Facebook fans. By doing so you're converting these readers into members of your online community.
Calls to action sound fancy, but they really are quite simple.
Do you have a call to action within your content? What call to action method is most effective for you?
Keep Reading: For more tips on connecting with your audience, check out this post!