This post may contain affiliate links which may give us a commission at no additional cost to you. As an Amazon Associate we earn from qualifying purchases.
Comments are the life blood of many bloggers. What's the point of putting your words out there into the web if you can't get people's comments on them? The process of commenting on other blogs can help to form or solidify an online friendship and can also bring more traffic to your own blog.
There are lots of factors to look at when choosing a commenting system for your blog. We are going to walk through some of them and share the pros and cons of some of the most popular commenting systems bloggers are using today.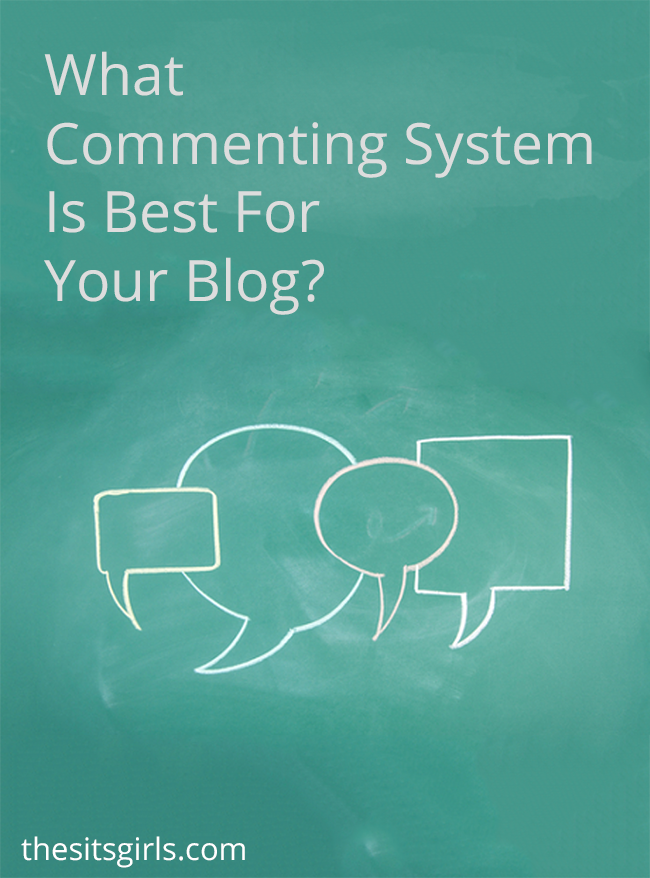 What Commenting System Is Best For Your Blog?
First and foremost, you want to choose something that works with your hosting platform. Not all commenting systems are compatible with all blog hosts. If you decide to move away from the native commenting system that comes with your blog, make sure you look into whether the current comments will be able to be moved and whether they can be moved back if you ever change your mind.
Secondly, you'll want to consider the ease of use for your readers. People won't comment if they have to jump through multiple hoops to do so. Do you have a CAPTCHA? Those get annoying for people and I've skipped commenting on many blogs that have them. If you are hoping to keep out spam comments, there are better ways. Most commenting systems have some sort of moderation options, you just need to look and see what they offer.
Another thing to keep in mind is who your readers are and whether they'll need to login to something in order to leave comments. Most blog readers have a Facebook account, but not all of them. Even those who have Facebook accounts may not want their real names associated with their comments. Look for a commenting system that allows users to log-in using another, already existing account such as Facebook, Twitter, or G+ and you'll hopefully see your engagement grow.
You may also want to look into how your commenting system handles replies. Can you easily reply through an email? Will the commenter be notified of your reply? Do your replies nest (show up underneath the comment they pertain to)? How easy is it to find the commenter's blog (if they have one) and return the commenting love?
One last thing I will warn you of in your research: see what other people think of the system before you make a switch. You'll hear better reviews from friends in the blogging community than you will on the website for the platform you are looking into. Take a minute to reach out and ask your potential commenting system a question on their social media or through email. See if they respond. I ditched a system I had loved previously when I had a glitch and no one would respond to help me figure it out. It was a very frustrating, comment-less week for me.
Here's a brief breakdown of a few of the popular commenting systems available…
Native Blog Platform Commenting System
Pros
Cons
Seamless integration

Quick loading times

Not many bells and whistles

May require unique log-in
Facebook Comments
Pros
Cons
Most readers have an account already logged in

Easily shares posts to Facebook

Ability to see info about poster

Some people are reluctant to use their real name in blog comments
Disqus
Pros
Cons
Popular and widely used

Various moderation tools available

Notifications for replies

Requires a login

Can be slow to load
Intense Debate
Pros
Cons
Highly customizable

Highlights commenters' recent posts

Easy "reply by email" option

Little customer support

Slow load times
Livefyre
Pros
Cons
Allows users to "tag" other users in comments

Various social media sign in options

Integration and moderation glitches

Less customizable

Unique sign in required
What commenting system do you use on your blog?
What are you looking for in a commenting system?
Keep Reading