This post may contain affiliate links which may give us a commission at no additional cost to you. As an Amazon Associate we earn from qualifying purchases.
Do you ever stop to think about your favorite part of blogging? For me, hands down, it's been the one aspect of blogging I never even considered until I finally set my hands to my keyboard and published that first post. And then that second post. And then it had been three years and nearly 500 posts later, when I finally discovered the one thing I had been waiting for all that time – connections. It is amazing to be able to connect with your readers.
Not every blogger, reader, or blogger/reader will become your best friend, but I'd be amiss if I didn't tell you that blog connections have opened up my eyes to a whole new world. I've since met several bloggers in person. I've been published in five books. I've started a new career. Not to mention, there's such an emotional component to creating a space of mutual trust and respect with another blogger.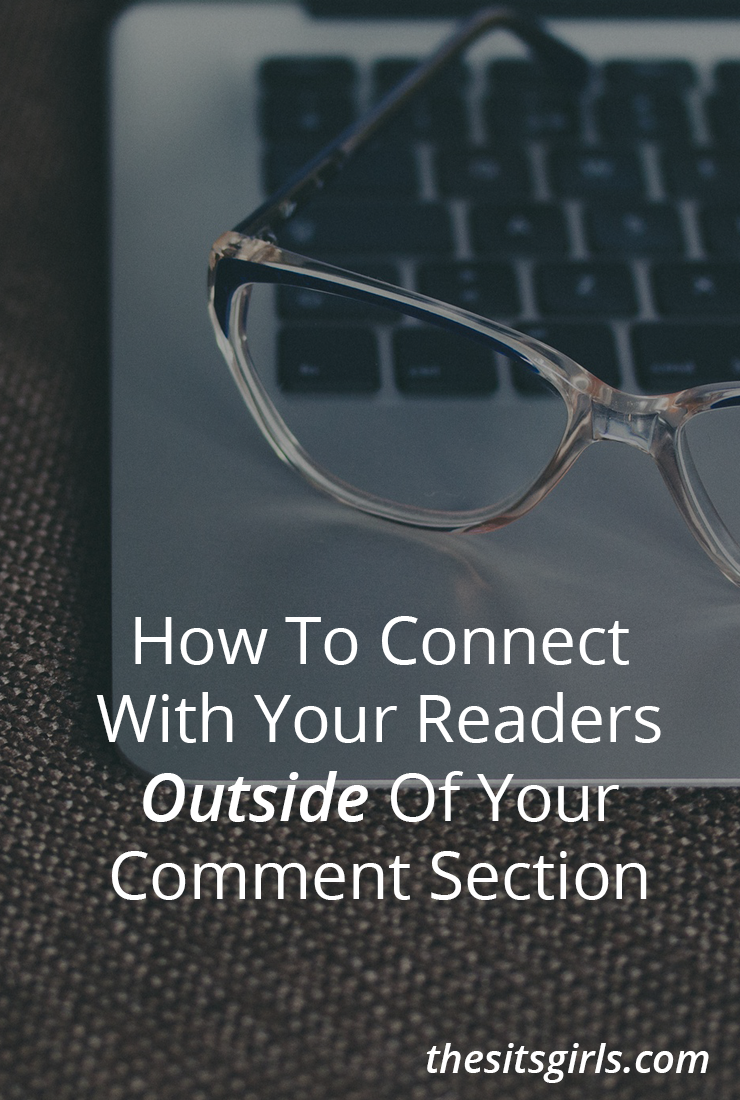 How To Connect With Your Readers
The first important aspect of connecting I ever learned was to comment on other blogs. After doing that for a while, I received an important piece of feedback, to reply to comments on MY blog. How that hadn't occurred to me, I'll never know. After a long reign of being the "Comment Queen," blogging changed yet again. People weren't reading and writing as many personal posts. I got discouraged. I knew the connections were strong with many, but how could I maintain those blogger relationships I already had, and also form new ones with like-minded bloggers?
You probably already know why you want to make connections with other bloggers and with non-blogger readers too, but do you know how to make these connections?
How To Connect With Your Readers ON The Blog:
This is, of course, my favorite way to connect. I've been writing for 30 years now, and my way of writing is storytelling, personal, and first person. That doesn't mean I haven't had a lot to learn along the way, though! I'm always still learning, in fact:
Write each blog post with new readers in mind. I'm not saying to treat EVERY new blog post like it's a first introduction, because that could get tiresome, but I do think it's important to keep in mind that it could be someone's first time to your blog. How do you grab their attention and draw them in? I like to link back to an introductory or relevant previous post, or even to my "About Me" page, on occasion. I also recommend you make sure to sprinkle in "my husband" or "my son", etc. before your husband/child/loved one's name. I'm certainly guilty of writing conversationally about my family, but there are ways to use language to catch new readers up.
Speak conversationally. This can be hard to do! I majored in journalism and even to do that, I had to forget about the essay writing I did in high school. With blogging, I have to forget about what I learned in journalism classes. I'm not writing for a newspaper here. I'm writing a personal blog. Use "you" to address your readers and use "I" whenever it's appropriate. Even if you're writing sponsored content, clients will want to hear YOUR story. Not an essay. Let your personality shine. Pose questions. Address your readers. Write YOUR story.
Create a space of inspiration. Nothing will connect readers to you better than inspiring them. Show empathy and hope. Offer solutions. Pose questions and answers. Share quotes, photos, tips, cookies with sprinkles, and stories full of love, peace, hope, wisdom, and humor. Share funny and heartwarming things your parents, your kids, or your spouse did. Raise your readers up.
Make sure your blog reflects YOU! On the business side of things, make sure your blog reflects your brand. I mean that in terms of design, content, sharing buttons, sidebars, and ads – every little detail that is being seen by someone else. How would you feel if you saw those details on another blog? Discouraged? Encouraged? Turned off. Be true to YOU, and let your blog reflect your personal values and tastes. Remember that it's being seen.
Be a good storyteller, and be a good human, and the good writing will follow. Storytelling is an art. Since the dawn of time, humans have told stories. I believe that will never change. You can start to see how your delivery of stories draws people in or out. Show kindness and tact. Show vulnerability. Show passion. Show YOU! Using connecting phrases like "You are not alone" and "I understand" will connect your readers on a deep level. Treat your readers like your friends, and perhaps they will become just that.
How To Connect With Your Readers OFF The Blog:
Utilize as many social media platforms as you feel comfortable with. I'm not going to tell you I use EVERY social media platform. No one has time for that! I do try to connect well on the ones I do use, though. Your Facebook page, Twitter account, Instagram account, Pinterest account, and more, can be used to continue your story. This is another place to keep your readers together, and to build your blog community. It's a good place for content and idea sharing.
Emails. I place a lot of stock in emails, and I have always said that if I ever made it big time, I'd still take the time to answer every letter. I don't know how feasible that is, but it's also ok that I will most likely never make it big time. If someone sends me an email about my blog, or a post, or anything that's touched them and made them want to write to me, I take that so seriously. Someone has taken the time to write to me? It gives us a chance to further the conversations and connections.
Connect deeper with a newsletter. Funny for me to say because I don't have one. Yet. I find that the newsletters I do subscribe to are genuine, funny, conversational, and true to the blogger I'm reading from. Newsletters are an incredible way to gain and maintain your following, by being true to yourself, and by continuing to tell or retell your stories, in new and maybe not-yet-seen ways.
Online and even in-person groups. Utilize groups and tribes. There are so many places on the Internet for connecting with other bloggers and readers. I can't even name them all because I'll probably sound outdated, but even good old Facebook groups are a powerful tool for me to connect with readers and bloggers. You can also join in-person groups and find new ways to connect off the blog, and off the Internet.
Really care about your readers. It sounds simple, right? Follow this rule, and you'll constantly be thinking of new and innovative ways to connect on a genuine level.
As you know, with blogging and everything else, learning never stops. Take in the suggestions and comments from your readers and fellow bloggers. Give shout-outs. Give credit. Share work. Compare yourself to YOU and not one else. Be the awesome YOU that you are.
Keep Reading