This post may contain affiliate links which may give us a commission at no additional cost to you. As an Amazon Associate we earn from qualifying purchases.
We're kicking off a new series today in our Women on the Move channel today entitled, Ask the Expert.  It's a way for us to regularly feature the mad skills and know-how from the women in our dynamic community.  For our first installment, Kat Sabine is joining us to address the topic of copyright and what it means to you and your blog.  Before we dive in, let's get to know Kat…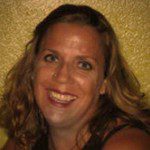 Kat Sabine (mamakats) has extensive activism and volunteer experience in issue organizing, which has afforded her the ability to participate in member recruitment, project supervising, political action and lobbying, conflict resolution, adult education and training, as well as public relations and communications.  This led her to also earn a BA in English, with honors, and a Masters in Women's Studies.  She is a mother of two boys, 9 years apart (whoops!): her older son has Asperger Syndrome on the Autism Spectrum; while her younger son is labeled as Exceptionally Gifted.  When not chasing her boys, she maintains community connection through volunteering and writing on the Bitch in the house blog and various projects.  And if that doesn't keep her busy enough, she also works on lots of home improvement projects for her 1950's bungalow-style home located in the Southwestern United States.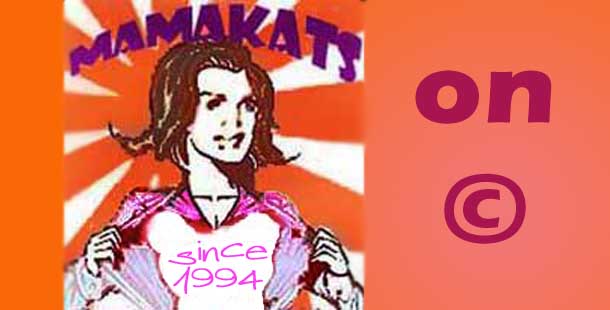 When I was in graduate school, I earned a reputation for spotting plagiarism amongst undergraduate papers.  Many of the professors I worked with were impressed with my uncanny knack for spotting a lifted phrase and then tracking its source back to the original publication date and author.  But then I knew what I was looking for.  Often a plagiarized sentence or paragraph contains some turn of phrase or language not present in the rest of the written piece.  That was my secret trick for uncovering an English student's cheating efforts.  And to be honest, in every class there is always some student who either misunderstood the tenets of plagiarism or just plain ol' tried to pull one over on overworked teaching  assistants and professors.  Out in the blogosphere, it's a much different game to catch a thief.  And once you do catch someone stealing your work, what can you really do about it?
Welcome to copyright protection!
As it turns out, your work is protected under U.S. copyright law "the moment it is created and fixed in a tangible form that is perceptible either directly or with the aid of a machine or device"  (U.S. Copyright Office, Jul, 2006).  Even if your work is not officially registered with any governmentally recognized entity, your words belong to you and cannot be used for the gain of anyone else.  That's a pretty powerful tool.  However, registration of your work is strongly recommended if you would like the fact of your copyright on public record.  Because timelines of blogposts are not actually fixed in time, it is difficult to prove that your work actually originated with you.  Unfortunately, just like my former students, there are lots of people out there who either misunderstand their obligations to crediting you with your creative efforts or who are unscrupulous.
Therefore, at its base, a copyright is a legal notice of protection to guard your creative efforts from someone else using it.  The components that make up copyright protection prevent others from copying, distributing, or even make derivative works (like turning a book into a movie) based on your projects.  However, there are some instances whereby your works might not be protected.  These components of copyright are called "fair use" and allow others to make comments, parody, or utilize for limited educational purposes your creative works.  There is a lot of confusion about what constitutes "fair use" and frankly even the American legal system is fraught with questions on what is allowable.  A key rule to follow in thinking about fair use is to limit the amount of work you borrow from someone else to a "small portion" or to less than 10% of the entire project.  Although it is important to keep in mind that the rule is not a legal standard so you must rely on your best judgment.
Like many blogs, one's content probably has little or no real commercial value to the owner/author.  But you'd be surprised at the value your ideas may hold for someone else.  Protecting your work maybe the best way to control what happens to it once it is published on the Internet.
The best way to protect your work is to invest a little space on your blog for a copyright notice.  Though the notice will not necessarily prevent your work from being stolen, it will educate and likely deter dishonest use.  If you want to sue someone to protect your words – or worse, if someone sues you to protect their theft of your words – you'll need to be able to prove that you really wrote and own what you say you do.  This is where copyright gets tricky.  How do you prove that you said what you said, that you said it before someone else, and that your blog posts actually belong to you?
The easiest way to protect yourself is to register your work.  Unfortunately, the US Copyright Office has not yet come up with a tech-savvy manner to protect an ever-evolving work like your blog.  But all is not lost!  Thankfully, there are organizations out there that are into thinking about and solving this dilemma.  One such organization is Creative Commons.org.  Creative Commons is a service that allows you to make your own distribution license – for free.  Yep, you read that correctly.  Unlike the US Copyright Office which charges at least $35.00 to register your blog posts, Creative Commons will register your entire blog for without any cost to you.
To be clear, I have no affiliation with Creative Commons, except that I utilize their services for my own blog. I do have a deep respect for their efforts to help us all protect our own creative interests while researching and negotiating the often complicated relationship between each other in the blogosphere. Also, I am not a lawyer. This article is intended to provide education around the terminology and issue of copyright. Should you need more specific legal advice, please consult a copyright/trademark attorney.

Discussion:
Do you feel like you may have unwittingly broken copyright law on your blog?  Do you think someone may have stolen your post or an image you created?  Do you have more questions about how to protect your creative work?
Bibliography:
U.S. Copyright Office Washington, DC 20559-6000. 2006. (downloaded February 9, 2011)
Lost Art Of Blogging. Designed by Paul Stamatiou and customized by Tibi Puiu. 2007-2008. (downloaded February 9, 2011)
Drawing That Explains Copyright Law.  Eric J. Heels.  2007. (downloaded February 9, 2011)
http://creativecommons.org/ San Francisco, CA 94105 USA. (downloaded February 9, 2011)
If you enjoyed this post, then be sure to check out Kat's next installment on SITS where she covers Blogging With Integrity and how the latest FTC guidelines apply to you and your blog.