This post may contain affiliate links which may give us a commission at no additional cost to you. As an Amazon Associate we earn from qualifying purchases.
Content is king in the blogging world. We spend much of our blogging time crafting new posts, researching new ideas or working on projects that we'll turn into amazing tutorials. Creating and using an editorial calendar is a great way to make the most of the time you have dedicated to content creation. An editorial calendar will help take the guess-work out of what you need to write next, and allow you to focus your time and energy where it really matters — creating awesome blog posts. Today I'm going to show how to find and use your most popular content to build your editorial calendar.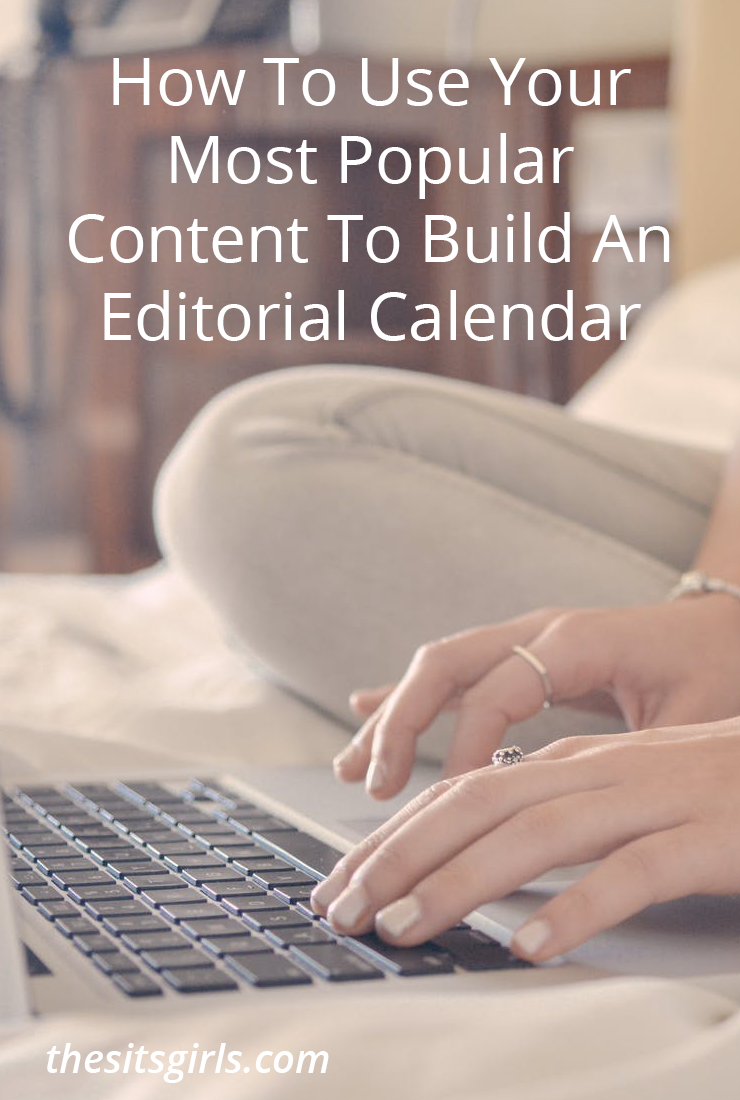 How to Use Your Most Popular Content to Build Your Editorial Calendar
You have the foundation for your editorial calendar already built. You see, while you've been busy creating that awesome content, your readers and new visitors to your website have been busy showing you what they want more of. You have cultivated a reputation, and for one reason or another people keep coming to your site. You can use that information to help create an editorial calendar that is targeted directly to what your readers want.
You might find it helpful to have a notebook or a blank Google Doc open so you can write some ideas down as we go along. I'm a pen and paper girl myself, when it comes to brainstorming, but pick the tool that works best for you. If you already have an editorial calendar that you use, you might want to have it handy, too. If you haven't yet set up an editorial calendar here's a great post to get your started — How To Create A Calendar That Makes Blogging Easier
Ready to get started?
1. Finding Your Most Popular Posts
Our first step is going to be finding your most popular posts, and for that, we turn to our BFF, Google Analytics. There are a million different ways you can use the information in a Google Analytics report, but today we're just going to focus on finding your most popular content.
Open up your Google Analytics
Set a custom Data Range from the very first day of your blog through today
Go to Behaviour > Site Content > All Pages
Set the number of entries to 25
This will show you your top twenty-five posts and pages of all time.
2. Analyze the List
Figuring out what content to produce can be a little like playing detective. We have to search for clues as to what really resonates with our readers. Sometimes those clues are pretty obvious, other times they take a little digging. In this case, much of the information we need is now right in front of us. Take a little time and look over that list carefully. This is where you might want to start jotting down some notes about the observations you're going to make. Look over the list and make note of anything that stands out to you. Some things that you should be making note of are:
Categories
Subject Matter
Keywords (if you know them off the top of your head)
Post Type — craft tutorial? kid activity? blogging how-to?
Jot down everything you notice. Include notes about whether there is a running theme showing up.
Are many of the posts from the same category?
Are a few of them the same kind of post?
Is there a common keyword or keyword phrase among a few of them?
For example, when I do this exercise, the first five items for my blog are all printables pages, and most of the other twenty posts and pages are printable related in some way. This tells me my readers really like the printables I offer. It also tells me landing pages have the potential to do well on my site. While a landing page isn't a post, it is content, so I might add making a landing page once a week to my editorial calendar.
Your list might not be as clear-cut: maybe there are a lot of different categories that show up, or a variety of posts types in your lists. That's ok, it just means you have a lot of ideas you can pull from.
3. Brainstorm Post Ideas
Now we're getting to the fun part. There are two ways you can approach this.
The first is to use the notes you just finished making to come up with post topics that fit into those observations. For example: maybe how to blog was a popular category. What post topics could you cover under this? Maybe a number of round ups made the list. What other round ups could you do? Take it a step further, what other round ups could you do that would fall under some of those popular categories? Work through the list and jot down ideas as they come to you.
The second way you can use your popular content to generate new ideas is to take a good look at each post and page on that list and see if you can build off them. If your most popular post is a Top Ten list, maybe you could do a Ten More list to follow-up on that. Or maybe you could turn each of those ten items into their own post.
A Top Ten Ways to Keep Your House Clean, as an example could possibly be turned into a series of cleaning posts. Top Ten Cookie recipes could branch out to Top Ten Cakes, or Top Ten Frozen Desserts. Disect your popular posts and pages to see what you can pull out them to turn into new content.
Was there a tip or a point in one of them that could stand on its own as full post? Could you take that craft tutorial and do something similar for the holidays or for a different season?
4. Schedule Your Ideas
This is where you'll want to pull out or open up your editorial calendar (or make one if you haven't already). Start scheduling those new post ideas into your calendar. You know your blog best, so schedule them for a month you think they will fit well. Try to fit at least one of these posts into each week if you can. Leave some room in your calendar for other ideas you may have down the road, or for collaboration posts, blog hops and other opportunities that haven't yet presented themselves to you.
5. Take it the Next Level
There are many ways you can use these steps to help build your editorial calendar in different ways.
In Google Analytics:
Change the data range to reflect different seasons from last year, usually a good reference is 6-12 weeks before the holiday or event as that's around the time people start looking for ideas.

Want to know what holiday posts were popular for you? Set the range for October 1st to December 1st.
For spring posts try February 1st to April 1st

Change the data range for a month by month breakdown of your most popular posts.

This might be handy when trying to figure out what posts to schedule onto your editorial calendar.

Look at your top 50 posts and see if any trends you noticed continue
Set your data range for your desired time and go to Acquisition > All Traffic > Referrals and check out the websites that are linking to your site.

What were their posts about, can you create something that compliments the post?
What did they link to?
Do many of them link to the same post? Could you create a post similar to that one that fills a different need?
On Social Media:
Facebook, Twitter, and Pinterest have their own analytics built right in to each platform. Take some time to go through yours and get familiar with what they say
Check to see which posts, tweets, or pins are doing really well

Can you use those as a template for future posts?
If they aren't for your own content, can you use them as inspiration to create something of your own?
Understanding what is drawing your readers to your site and what is bringing them back for more is key to planning content that will keep them coming, and hopefully bringing some friends with them. If you use the information you have to identify what is working, you can make sure you're giving your readers what they want.
I'd love to hear from you. Do you have an editorial calendar? If so, how do you decide what you're going to post? If not, what do you use to plan your posts?