This post may contain affiliate links which may give us a commission at no additional cost to you. As an Amazon Associate we earn from qualifying purchases.
I recently had one of my sidebar widgets die. It was the widget that held all of my most popular posts, which as every blogger knows, is a very important part of almost any blog's sidebar design. I tried to revive it, but I couldn't get it back up and running. This got me thinking about how it would probably be super simple to create my own favorite posts image gallery with PicMonkey.
Even if I was to get the widget to work properly again, or to install a new widget, what if it stopped working? It is nice to have control over your own blogging destiny. Plus, by making my own image, I can control which posts are being highlighted at all times.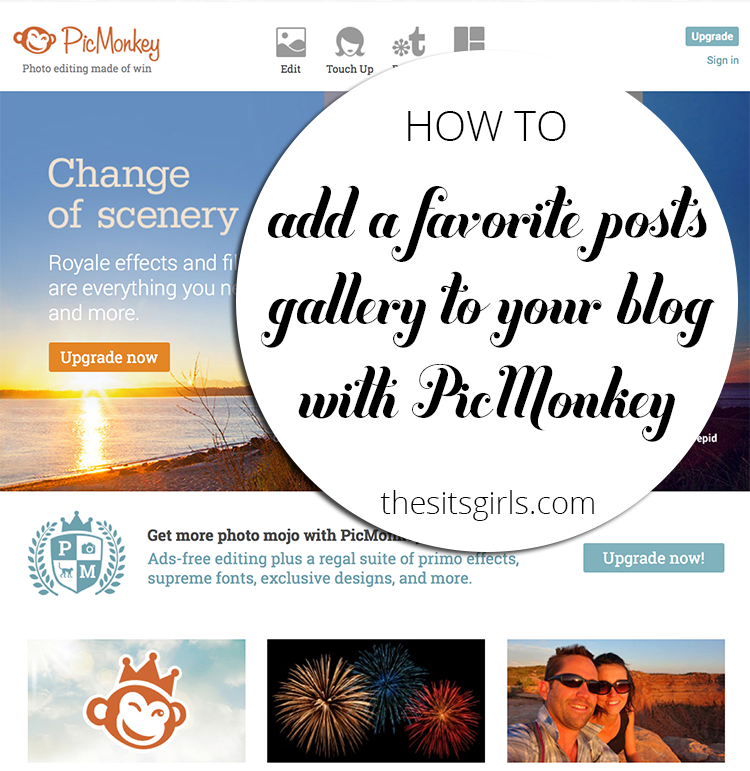 How To Create A Favorite Posts Image Gallery
Step One: Use PicMonkey To Create And Customize Your Collage Grid
On the PicMonkey homepage, choose collage. PicMonkey will request where the pictures you'd like to use in your collage are located. You can choose some or all of the photos you will be using now. You can add more photos while you are in the editor if needed.
In the editor, you are going to choose the second option in the left sidebar menu. This is where you customize your collage layouts. Choose the Square Deal layout. We will change the shape later on, because I prefer a rectangle. The fourth option in Square Deal is my favorite place to start for a photo gallery.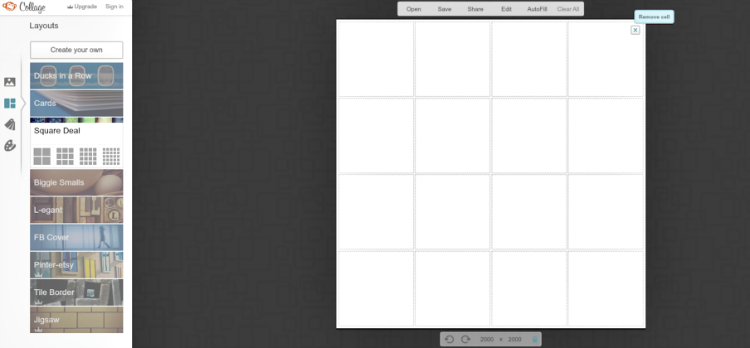 After you click  it, you are going to notice that there are 16 squares. 16 squares are a little much for my sidebar. It makes the pictures really hard to see, so I removed four blocks. Mouseover the upper right hand box first. An X will appear; click it. Repeat the process with the rest of the column.
This leaves you with 12 lovely blocks. Down at the bottom you will see the dimensions of your layout. 2000 x 2000 is WAY too big. My sidebar is a little over 300, so I like to keep my widgets at around 300 even. The length is up to you. I went with 500.
Click the little padlock to unlock your dimensions. Add your dimensions and press ENTER.
Step Two: Add Images To Your Collage Grid
Now for the fun part! Click on the first menu option in the left sidebar for your images. Start dragging your pretty pictures into the cells. You can move them around once they are inside a cell. I like to play around a little bit here.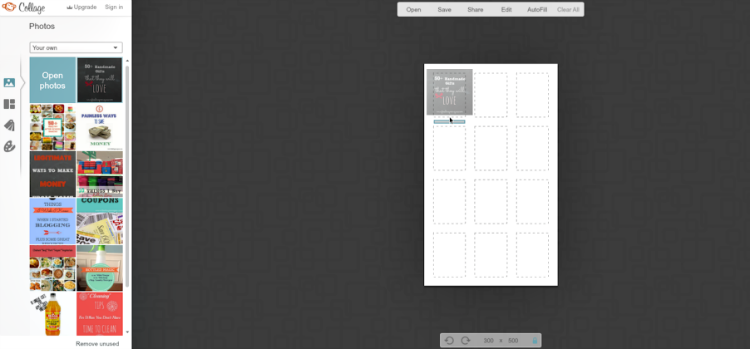 After you've got all of  your pictures situated, go ahead and click save at the top of the screen. PicMonkey thinks my creation is genius! I love you too, PicMonkey!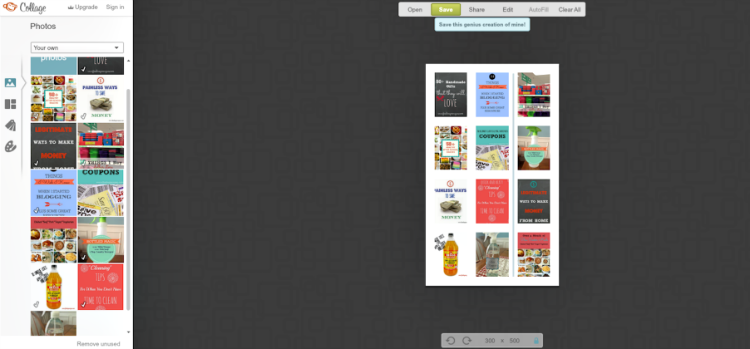 Step Three: Save And Upload Your Favorite Posts Image
I saved mine as the Pierce quality. Since it is going to be small, it doesn't have to be super-duper quality. I also like to double-check my dimensions to make sure they are correct. You're going to want to save it to your computer and then upload it to a picture hosting site like PhotoBucket or Flickr.
Once it is uploaded to your hosting site, copy the direct link to the image.
Step Four: Create An Image Map
We need a way to make each of these images inside the one picture clickable. I don't always care for image maps, but this is one instance where I think using an image map works great. Let's head over to Image-Maps.com with the direct link you copied for your picture.
Enter the link address on the homepage, and click on the orange Start Mapping button.
On the next screen you should see your photo gallery.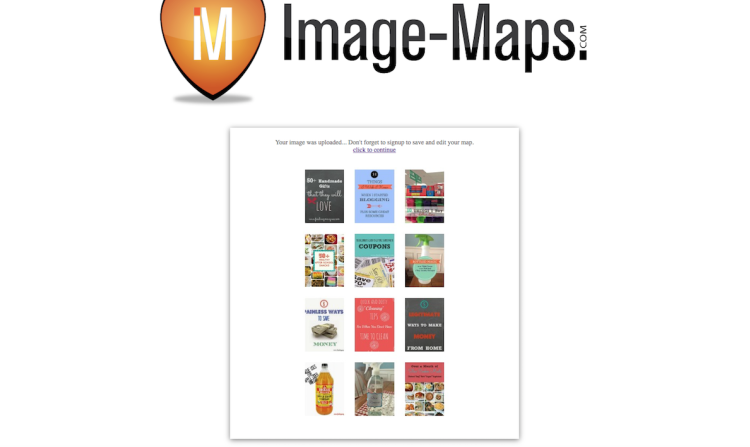 To save time while I am making each image clickable, I like to open up a sticky note or notepad on my computer and copy the direct link for each article I will be linking. This makes it easy to copy and paste the link right into the image map.
Click to continue on your gallery image. You are going to be brought to a new page where the magic happens.
This is how your image will look as you walk through each of the below steps:

Right click on your image (or CTRL+Click for Mac users) and choose Create Rect from the options that appear.
After selecting Create Rect you'll see a little dashed line selector tool and a pop up menu. Make a rectangle around the first image. In the pop up menu, add the link to the post you want that first photo to point to the Map URL field. Click Save. Repeat this process with all of the images in your gallery.
As you successfully map each image, it will turn red.
Step Five: Generate Code And Add Favorite Posts Image To Your Sidebar
Now right-click (or CTRL+click for Mac) on your image map and select Get Code. It will bring up a pop-up menu. Scroll down to the bottom to where it says HTML Image Map Code, and copy this code. It will be big.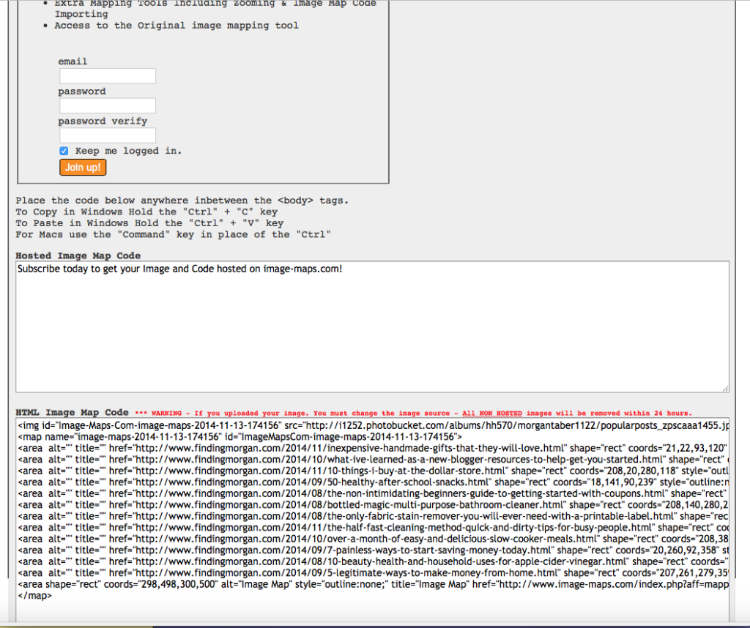 Add an HTML Widget or Gadget to your sidebar and paste the above code in.
That's it! Now sit back and enjoy your masterpiece, I know your readers will!
Keep Reading
Looking for more blog design tips and great PicMonkey ideas? Here are a few posts you'll find helpful:
Disclosure: This post includes affiliate links.