This post may contain affiliate links which may give us a commission at no additional cost to you. As an Amazon Associate we earn from qualifying purchases.
New to SITS? Welcome!! Go read this to get started.
Welcome to the weekly blogging tip and comment game! This week I'm talking about finding your blogging tribe.
As bloggers, we want people to read us, identify with us, and support us. We want to find a tribe — a network of people that share common interests and experiences and show genuine interest and care for one another. We've talked about being a part of someone else's tribe and connecting with the readers who comment on your blog, so you should now have a group of bloggers and commenters that you would like in your tribe. The final challenge in finding your blogging tribe is to cultivate your tribe community.
To cultivate your community, you need to do more than blog and comment. Connect with your tribe on Twitter and exchange pleasantries, jokes, banter, and whathaveyou. Create a Twitter List for your tribe community. Connect with them on Facebook. Or start a Facebook Fan Page for your blog. Answer comments and email them when appropriate. Get to know your bloggy friends on a deeper, more personal level. Blogging is a powerful way to find support and friendship if you make the effort.
Remember to always give back, offer support and provide value to your tribe and you will surely see it grow.
Now, let's play a game! Here are the rules for the SITS Saturday Sharefest:
Leave a comment here with a link to one of your best blog posts (or just your main URL if you prefer).
After you leave your comment, visit the link of the person who commented BEFORE you.
Comment on their post and be sure to say "Happy SITS Saturday Sharefest" in your comment.
Now, go leave some comments!
We are coming to Baltimore! Join us.
Want to subscribe to SITS and get an email each time we post? Just click here.
And, as always, when you see this: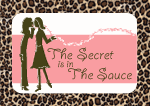 LEAVE A COMMENT.