This post may contain affiliate links which may give us a commission at no additional cost to you. As an Amazon Associate we earn from qualifying purchases.
It's a new year and the blog world seems to be filled with posts about blog goals and resolutions for 2014. It's all very exciting, actually! Setting goals for your blog is great. Here at The SITS Girls, the goal has always been to provide a positive place for bloggers to grow, connect, and learn – together.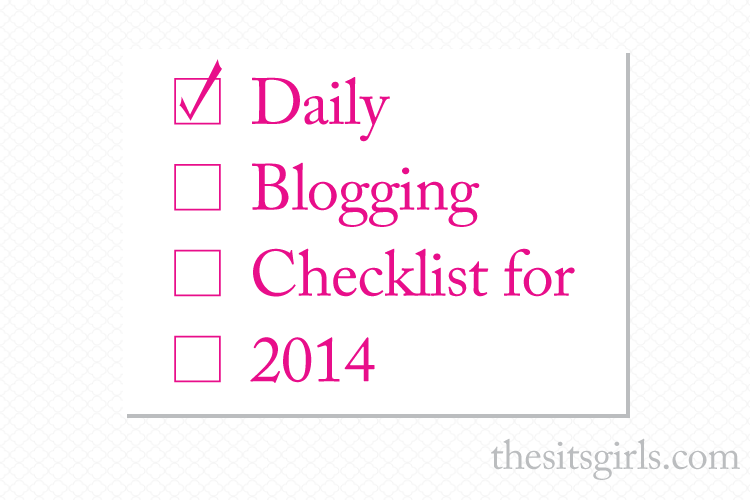 If you're anything like me, checklists are key and this simple Daily Blogging Checklist will help you take your blog to the next level. We've divided the checklist into sections with easy tasks that you can do daily to boost not only your blog stats, but also how others engage and connect with you and your blog.
Your Daily Blogging Checklist for 2014
On Your Blog
Keeping the content on your blog fresh is important. Make sure that you are posting at least 2 to 3 times a week whether it be a blog post or a vlog.  Keep in mind that you can schedule posts at the beginning or the end of the week to prep yourself.
Social Media
Twitter
Tweet articles from others, especially those in your niche.
Following new people is a great way to start relationships and discover new blogs. Follow 10 new people a day, a good way to do this is to check out who people in your niche are following and follow them as well.
Make sure to tweet out links to your blog posts, tweet as soon as they're published or schedule them to tweet out at peak times.
Facebook
On Facebook, you have to get the engagement going and a good way to do this is by asking a question.
Share images related to your blog and niche.
Upload links to your blog posts, this is a great way to promote new blog posts and even recycle old posts that are still relevant.
Google +
Like on Twitter, share and +1 posts and articles from others.
Add 5 to 10 new people to your circles.
Maximize your Google juice, which is vital, by sharing links and descriptions to your blog posts, new and old.
Pinterest
Pin or Repin about 5 to 10 images from your favorite blog posts/articles of the day.
Make sure that all your blog posts have pinnable images.
Pin your own content. High use times on Pinterest are mornings and weekends.
Emails
Ensure that your respond to emails from PR agencies. An easy way to do this is to copy, paste, and personalize stock email responses.
Make sure to check for emails for Massive Sway newsletters so you can apply for new opportunities that are fit for you and your blog.
Go The Extra Mile
Keep an updated list of blog posts ideas either on your phone or in a notebook/planner.
Create Google alerts for keywords and phrases within your niche. This is a great way to discover new blog post ideas.
Review and update your editorial calendar based on the categories you have set up for your blog.
Create and update an income/expense tracker for your blog to track all income and and money spent on your blog. This helps get you prepared for tax season.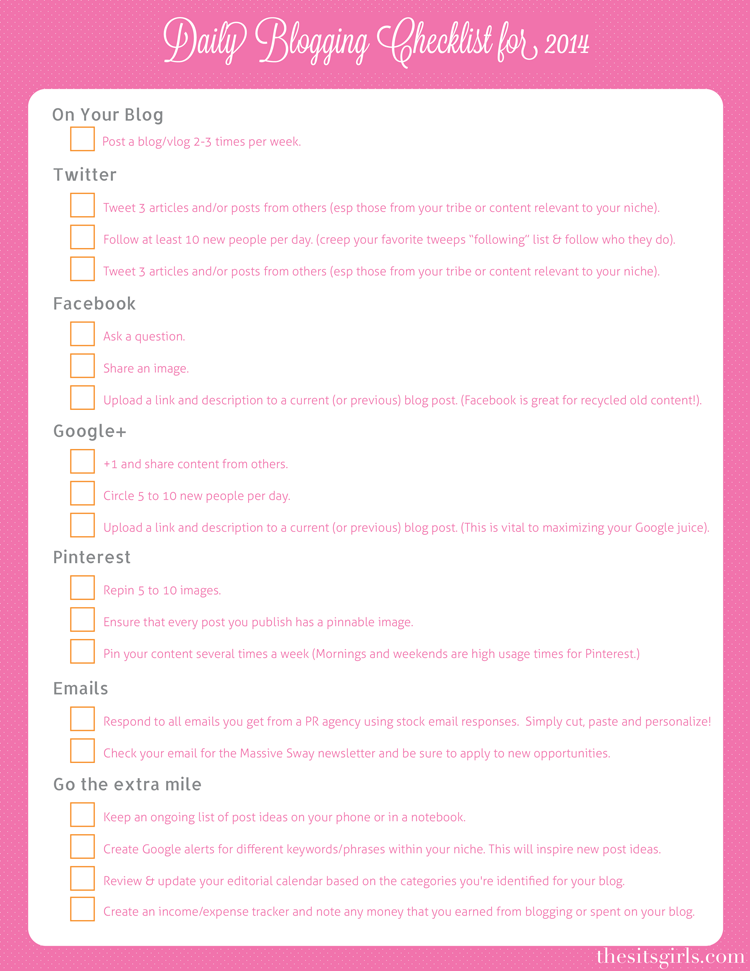 Download the Free Daily Blogging Checklist
Download the checklist below and keep it close for daily use.
FREE DAILY BLOGGING CHECKLIST DOWNLOAD
The more you go through the list daily, the more natural each point will feel to you and the easier it will be to get into a routine of doing them.
Now tell us
What's something you do daily to better your blog?
Keep Reading
Here are a few posts similar to this one that you might enjoy! Or head over to our Facebook fan page where there is always a conversation happening about blogging and social media.