This post may contain affiliate links which may give us a commission at no additional cost to you. As an Amazon Associate we earn from qualifying purchases.
A great way to give a your readers an overview of the fabulous content on your blog is to display popular posts in a sidebar. Creating a display that's informative and appealing to the eye can start out easy, but it can easily get complicated, especially if you plan on hosting the image on your site. This blogger shares her tips for creating a great display that's also self-hosted.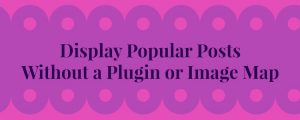 Display Popular Posts Without a Plugin or Image Map
I have tried a few widgets to display my popular or favorite posts but I've never been satisfied. I envisioned a popular post section with large images and no links, and it seemed impossible with widgets and plugins.
I was recently inspired to create my own widget to display popular posts after reading a post from The Sits Girls. I followed the process described in their tutorial until I got to a part about ImageMaps.com. Image Maps.com will help you create an image map, suitable for a list of popular posts, but they host the image on their site. I try to avoid using images that are sourced outside of my site to avoid unpredictable outages. If ImageMaps.com went down, would my popular post widget go down too?
Read the full post here:Display Popular Posts Without a Plugin or Image Map