This post may contain affiliate links which may give us a commission at no additional cost to you. As an Amazon Associate we earn from qualifying purchases.
A common question I see asked in blogs, forums, and the the SITS Girls facebook group is, "How do you find time…?" Time to write? Time to comment? Time to be active on social media? For most of us, blogging ins't our full time job, and we have to fit it in between all the other things that need to be done. We all get 24 hours in a day, but sometimes it doesn't seem like nearly enough.
The key to having enough time is to make all your hours count. I am going to share some simple steps you can take to increase your productivity, and get organized, so you can make the time you do have to spend on blogging work for you.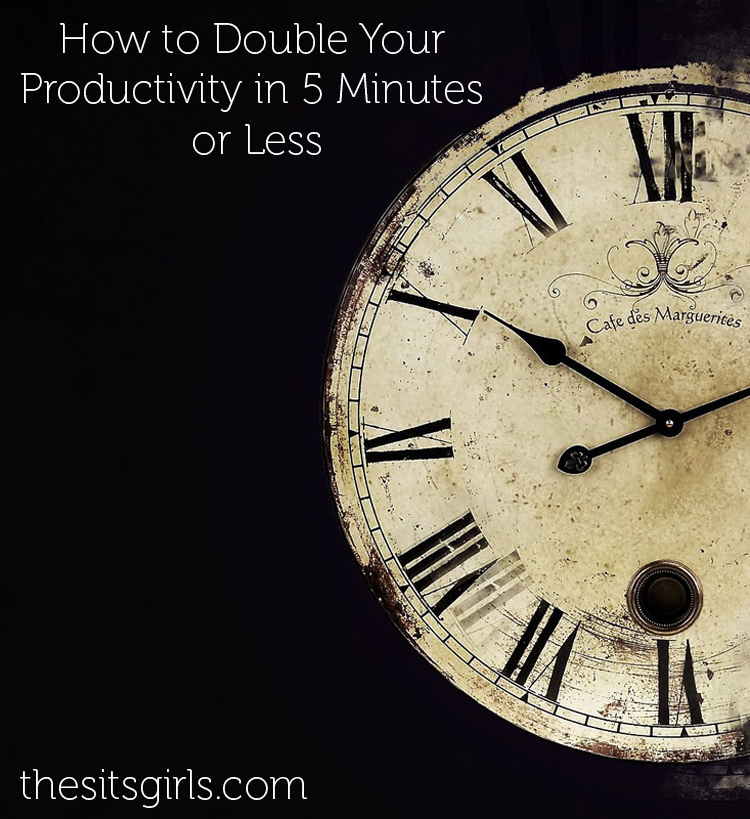 How to Double Your Productivity
We all struggle to find more time in our day. These tips will help you double your productivity in 5 minutes or less!
Have A Plan
Too often I get up on Monday morning already feeling rushed and behind schedule, and that feeling only gets worse by the time I reach the end of the week. This happens when I don't have a plan in place for my week. All the things I need to do are shouting at me from my mind, and I feel overwhelmed with trying to do everything right now.
A little bit of pre-planning will make your week go smoothly. 
There are a lot of great systems out there you can use to schedule your week. You have to find the one that works for you. Here are a few options to get you started:
The solution is to have a plan in place before Monday morning hits. It doesn't matter if you use an electronic calendar or paper and pen, whatever works best for you is the right answer. This plan is not just for blogging, but for everything I need to accomplish in the upcoming week. Decide how many hours a week you are going to dedicate to all things blogging – writing, commenting, social media, design upkeep, forums, blogging groups, and researching – and plan accordingly. I know my blogging time is limited, so I actually turn my phone off during the hours I have dedicated to working on my blog each day.
Keep An Editorial Calendar
An Editorial Calendar is a plan specifically for your blog. It allows you to plan and even schedule posts ahead of time. I know many of us like the freedom to write whenever inspiration strikes us, and at first it can seem like an editorial calendar takes that freedom away, but it doesn't. Your editorial calendar isn't set in stone. If something big happens in your life, or in the news, that you want to write about, you can move your scheduled post or topic to another day. But for those days when inspiration isn't flowing quite as strong, you will have an idea (or maybe even a previously started or completed post) waiting in your calendar to help you.
Set A Timer
Do you ever log into facebook for "just a minute" and look up to see you have been on the computer for an hour? Where did that time go? Social media is notorious for sucking you in and not wanting to let you go.
To be successful at social media, you need to have an expected presence on all the platforms you are focusing on for your blog. This doesn't mean you can't log into facebook to look at pictures of your sister's cat, and like all the pictures of your best friend's baby when you have a few spare moments between soccer and dinner.  It just means that the social media you are doing for your blog needs to be planned and limited so it doesn't take over your whole day. There will always be one more tweet to send, one more link to click on facebook, and one more discussion to answer.
Think about what time during the day you get the best interaction on your chosen social media platforms. and block off those times on your calendar for social media. Then set a timer. Tweet, facebook, pin, instagram, tumble, and plus one things to your heart's content. But when the timer dings, shut down the social media and move to the next thing on your list. Being focused and scheduled on social media will help you to use your time wisely and not get distracted. You can always hop back on later in the day just for fun.
Some really prepared bloggers even have an editorial calendar for their social media. If you set aside a few minutes on Sunday night to make a list of things you want to share throughout the week, you won't find yourself scrambling for something to say when you turn on that timer. You can also schedule some of your social media updates ahead of time with services like Buffer and Hootsuite.
Close Down Those Extra Tabs
"I am multitasking." This is the biggest lie I tell myself when notifications ding and distract me from writing. I think I will just take a quick break to answer a few emails, and before I know it, I've lost my train of thought for the blog post I was writing, and I have to start all over again.
Turn off social media. Turn off your email. Close all the tabs other than the one you are using, and stay focused. If you need to, work offline when possible. Multitasking is just a fancy word for "not giving enough attention to any one thing," and it isn't helping anyone. You will work better and faster without distractions.
Organize Your Email
If you want to get really radical, limit your email checking to three times a day. Rarely will there be an email that can't wait for a couple of hours to receive a response, and you will be surprised how much of your day is eaten up by hanging out in your inbox.
Set up labels and filters. This will help the majority of emails that land in your inbox to already be marked, so you can find the important emails at a glance.
If you find a lot of junk mail and old subscriptions that you no longer care to receive landing in your inbox, you can try a service like Unroll Me to remove yourself from all the lists you no longer want to be on. You can also set some of your newsletters and store offers to come once a day in digest form so you aren't inundated by 30 extra emails to deal with each day.
Tidy Up Your Work-space
Even with all of these plans and schedules in place, I can still get distracted. I find that a messy desk or room can sometimes drive me crazy (usually on days when writer's block is hitting hard). When this happens, I set a timer for five minutes and tidy as much as I can until it dings.
I know five minutes doesn't sound like a lot of time, but you can get more accomplished than you think. It is long enough to put important things in a pile to be dealt with later, and throw away unimportant things. Or enough time to go through a couple of picture files on my computer and delete things I no longer need. If I spend five minutes each day just tidying a section of the room or file on the computer, it will be noticeably different by the end of the week, and no longer distract me when the words aren't flowing.
Set goals. Plan ahead. Schedule your time.

You will see a huge difference in your blog and your life.

What do you do to be productive and organized?
KEEP READING
Looking for more info? Here are a few posts related to starting a blog that you'll find helpful: