This post may contain affiliate links which may give us a commission at no additional cost to you. As an Amazon Associate we earn from qualifying purchases.
Throughout the past few weeks you've been asked to analyze the blogosphere around you to come up with many post ideas via brainstorming, cloud mapping and just plain thinking about what you want out of your blog and where you want it to go!
You are well equipped to come up with a plethora of topics to suit your desired audience, but what are you going to DO with all these ideas?
Develop an Editorial Calendar!
Grabbing up all your ideas by the armful and throwing them down into a spreadsheet may sound messy and unproductive, but I can assure you it isn't! An editorial calendar can benefit you and your blog multiple ways:
Photo Credit:
Dafne Cholet
Never again be stuck thinking, "What am I going to blog next?
Helps you organize your blogging time.
Gives structure and consistency to your blog.
Allows you to identify trends or lulls in your blog content.
Helps you plan out interlinking opportunities ahead of time!
I'm sure there are many more reasons, but I'm way too excited to get to the next part of this post! (That and Fran likes it when I keep the word count under 1200…)
An editorial calendar should help give you a rough idea of what you're going to do next. You still have freedom to move posts around, ditch posts or write new posts completely out of the order of your schedule! Don't feel tied to it, be empowered by it!
Setting Up an Editorial Calendar
First, you need to decide how frequently you want to publish. Three times a week? Every day? You'll need to know which "slots to fill" in your calendar!
One option for setting up an editorial calendar is to put your topics in a spreadsheet (Google Docs is free and easy to use). You can add fields to assign the topic a date to publish and a description of the post.
Personally, this doesn't work for me so if you want to read more about how to do that you should buy Darren's ebook (or look on page 36 if you already own it!) It's a fabulous method, really, it's just that I'm an analyst and spend many of my waking hours with my nose buried in a spreadsheet so I like to look for ways to avoid them!
Make Your Blog Do the Dirty Work!
I like to keep my editorial calendar right inside my blog. This way I can also work on upcoming posts as the mood strikes and can see what's going to happen directly from my blog's dashboard. It's really simple to do both in WordPress and Blogger.
1. Make each topic into its own post draft.
This way I can give it an easily recognizable title I'll later change and start outlining the post to come back to later.
I do this as the inspiration for new topics strike, not necessarily from a brainstorming session. If I have a lot of ideas to input at once, I use the QuickPress on my WordPress Dashboard.
2. Schedule the post as a draft.
When it's time to pull from my pool of topics to schedule what I'm going to write about this week, I open up the post and schedule it as a draft for a future date and time.
I'll show you how to do it in Blogger and WordPress because it's all that exists all people use all I know. If you have a different blogging system, hit up the forums or the #SITS31DBBB hashtag on Twitter for some help!
On Blogger, under your post and Labels, there's a Post Options link. Click on it and you'll see "Post date and time", as below.

On WordPress, in the sidebar you should see a Publish widget. Click on the Edit link after Publish immediately: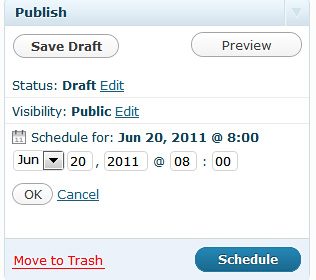 For both, just change the date to the one you want to publish the post and save the draft! Make not to hit Publish before the post is ready to go live, even if you're scheduling it for the future!
3. View your schedule.
Go to Posts (WP) or Edit Posts (Blogger) on your dashboard and you'll see a list of every entry. At the top of the page you'll be able to sort it by Drafts (Ideas for or Unfinished posts) and Scheduled (Completed posts).
If you assign a future date to the draft, it will appear above all the "idea pool" drafts which you may have entered without a date.
I Thought You Said Calendar, Not LIST
Okay, you're right. What I've described so far is only a calendar in the sense that it has dates on it. It's not what I think of when I hear the word calendar either.
How about a Google Calendar?
One option is to use a Google Calendar to help keep track of your upcoming topic schedule in a more viewable format.
When you're logged in and on the Google Calendar page, look for the "Add" link under "My Calendars" on the left-hand side and add one for your Editorial Calendar. Then you can add and arrange post topics as you see fit. You could even share your calendar and embed it on your site if you want to give your readers a look at what's coming up!
This is also a really good route to go if you have a blog with multiple authors. You can color code each "event" (aka Post) by either category or author to keep better track of what's going on.
Want to take a look at something like this in action? Check out the 31DBBB Schedule Calendar for SITS!
Isn't There a Plugin for This?
If you're on WordPress self-hosted, there's a nifty plugin called Editorial Calendar. It works on the same premise I gave above, but allows you to view your posts and arrange your drafts in a calendar format.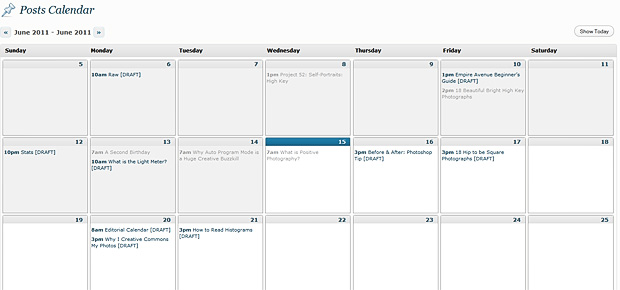 This Sounds Way Too Formal!
If this sounds too stuffy and formal for you, it doesn't mean the entire concept of an editorial calendar won't benefit you. You could take a more laid back approach to keeping a blogging schedule:
Develop a weekly series for your blog. For example, every Friday I post my favorite photographs from the week using a specific theme. Come Friday, I know what needs to be published!
Participate in a weekly blog hop. There are probably hundreds of these out there and it can also serve to help you meet new bloggers and promote your own blog! Mama Kat has her famous weekly Writer's Workshop with tons of ideas. If you're a photography nut like me, you can check out my Be Inspired page which lists dozens of photography bloghops by day. A few of these and you can easily plan out your whole week!
Schedule by your writing style. You know what types of posts work for you and your blog. Use an informal editorial calendar as a way to vary these types of posts. For example, if list posts, link posts and rants work fabulously for you, you might want to try to publish a rant on Tuesday, followed by a list post on Thursday and a link post on Friday.
Your Homework
You thought I got so wrapped up in keeping my word count down that I'd forget your homework, didn't you? Not so lucky! Shelley's going to have the official task over in the forums, but here's what I want you to take away from all my babble:
Generate 10 post ideas if you haven't already. Put them somewhere. Wherever is easiest for you. It can be in an email draft, notepad, spreadsheet or saved as a drafts in your blog per topic!
Think about you and what type of person you are. Are you wildly impulsive? Are you super organized and planned out?
Think about how you can implement an editorial calendar in a way that will work best for you and your blog. It can be as involved or simple as you'd like!
Take action on that plan! Tell us how or if you're going to use an editorial calendar! If you have a process that works well for you, share it!
(In case you were wondering the final count, 1347. Boo.)

The
31 Days to Build a Better Blog Summer Challenge
is a program that Darren Rowse, aka Problogger, designed so that bloggers can improve their sites in about a month. Follow along
in our Forum
, with the
#SITS31DBBB hashtag on Twitter
, and on
Facebook
. It's never too late to jump in!
Here are the topics we've covered to date: