This post may contain affiliate links which may give us a commission at no additional cost to you. As an Amazon Associate we earn from qualifying purchases.
You may be thinking that you don't need organization tips for efficient blogging. You're probably like me, and just need more time! If you need more time, news flash, you need some organization. Blogging tips and tutorials are great, but if you don't have the framework in place to make the most of your time and implement the tips you find, they won't help you.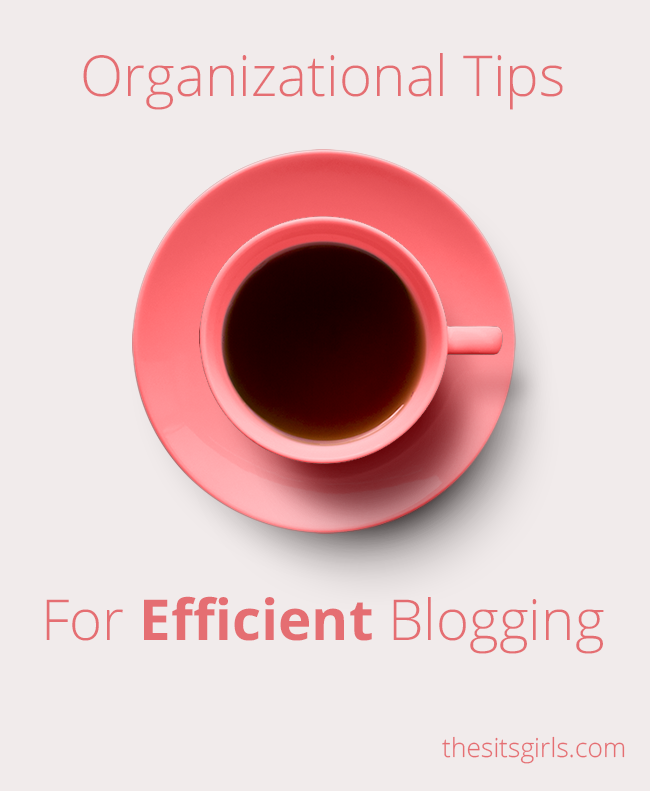 Organization Tips For Efficient Blogging
Let's get meta for a second shall we? Take a few minutes and write down the main categories or buckets you write about. For me, it's social media, blogging, branding and most recently, motivational content by way of video posts. When thinking about what I want to share on my blog, I am sure to space out the content so I am not writing about blogging, for example, three weeks in a row. An exception to this would be if the posts were part of a series. Your readers want a variety of content based around your expertise. That said, let's get started. Be sure to bring your list with you.
1. Batching
I've mentioned batching before, but it bears repeating, this time with supporting scientific facts. There are only 2% of people in the world that can multitask where it's an efficient and productive use of their time. Batching is where you chunk up tasks. For example, blogging comes with a few tasks. Let's call them out, shall we:
Content creation, image creation and branding, SEO, promotion, tagging and categorizing, social media messaging, affiliate links, backend updates, design, the list goes on and on, doesn't it? Especially when all you want to do is finish your one blog post! This is how batching can help you. Each day of the week gets an assigned task. For example, Mondays could be your writing, or content creation day. All of the writing that you do for your blog, guest posts, emails, that book you're working on, you name it, it's all done on Monday's.
You are flexing your brain muscles to just focus on one thing. We all know when you focus, you knock it out of the part. Tuesday could be your backend day where you just work on updating your site, sidebar, checking social links, tweaking your header. Keep going until your whole week (or those days you have set aside to focus on your blog) is batched. Your brain will thank you. You can even batch social media posts! You can schedule all of your Twitter posts on one day, Pinterest on another and so on. Of course, batching doesn't work unless you have an…
2. Editorial Calendar
Whether you use Co-Schedule, Trello, Google Sheets, any electronic calendar app (I love Sunrise) or a paper planner, I think we can all agree that it's imperative you have an editorial calendar. You simply can't blog effectively without one. At the very least, you need a calendar to keep from writing about the same category. Remember that list? This is where it comes in. Those large buckets or categories will have subtopics beneath that. Personally, I color code my editorial calendar by category so I can visualize the sprinkling of my content on a monthly basis.
You can come up with categories for your blog and other blogs you contribute to as well so you have everything in one place. Being organized is blogger nirvana. The key takeaway here? Come up with a system and stick to it.
You can always get old school and use color coded post-its. For super old school librarian style, which I have been loving lately, pick up different colored index cards and rock a cork board in your home office. I also find that I am more motivated than ever to serve up fresh content because I am not staring at a blank screen, I already have a plan!
3. Outline
There's a reason listicles are easy to write. You have a title that covers the topic and you are forced to stay within the boundaries of the title within your post. While it's great for listicles, you can do the same with any kind of post. Take this post, for example, I spent a few minute free writing what I wanted to include. I transferred that to a fresh google doc and just entered in the quick bullet points. I went back to the beginning and started filling the bullet points in with content, and before I knew it, I was done. Bring back those high school english lessons on how to outline an essay! It will serve you well when writing a blog post quickly and efficiently.
4. Buddy up
Blogging doesn't have to be a lonely place. Reach out to someone who has a similar audience, or writes on similar topics and set up a weekly chat. Talk about what's going well for you and what your struggles are. Be open and share tips, tricks, articles, favorite apps and the like. You'll be a better blogger for it, not to mention, you're tricking yourself into staying organized, because you know you have that call every week. It's almost like scheduling time with a personal trainer. You have to go; you made the appointment.
If you feel awkward reaching out to a blogger and starting this on your own, why not join the SITS blogging Twitter chats and connect with other bloggers (Saturday at 10AM ET). Build a rapport with a few people and check out their blogs. If you think they would be a great fit, send an email to them. I am sure you'll snag one overwhelmingly positive response. How do I know? We all want to do this blogging thing right, and it's always better when we have a friend in the trenches with us!
What other organizational tips can you share for efficient blogging? I know I haven't exhausted myself here, so please chime in so we can all learn from you!
Want to jumpstart your organization with pen and paper? Grab this free printable planner. Remember, where you put your attention is where you get your results!