This post may contain affiliate links which may give us a commission at no additional cost to you. As an Amazon Associate we earn from qualifying purchases.
Right out of college, I worked at a non-profit, helping to coordinate their fundraising events. One of my biggest jobs was to contact hundreds of companies, big and small, and ask them for donations of products for auctions and goody bags. It was tedious, to say the least, but it taught me how to reach out to people who I would enjoy working with and pitch a mutually beneficial partnership.
Obviously, this wasn't my only job when I worked there, so I wasn't able to sit and craft perfectly written, personalized notes to each and every company. I cringe just thinking about how long that would take. No, instead I created templates for all the different emails I needed to send out and worked off of those, saving me hours of work.
Even though I haven't worked there in a long time, email templates are still my secret weapon for saving time day to day.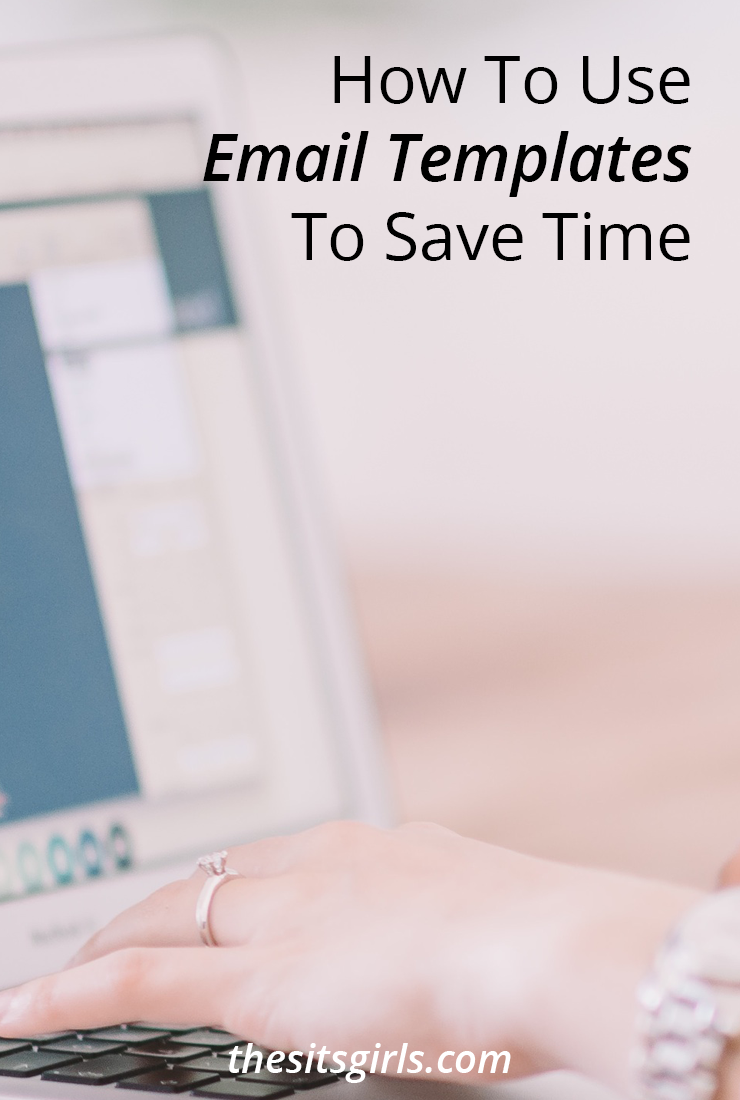 How To Use Email Templates To Save Time
First, let's talk about why you need to be creating email templates right now.
For one, you are going to save so much time. Think about the emails you send daily. I can almost guarantee that you're sending the same emails multiple times a week. Imagine if instead of writing an email each and every time, you could just plop in a template, personalize it a bit, and hit send.
The other reason I really like having email templates is for consistency. With a template, I can remember more or less what I wrote to someone. This way, I'm not always clicking back to my sent email to refresh my memory of what I said after someone replies. It also gives me peace of mind to know that what I'm sending someone is well written and thought out, since when I wrote my email template I wasn't in a rush to respond.
Finally, email templates can help you learn what type of emails and phrasing are most effective in a particular situation. You'll be able to use trial and error and take note of which versions of an email template resulted in the most responses. That way you know you are always sending out your top notch emails every time.
Now that I've piqued your interest, here's how to go about making your own email templates to save time.
First, make a list of the emails you are regularly sending. The best way to do this is to go to your sent emails and find a pattern. Then take one of your better written emails that you've sent for that topic and remove all wording that is referencing a specific brand or person, leaving a blank spot so that you can easily find and insert the proper content when sending later. (for example, I would write "[INSERT BRAND HERE]" on my email template reaching out to a brand I might want to work with.) When you've finished editing your new email template, save it either as a draft or as a document you can save on your desktop. (I like using Google Docs.)
A word of advice for when you're creating your email templates – try not to make it too obvious that you have a template. Make sure that you're leaving room for some personalization. While it might be easier, I know that when I receive what is very clearly a mass sent form letter, I am much less likely to reply. A little bit of thought and personalization goes a long way.
You might be thinking, "Yeah, that's all fine and dandy, but I don't think I need email templates. What kind of emails would I need to use them for?" Here are some of the email templates I have made to save me time on sending my most common emails:
Pitching brands I would like to work with.
Asking about affiliate programs.
Answers to questions that I often get about my blog.
Requests to join groups, such as a Pinterest group board.
Inquiring about guest posting opportunities.
"Cover letter" when submitting a piece for a guest post.
Now that I've convinced you that you need email templates to save time, go make them! You're going to be shocked at how much time it saves you! And if you're looking to save even more time, check out my post on how to save time using a blog post template!
Keep Reading