This post may contain affiliate links which may give us a commission at no additional cost to you. As an Amazon Associate we earn from qualifying purchases.
Have you been contemplating starting or switching to a self-hosted blog and are feeling a little lost with deciding which web host to choose? Finding the right web hosting can be difficult and, sometimes, a bit scary.
There is a lot that goes into making the important decision of who is going to be responsible for keeping your blog up and running.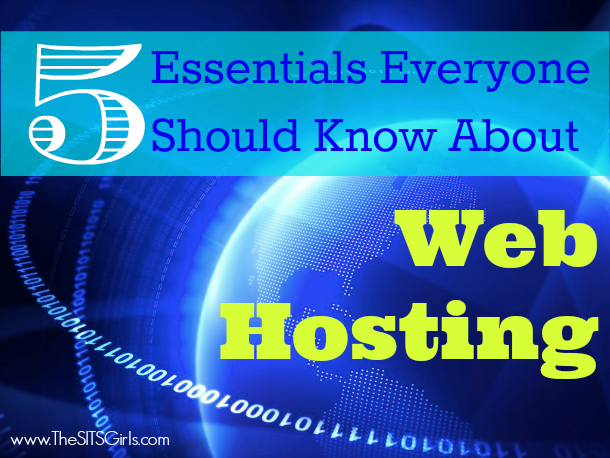 What You Need to Know About Web Hosting
There are 5 things that you should know when it comes to web hosting.
1) Shared Hosting
Before you even think about moving to shared hosting, you should have an understanding of what it is. Shared hosting means that your blog is on a server with many other websites. This type of hosting is generally used for personal sites and small to medium businesses. In some cases, if your blog or business becomes big enough, you may consider moving to a Virtual Private Server (VPS) or Dedicated Server Hosting (DSH), but that's further down the road. The price of shared hosting can range from $3-$10 a month; though, some companies also offer yearly contracts. You should sign up with a host that is within your budget, but you must also remember that you get what you paid for.
2) Research
Now that you know what shared hosting is, it's time for you to find a hosting company. You should never go with the first hosting company that you come across without researching them. Become familiar with what they have to offer, what kind of promotions they are currently running and even ones that they had in the past. In addition, find out what their users are saying before you buy. Most hosting companies have testimonials on their websites; however, you'll quickly notice that most of the testimonials are positive. To get a genuine idea of how good or bad a web host can be, you should search for reviews that are made off their main page.
Web Hosting Talk is one forum that is great for not only finding out what current and past customers are saying about the host, but also a place to find latest promotions that companies have going on. You can, of course, also Google the host you are looking into with the word "reviews" or you could ask your fellow SITStahs in The SITS Girls Forum about the host they are using and have used previously.
And again, you also have to remember that you get what you paid for. If you go with the cheapest hosting that you can find, then you may not get everything that you are looking for.
3) How Much Space?
When you are choosing a host, you should be aware of how much space you are going to need. When hosts refer to "space," they are talking about bandwidth and disk space. Bandwidth is the amount of traffic your blog will be able to handle. Disk space, on the other hand, refers to how many files, documents, images, and similar data that you can store on your site. Hosting companies generally have different packages that you can choose from in regards to how much space you will need to run your blog. The cheaper the package, the less space you have.
In most cases, if you are just starting out, you can probably go with the lowest package that the host offers. You can always upgrade in the future, but you probably want to start out with at least 3GB of disk space and 30GB of bandwidth. If you want a little more wiggle room, you could also start with the "middle" package and, again, you can upgrade or downgrade at a later date. Remember, though, if you go over the amount of space you purchase, your site may be suspended. Many hosting companies will notify you when you are getting close to your limit.
4) "Unlimited" Storage
As you search for web hosting, you will come across hosts that offer "unlimited" storage and your first thought will probably be "I won't have to worry about storage!" To sweeten the deal, you'll notice that many unlimited hosts are cheaper. Unlimited space for a cheaper price, this is a win-win, right?
Unfortunately, that is not true. Even hosts that claim to have "unlimited" storage have limits. There are often restrictions, sometimes in the fine print, that you have to read and understand. If your site is suddenly using too many resources, then you may find your site suspended. Hosts that offer this type of hosting may also pressure you into upgrading your account when you may not need it. Make sure you read the fine print and really know what you are getting, what your limitations are when it comes to unlimited hosting companies.
5) Tech Support
For many of us who may not be so tech-savvy, it is always beneficial to have tech support waiting at the ready for when you have a problem. Most hosting companies have 24/7 tech support available not only via live chat and email, but are also just a phone call away. If you have a problem (your blog is hacked or you accidentally deleted your database for example) tech support is there to help you. Unfortunately, some hosting companies that are cheaper do not offer the luxury of tech support, meaning you are on your own. It may be wise to dish out a little extra money for the added support and security of knowing you will be able to contact a live person when you are experiencing difficulties with your blog.
You should take your time when it comes to choosing web hosting because your blog depends on it. Without a host, either free or self-hosted, your blog would not be available to your readers. Current and previous customers are often where you want to turn to in order to find out about the host's reputation. Make sure the web hosting company has everything that you want and need before making a commitment.
Your Turn
Let's discuss! Leave a comment on this page or head over to our Facebook fan page to continue chatting about web hosting.
Are you on a self-hosted blog? If so, which company are you using? And what advice do you have to share about web hosting?
Want to Learn More About Web Hosting?
When it comes to self-hosted blogs and web hosting, there is plenty of learn. Here are a few more links you'll find useful: