This post may contain affiliate links which may give us a commission at no additional cost to you. As an Amazon Associate we earn from qualifying purchases.
Blogs are a great way for online boutiques to advertise themselves and push their products for better sales. Unfortunately, a lot of fashion boutiques get fashion blogging for their websites completely wrong. Here are some of the most common mistakes that online fashion boutiques make with their blogs that end up damaging their revenue and brand image.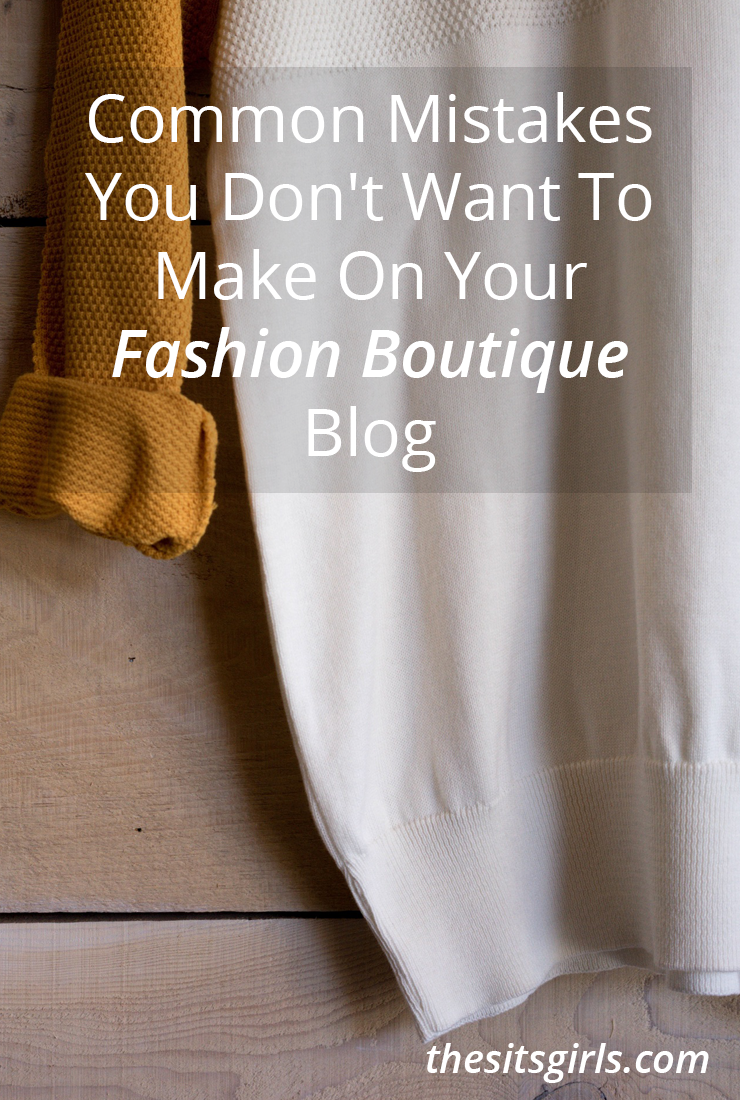 Common Mistakes Fashion Boutiques Make With Their Blogs
1. Too Many Tags
Have you ever looked at a blog post and seen the following? "This entry was posting in Uncategorized, and tagged Trainers, Waist Trainers, Sporty Waist Trainers, Trainers and Trainers, Trainers for Pregnant Women, Trainers for Pregnant Men, OMG TRAINERS!"
Yep… too many tags has to be the most common mistake online fashion boutique blogs end up making, thinking that the more tags you add to a post, the higher it's going to rank on Google and the more people will they be able to reach. Sadly, that's not true.
Here's the deal: tags don't help you get higher rankings, they merely help you to structure your blog properly so users have an easy time navigating through the blog posts, products, and the website as a whole. The simpler your tags, the easier it is for visitors to sift through gazillions of fashionables to look and buy something that interests them.
2. Bad Imagery
Images are critical to online fashion boutique blogs and the boutiques themselves. Don't compromise with your images.
For starters, images should be nice and big, but they shouldn't be TOO BIG! Really big images tend to increase page load times leading to delays and increasing customer dissatisfaction. The result, people just bounce off of the website. Size your images properly for your site.
Using pictures with good resolution is vital to retaining necessary details in products and maintaining the aesthetics of blog posts. Even though blog posts are meant to be read, but beautiful images help break up the text and keep people reading. They are also great for Pinterest.
3. Unprofessional Writers
A number of online boutiques showcasing the latest in fashion trends are asking other people to write about their products and feature it on the boutique's blog. There's nothing wrong with that, but what often does go wrong is the quality of the imagery and the content. If not much attention is given to the details, the result is a recipe for disaster that often results in boring blog posts and dark pictures with hideous backgrounds. Even the most stylish of dresses can end up looking like a fashion disaster straight out of the tailor's shop.
Sometimes the content fashion and beauty blogs create in collaboration with guest writers is horrendously unfashionable! It is a simple fact, if the content on your blog isn't great, people aren't going to come back to read it, and they aren't going to buy your products. Not only do online boutiques jeopardize their sales with weak blog posts, they also damage their brand image.
From creating the perfect tagline for your blog to catchy blog post titles, high quality images to high quality text, the single factor that can turn the ordinary into the extraordinary is really good content. If you can't create it yourself, hire a professional to create it for you; what you will end up earning will outweigh what you are paying.
4. Not focusing On Search Engine Optimization (SEO)
Believe it or not, there are still some online fashion boutiques that are not spending time on the three most important letters in the world of digital marketing – SEO! Let's put it this way; if you're publishing something on the internet, if you're selling something on the internet, IF YOURE DOING ANYTHING ON THE INTERNET THAT YOU WANT PEOPLE TO KNOW ABOUT, you have to make sure they can find you somehow, somewhere on the big, fat giant web! And this is also why your blog's content needs to be unique.
Focus on making your content the best it can be, optimize it for search engines, and promote it strategically. Readers will keep coming back to read more, and you will make more sales.
Author Bio: Christine
Christine Rudolph is a passionate blogger who loves to write about fitness, fashion, and lifestyle related topics. Follow her on Twitter @RudolphBlogger for more updates.