This post may contain affiliate links which may give us a commission at no additional cost to you. As an Amazon Associate we earn from qualifying purchases.
I have been there. Feeling like nothing is working and discouraged because my blog wasn't where I wanted it to be. Oh, have I been there. And you know what? It will happen again. That's the thing with success, inspiration, consistency, progress, interactions, etc. They come in ebbs and flows. Just as you can be sure you may hit slow periods with your blog or business, you can also be sure it will pick back up.
Sometimes it just feels like nothing you do is working in the race to get more comments, stats, shares, likes, opportunities, or whatever else you seek.
I'm here to tell you that we all feel that way, as seasons change, as all little intricacies of blogging change, and as WE change, and grow – as bloggers.
And in general!
I have a funny history of blogging, and what I've found important has been tweaked over the years, but ultimately success has always been measured for me by people reading my words, and maybe learning something, or wanting to like, share, comment, write me an email, meet for coffee, ANYTHING! I started blogging in 2010 because after years of blog stalking and not writing my own, I was bursting! I had majored in Journalism and then studied photography after college. Then I went right into an office sales job, then a marriage, and a baby.
I started my blog when my daughter was nine-months-old and it became a place to share stories, photos, dreams, tips and tricks, tidbits, humor, and love. After my son was born three years later, I started a photography business. I was doing my two great loves – writing AND photography – with my three greatest loves – my kids and husband. I felt like I was in paradise, but paradise isn't easy.
Every now and then, I feel like something has to change. And that takes work.
After several YEARS of using the Blogger platform, with zero technical skills, and zero interactions, except to publish my new posts ONCE on Facebook and hope my small list of personal Facebook friends read it, things began to change.
First, I joined SITS Girls because the secret to success really is in the sauce. It's in the sharing. Suddenly I had new blogs to read, and new bloggers to connect with on blogs, on other social media platforms, at conferences, and for lunch! After a few years of interactions being the biggest point of blogging for me, I decided to try sponsored posts. My specialty in my major was creative nonfiction and I could feel the world of blogging shifting, and I didn't want to get lost in the shuffle. I was absolutely in love with written and photographic storytelling for brands I love, but I wanted all connections to still be as strong. I wanted to have my cake and eat it, too. Sometimes blogging feels like a game. A dance. It seems to be about precision, timing, chemistry, and technique. It also relies on heart.
The most important thing I've ever learned about blogging is that its relevancy, or lack thereof, is not your greatest threat. Your greatest threat is blogger burnout.
Don't give up. Take a deep breath, walk away from the computer, and then come back and read these tips.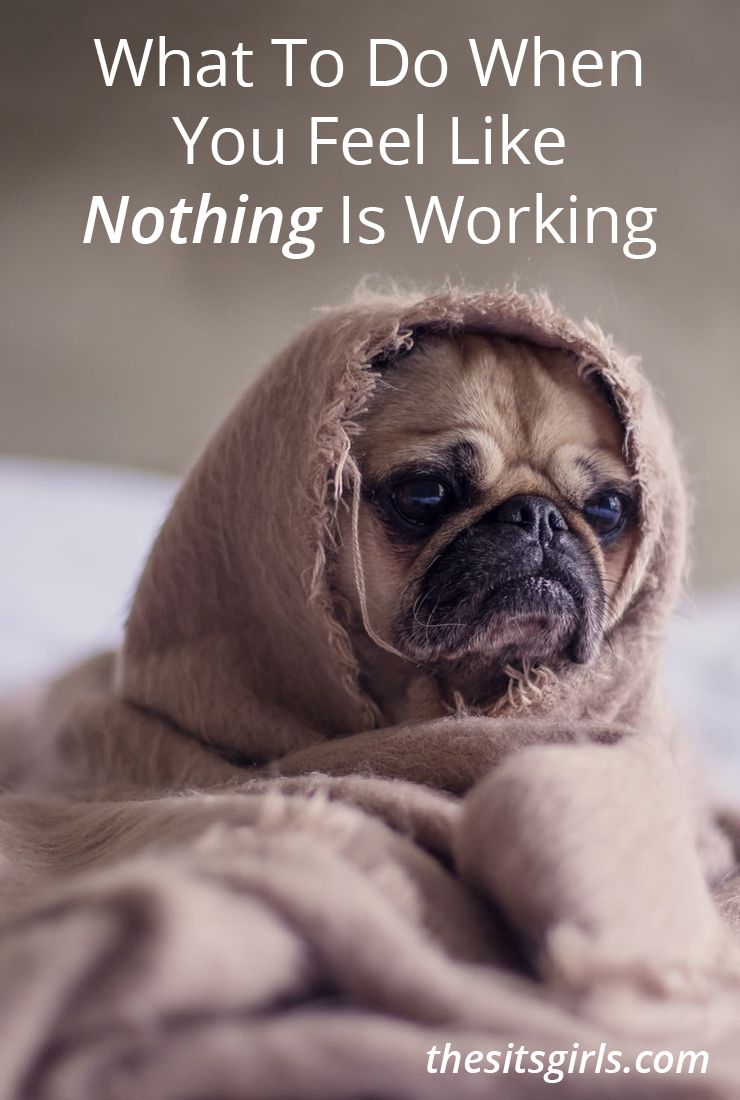 What To Do When You Feel Like Nothing Is Working
This can be about getting stats, shares, likes, opportunities, etc. but it's also about more than that. It's when you feel like NOTHING is working in this wonderful world of blogging, or in your business life in general.
Connect, of course. You knew that would be my first tip, right? It's not just connecting – it's smart connecting. It's genuine connecting. Share and comment and like, galore, but make sure you're interested in the content you're sharing, or that you take the time to read it and get to know it. Sharing really is caring, and most bloggers are highly reciprocal. Not all are, but you learn that pretty fast.
Use Google Analytics, or even better – Google Webmaster Tools to analyze your blog and its readers. Which of your posts are getting the most impressions? Are they also getting a lot of clicks? Is it one or the other? Explore. You can see which of your posts are getting the most love and a wonderful thing is to write them as new, or repurpose your old content. The idea is to see the same idea, and the same amazing content, and find ways to reach different audiences, or people who haven't seen it.
Join teambuilding Facebook groups. This is by far one of the most powerful tools I've seen. You can join or even start a Facebook group that is aiming to grow together. There are ones specifically for social sharing, and ones specifically for commenting, and so on. Once you find one, generally more groups will show up as suggested groups for you to join.
Look for support in all of the places I've mentioned above, but also consider professional help. I'm so serious here! Blogging courses, e-books, mentors, virtual assistants, conferences. GAME CHANGERS.
Sorry, I was so passionate above. I feel like that one deserves neon lights and to be two line items. The next one is to reach that next level, and that requires a leap. Whether it's submitting a guest post to a large outlet, or even to an anthology. Whether it's applying for an opportunity or job, or sending a query to a brand, author, publisher, anything. Once you take a leap, I swear it gets easier the next time. Whether you're rejected or received, it's wonderful to be going for what you want. It will change you.
Whether it's fame and fortune you're seeking, more likes/stats/shares, or more comments, I think ultimately you have to write from the heart about topics that are meaningful to you and can help others. Become a known expert in what you REALLY know. Don't force it. Don't be afraid to take breaks. And get out there!
Keep Reading