This post may contain affiliate links which may give us a commission at no additional cost to you. As an Amazon Associate we earn from qualifying purchases.
I never intended to be a stay-at-home mom. In fact, if you were to ask my 16 year old self if she saw herself as a married SAHM by the age of 23, she would have cringed. But life has a funny way of laughing in your face and doing whatever it wants, and here I am today.
A journalism major, I've always loved to write, which is what prompted me to start a blog after my first son was born. I needed an outlet for mom talk and maybe even a small sliver of my life that didn't revolve solely around my beloved son. So I became a blogger, and I quickly fell in love — the writing, the community, the readers, and the ability to help others, made me fall hard for this new craft. It gave me a passion and a purpose.
Here's the thing — blogging is amazing. Blogging helped me find what I believe is my calling in this world and helps me feel like I am more that "just" a mom. It's given me a chance to explore aspects of my personality and realize dreams I didn't know I had for myself. But let's be honest. Blogging can also be exhausting. Even more so if you find yourself writing about things that you aren't necessarily passionate about but you 'know' are what people 'want' to be reading.
The key to loving your blog and sustaining it long-term is to find your calling and write about what YOU are passionate about. But how do you do this without getting overwhelmed? Pro tip: use an editorial calendar!
An editorial calendar is key to keeping yourself on track with writing things that excite you. Having a bird's eye view of what you'll be writing that week, month or even year allows you to get a better idea of what to expect from your blogging and check to make sure what you're writing aligns with your passions.
Here are some tips to get you started on creating an editorial calendar that speaks to your passion.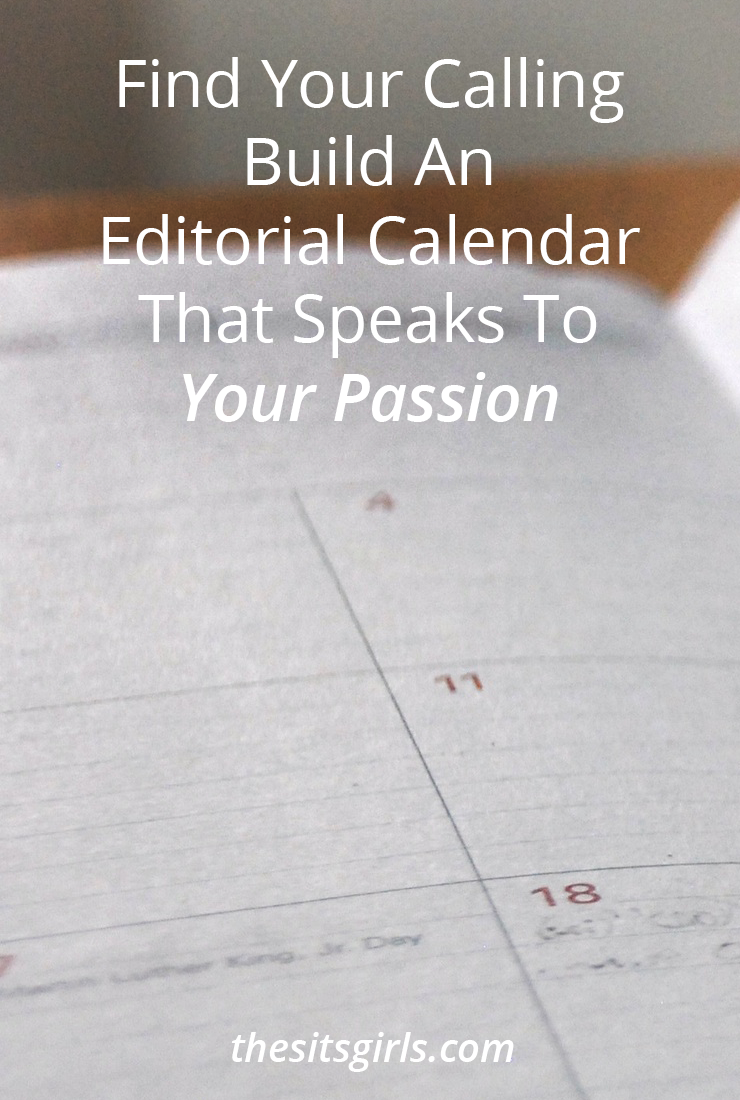 Find Your Calling And Create An Editorial Calendar That Speaks To Your Passions
Write about what excites you. When building my editorial calendar, I keep a short list of the main topics I want to write about each month and/or week on a sticky note nearby. These are the topics that excite me and I could talk about for days — the topics I am passionate about. All of my posts that I'm scheduling must fit in one of those categories. Even if I think something is a fabulous post topic, if it's not something I'm passionate about, it will end one of two ways:
I will never get around to writing it. I'll keep moving it back to another day until I finally take it off my calendar for good, wasting time and energy.
I'll write it, but it will flop because it will have been written with no heart.
Use your editorial calendar as a way to check in and make sure that all of your content is speaking towards you as a person and as a blogger.
If it's not speaking to you, skip it for now. The number one reason you should be working off a well-planned editorial calendar that revolves around your passions is it gives you flexibility. If you sit down to write a post for a specific day, but the words are just not coming to you, you can easily look at your calendar and find a future post you do want to write about. There is no quicker way to kill your passion than to force yourself to write a post about something that just isn't working for you
Be flexible. Similarly, remember that your editorial calendar is not the end all be all. It's just a guideline for you. Feel free to move things around as due dates come so you are writing what makes you happy in that moment. Readers can feel when your heart isn't in what you're writing.
Fill in fun days. This might be a personal preference, but try to schedule a few 'fun' posts. You know, the ones that you won't promote or expect a ton of traffic, but that are light-hearted, easy, and fun. These are also great posts to write in order for your readers to get to know YOU as a person. Examples could be a phone dump of fun pictures and stories, a 'currently' post, or a post about your favorite things that month. A no-stress post can sometimes remind you that blogging should be fun!
Keep in mind that the topics that excite you may change — that's okay! Use your editorial calendar as a way to take note of that. If you find yourself skipping/delaying all of the posts on one topic, maybe it's time to stop writing about it for now. On the same page, if you can't stop writing about a topic, and there are just not enough days to share everything, start focusing more on that. Write what you are passionate about, because THAT is how you will succeed as a blogger.
Finding your calling as a blogger is the best feeling. Knowing that you are writing about your passion as well as writing content that your readers enjoy and find beneficial? You can't beat it. Remember to use your editorial calendar to help get you on the road to finding your calling — write about what excites you and skip what doesn't, make room for stress-free posts, tailor your calendar to what you're passionate about, and in no time you'll be there.
Keep Reading