This post may contain affiliate links which may give us a commission at no additional cost to you. As an Amazon Associate we earn from qualifying purchases.
Ever been unsure about how to find your tribe? One thing I can say for sure – I would not be where I am today if I were working by myself. That's not to say that I didn't work, and work HARD, to achieve the things I've achieved. But I would not have had the opportunities I have been given, and used to reach new levels in my career, without the amazing people around me in this community.
I tend to think of success as having two-fold parts to it. The part that you provide – mostly sweat and skill. And the part that others provide – opportunities, open doors, and a helping hands.
Tips to Find Your Tribe
Opportunities From Your Network
Kelby Carr gave me my first speaking opportunity at the very first Type-A Conference. But that didn't mean I just showed up and goofed off! I worked hard to make sure that I was giving useful information in my presentations, and I spoke where I had knowledge and skill to share with others. As a result, I've been given more opportunities. So tapping into the tribe of colleagues at the website we were both writing for proved to be very beneficial.
When I launched my eBook, 30 Days to Make and Sell a Fabulous eBook, Fran and Tiffany reached out to me and offered me their community to guest post at. And it's turned into more than one appearance at a Bloggy Bootcamp event to help teach others how to create additional revenue streams from their blog writing!
It was also someone within my tribe who referred my book agent to me. True story. She gave her agent my name and the agent approached me to ask about about a specific title. It was very similar to the book, Backyard Farming on an Acre (More or Less) that is now launching in December!
Not Letting Your Tribe Down
So the other side of all the wonderful things your tribe can do for you is that you can't drop the ball! What would have happened if Kelby let me come and speak and I didn't prepare and didn't do a good job? That opportunity would have been wasted.
If you consistently drop the ball, behave unprofessionally, or fail to support others when THEY have something exciting going on, you will let your tribe down. You will destroy the community camaraderie you have built up around you. And you will find those future opportunities and successes diminishing instead of growing.
Tips to Help Find Your Tribe
1. Comment on their blog posts.
Now with Facebook so popular I've noticed a trend of people commenting about a story or post on the facebook status. That's great, to be sure, but I've noticed a decline on comments within the blog itself. Commenting takes an extra 30 seconds but it will stand out to people when you do so.
2. Ask how you can help them.
I have a friend, Danielle Smith, who will sometimes pop on Facebook and say – I'm sharing great posts right now – what do you have for me? And it's always so encouraging. It probably takes her 15 minutes to do that once a week, but it creates a great sense of community.
3. Go the extra mile to follow through.
I have a tendancy to book myself solid. I mean ZERO wiggle room solid. But when someone from my community is counting on me to make something happen, I will go the extra mile to make sure it happens. It might be at the last second – but I'll get it done!
What about you? What have others done for you recently that made you feel connected to them and supported? How do you connect with others in your blogging tribe?
About the Author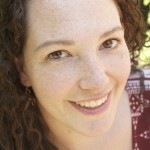 Angela England is a mother of five living with her children and husband in rural Oklahoma. She is the founder of Untrained Housewife and author of Backyard Farming on an Acre (More or Less).
Disclosure: This post includes affiliate links.