This post may contain affiliate links which may give us a commission at no additional cost to you. As an Amazon Associate we earn from qualifying purchases.
New to SITS? Welcome!! Go read this to get started.
Welcome to the weekly blogging tip and comment game! This week I'm talking about finding your blogging tribe.
Part one of this series is here.
Hello from BlissDom in Nashville! I'm here doing a lot of thinking about tribes. Last week, I challenged you to be part of someone else's tribe. Today, your challenge is to start connecting with some of your blog's tribe.
Identify five bloggers that regularly comment on your blog.
Call them out in a post on your blog.
You could highlight a post they wrote, link to their main blog URL, or thank them by name. Think about ways you can thank your readers for supporting you. Maybe you can do a weekly round-up of links highlighting some of your tribe/commenters? The idea is to encourage interaction. If certain people comment regularly on your blog, I bet your readers might like to read their blogs, too. Pay it forward and watch your tribe grow.
Part three of this series is here.
Now, let's play a game! Here are the rules for the SITS Saturday Sharefest:
Leave a comment here with a link to one of your best blog posts (or just your main URL if you prefer).
After you leave your comment, visit the link of the person who commented BEFORE you.
Comment on their post and be sure to say "Happy SITS Saturday Sharefest" in your comment.
Now, go leave some comments!
We are coming to Baltimore! Join us.
Want to subscribe to SITS and get an email each time we post? Just click here.
And, as always, when you see this: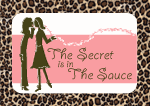 LEAVE A COMMENT.