This post may contain affiliate links which may give us a commission at no additional cost to you. As an Amazon Associate we earn from qualifying purchases.
If you're thinking of starting a new blog, the very first thing you'll need to work on – before you even start writing – is finding your blogging niche. Or in other words, decide what your blog is going to be about.
Now, it's absolutely possible to have a blog where you just write about whatever comes to mind on any given day, and that's fine if you're blogging as a hobby or as a creative outlet. But for the purposes of this post, I'm assuming that you want to make money blogging – and when that's the case, you need to be a little more focused. You will see the word niche mentioned in many blogging tips and tutorials, but you might be wondering how exactly you go about finding one.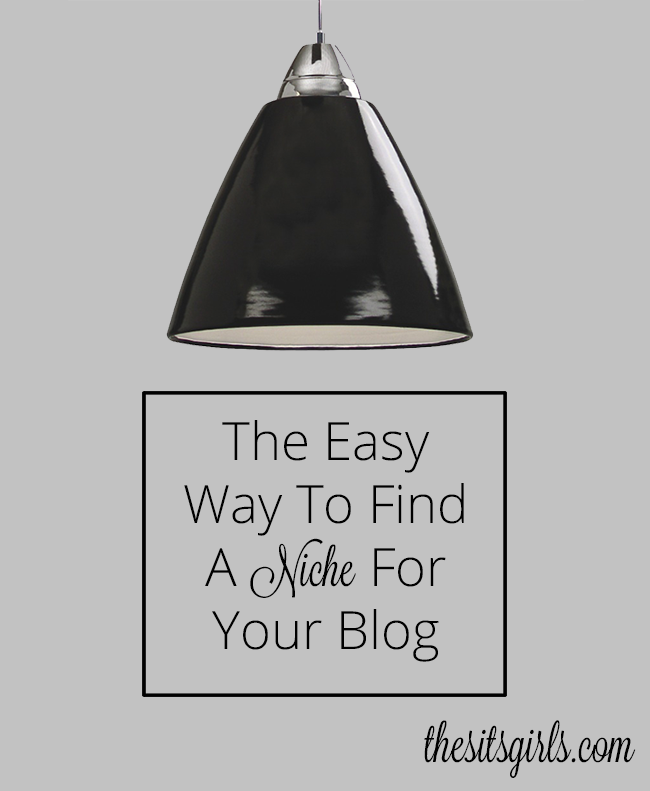 Finding Your Blogging Niche The Easy Way
Niche is just a fancy blogging term for a topic, and there are a few reasons why it's important to have a one. But the biggest reason is that it makes it easier to connect with an audience – and when you connect with an audience, you can start building an email list and start creating a pool of potential customers.
Sound complicated? It's not at all! There are just a few things that you need to focus on when you choose a niche for your blog.
The first thing to do  when finding your blogging niche is think about your passions and interests. In most cases, you'll do much better with a blog if it's about a topic that you have a lot of knowledge in, or even better, something that you're totally passionate about.
You can expect to be blogging about this topic for years – so if it's not something you're very interested in, it's going to get boring. You'll start hating that you have to write something, you'll start skipping posts, and next thing you know, your blog is forgotten and neglected. Nobody needs that guilt!
The second step to finding your blogging niche is determining if there's an audience out there that needs your information. All the passion in the world won't create a successful blog if no one else shares it! If you're passionate about the sleeping habits of the tufted dormouse, it might be a cute blog, but it's not likely to draw a huge amount of traffic.
So passion and an audience are the two things that really matter when it comes to finding a blog niche and creating a successful blog – you need to look for a topic where those two things intersect. There are a few topics that are huge on the internet; they are what we call "evergreen" topics that always have and always will draw lots of traffic. Those things are: health/weight loss, finances/making money, and relationships.
These three topics work because each of these three niches cause people a lot of problems – and what do they do? They turn to the internet to find solutions. If your blog can provide the solution to a common problem, it will be successful.
But those are absolutely not the only successful options for blog topics out there! In fact, those topics are so popular that there are literally millions of blogs in those niches out there already, and it can be really hard to have any success with all that competition.
There are lots of other niches out there that do really well, like crafts and DIY, homeschooling, or pet care. But be assured that pretty much any niche you think about, there are already a lot of blogs our there already.
What do you do to stand out in a crowded niche?
What you do is what I call "niching down", or becoming even more focused. The idea is to find a niche within a niche.
Let's take an example, and say that you have a business selling a certain weight loss product. You want to create a fitness blog where you can attract customers for that product. Instead of just blogging about fitness and weight loss in general, you should focus your blog on a very specific subset – maybe weight loss after pregnancy, or weight loss for women over 50, or even weight loss for busy moms.
Use the Google Keyword Planner tool to do some searches for your niche and it's main keywords. Are there enough people searching for that phrase to make it viable?
Look on Facebook and see if there are any groups focused on that niche. Don't worry if there already are – that's good, because it means people are interested. These are your prospective customers!
The last thing to keep in mind when finding a niche: even if you're passionate about a subject, even if there are people out there interested in that niche, it needs to be something that you can monetize eventually. Consider all the potential ways that you could make money with this niche. Can you sell affiliate products? Will you create your own products or services to sell? Are there brands in this niche who would be willing to pay for sponsored posts or reviews? At the very least, if you can create a blog that draws a lot of targeted traffic, you may be able to do well with ads from Google AdSense or another similar ad network.
If you find the place where your passion, an eager audience, and plenty of monetization opportunities cross, you've come across a perfect niche!
Now, take that information and get started blogging!
Want more information about blogging in a niche?
Check out this post to learn how a blogging niche will help you grow your blog.