This post may contain affiliate links which may give us a commission at no additional cost to you. As an Amazon Associate we earn from qualifying purchases.
Have you finally taken the plunge? You have started a blog and are ready to embark on the journey of writing on WordPress for the very first time? You may be feeling a bit clueless on how to actually compose your very first WordPress blog post.
Have no fear! I promise to help you not only create your first blog post from start to finish, but also successfully post WordPress blog articles again and again if you just follow a few simple steps.
So are you ready? Then, read on below for my simple step-by-step instructions on how to create your first WordPress blog post.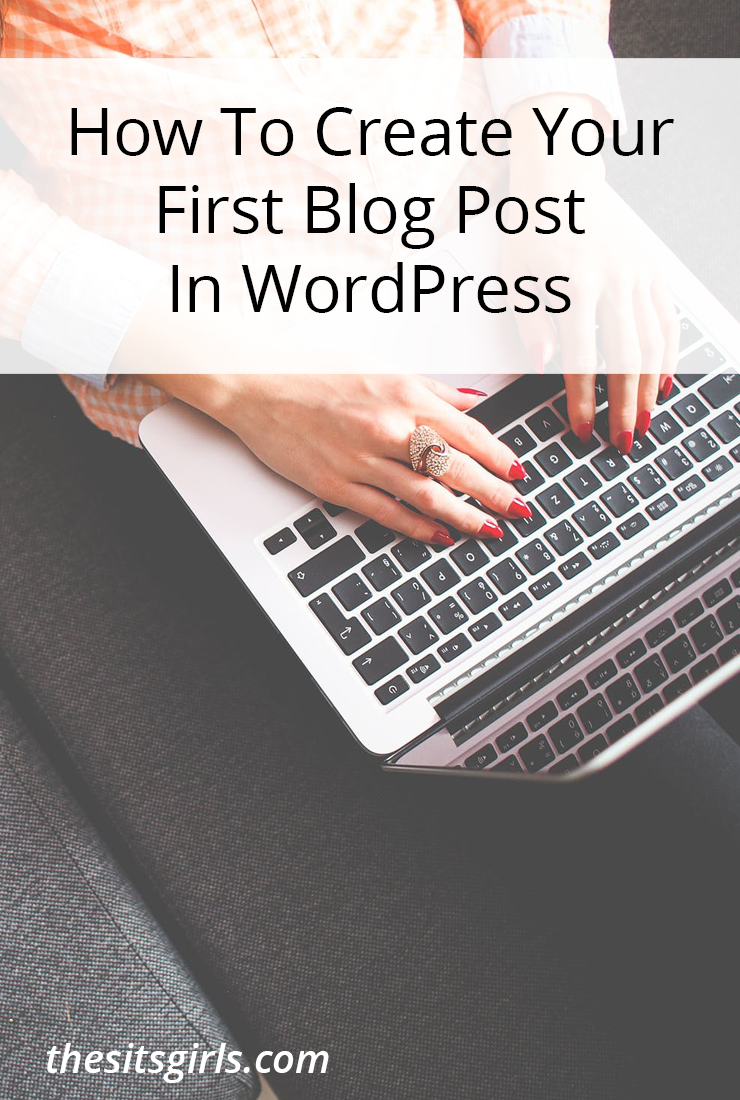 8 Simple Steps to Create Your First WordPress Blog Post
1. Go ahead dive in.
Here we go. To write your first WordPress blog post, click on the "Posts", then "Add New" on the left side menu in your WordPress dashboard. This is the second option in the "Posts" menu section. Once you click this, it will open a new post window.
2. If the title fits.
You will see a title area at the top of the blog post area. This is where you will add your blog post title — every blog post should have a unique title.
3. Write to your hearts content.
Under the title area is the "Content Box". This is where you will craft your blog text copy.
Directly above the "Content Box" you will find a menu bar that gives you options to size your text font, alignment of your text, and more to help make your text copy stand out. Most of the buttons are similar to options you might have seen in Word or Google Docs.
You will also notice, on the top of the "Content Box" to the right hand side, there are two small tabs: Visual or Text.
"Visual" shows you your text copy as you create visually. "Text" shows your blog post copy in HTML code. For those just starting out, I recommend working in the "Visual" tab unless you need to add a piece of code to your blog post, as the "Text" tab can be very confusing for beginners.
4. What's a blog post without images?
While composing your blog article, you most likely want to include images. This can easily be accomplished by clicking the "Add Media" button, which is below the "Title" area and above the "Content Box".

Clicking this button will cause a box to pop up where you can upload an image. Once the image uploads to your library, you will be able to add a title, alt text, and a caption on the left side of the media box. You can also choose the display size and alignment of your photo here.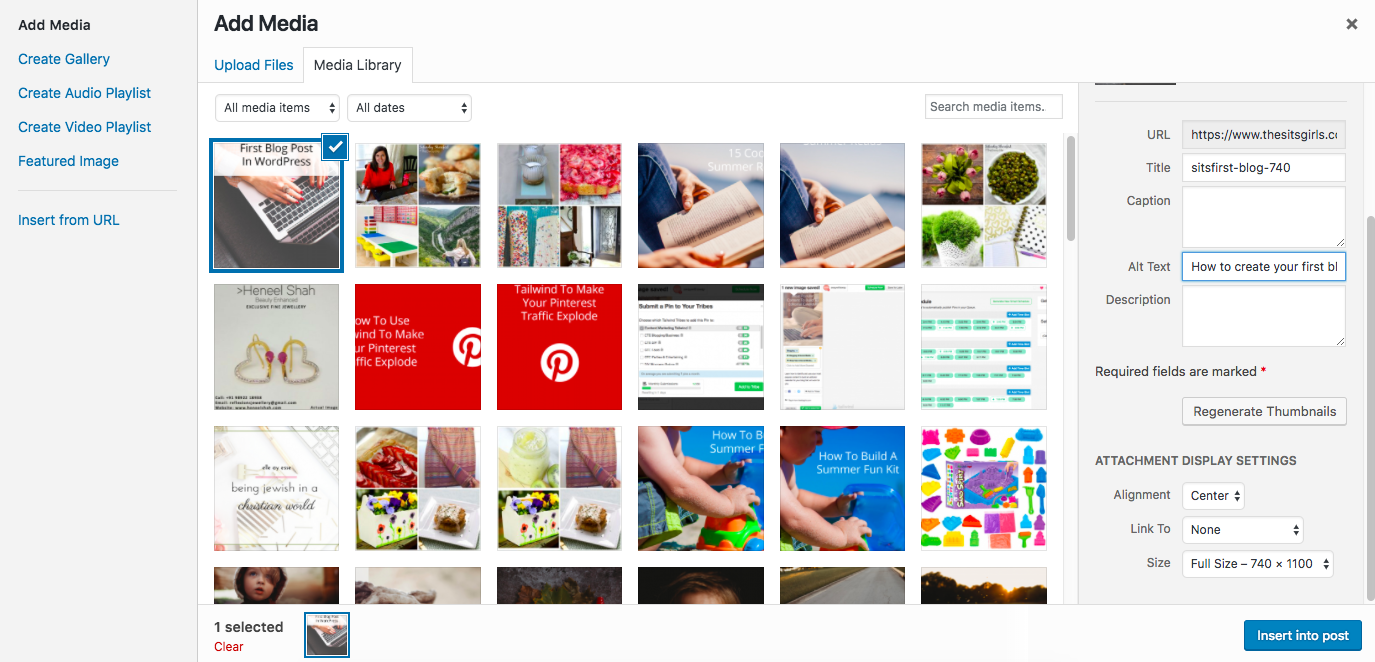 Alt text is very important when uploading an image — this is what search engines use to "read" what your image is.
5. Categories and/Tags for the perfect search.
To the right of the "Content Box" is a another box for "Categories" and yet another box for "Tags". Both "Categories" and "Tags" help to sort your blog articles for those who may search your blog for a specific topic. Even though this is only your first blog post, you still want to use both. Down the road when you have written a handful of articles on your blog, this organization system will help readers find what they may be looking for when searching your blog for something specifically.
6. Every blog article should have ONE Featured Image.
Some blog articles may only have one image. Others may have several. But all blog articles should contain one image that is the featured image. What is a featured image? The featured image is the image that sums up your blog article. Plus, it is the image that will be grabbed on your front page for the blog post excerpt. And it may also be grabbed when sharing socially, too.
7. All blog articles have a slug.
What is a slug? Simply put this is the article's web address where it can be located and found on the internet. WordPress gives your article generic slugs. You can totally leave it. Or you can rename or edit it. I suggest if you do edit this to use your key word and keep it similar to your blog article title for SEO purposes. I am not delving too deeply into SEO here. But needless to say, SEO is a big part of blogging.
8. Now is the time to hit that publish button.
Once you have dealt with all of the above, you should be ready to publish your first blog article. You will find the "Publish" button to the right of the "Title" and "Content" areas. Just hit the green rectangular button that says, "Publish" now.
If you want your post to go live at a later date, you can also schedule it by clicking "edit" next to Publish Immediately higher up in that menu section and then set a date and time for your first WordPress blog post to go live.
Congrats, you have now published your first WordPress blog post!
Want more blogging tips and tutorials?
Here's a list of things to do in the first three months of starting a blog!