This post may contain affiliate links which may give us a commission at no additional cost to you. As an Amazon Associate we earn from qualifying purchases.
New to SITS? Welcome!! Go read this to get started.
Welcome to the weekly blogging tip and comment game! This week I'm talking about key components every blog should have.
You decide to start a blog. You think of a name, sign up with Blogger or WordPress or some other platform, write a few posts and start spreading the word. What else do you need to do? Here are Five Things Every Blog Needs:
A link to your RSS feed. I am shocked at the number of blogs I visit that don't have a prominent "Subscribe to my Blog" link at the top of their sidebar. I recommend using Feedburner and enabling their "SmartFeed" (under the "Optimize" tab). This sets your blog to publish one feed that is compatible with any visitor's feed reader.
Social media buttons. It's critical to have a link at the top of your blog so people can follow you on Twitter and/or Facebook. These days many people use Twitter and Facebook as their feed reader. I know that I don't visit my Google Reader as often as I used to because many bloggers I follow update Twitter and/or Facebook whenever they have a new post.
An "About" link. I don't want to have to read through half your archive to get a feel for who you are. My first connection with you will be your most recent blog post, and if I want to know more about you, it should be easy to find out. Create a new page/post that tells your readers who you are and what your blog is about, then put a link to that page in a prominent spot in your sidebar or navbar.
A "Related Posts" widget or plugin. I've written before about the benefits of deep-linking. When you have someone at your blog, you want to draw them in and help them get to know you. At the end of your posts you should use a widget or plugin that automatically displays related posts from your own blog. Some examples are LinkWithin (works with any platform) and Similar Posts (for WordPress only). The TopPosts sidebar widget is also excellent.
Now, let's play a game! Here are the rules for the SITS Saturday Sharefest:
Leave a comment here with a link to one of your best blog posts (or just your main URL if you prefer).
After you leave your comment, visit the link of the person who commented BEFORE you.
Comment on their post and be sure to say "Happy SITS Saturday Sharefest" in your comment.
Now, go leave some comments! And please visit my blog — Mom, Reinvented.
Want to subscribe to SITS and get an email each time we post? Just click here.
And, as always, when you see this: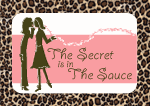 LEAVE A COMMENT.