This post may contain affiliate links which may give us a commission at no additional cost to you. As an Amazon Associate we earn from qualifying purchases.
When I first started blogging, I had very limited knowledge about what it takes to be a food blogger.
While I loved to cook, bake, meal plan, and create recipes in my own kitchen, I truly didn't know what went into blogging about food. When I look back now on my early food blogging, I cringe at what I thought was passable for sharing a new recipe creation on my own blog.
However as I blogged more, I gained a better understanding as to what was not only acceptable, but was also needed to be a food blogger. I will never forget the awe-inspiring experience of seeing one of my recipe posts finally go viral. It was a truly humbling experience. I am not going to lie, though, I worked hard to get my recipe blog posts to be noticed. How did I accomplish this goal?
Sit back and read on to find out some of the much needed secrets that every food blogger needs to know…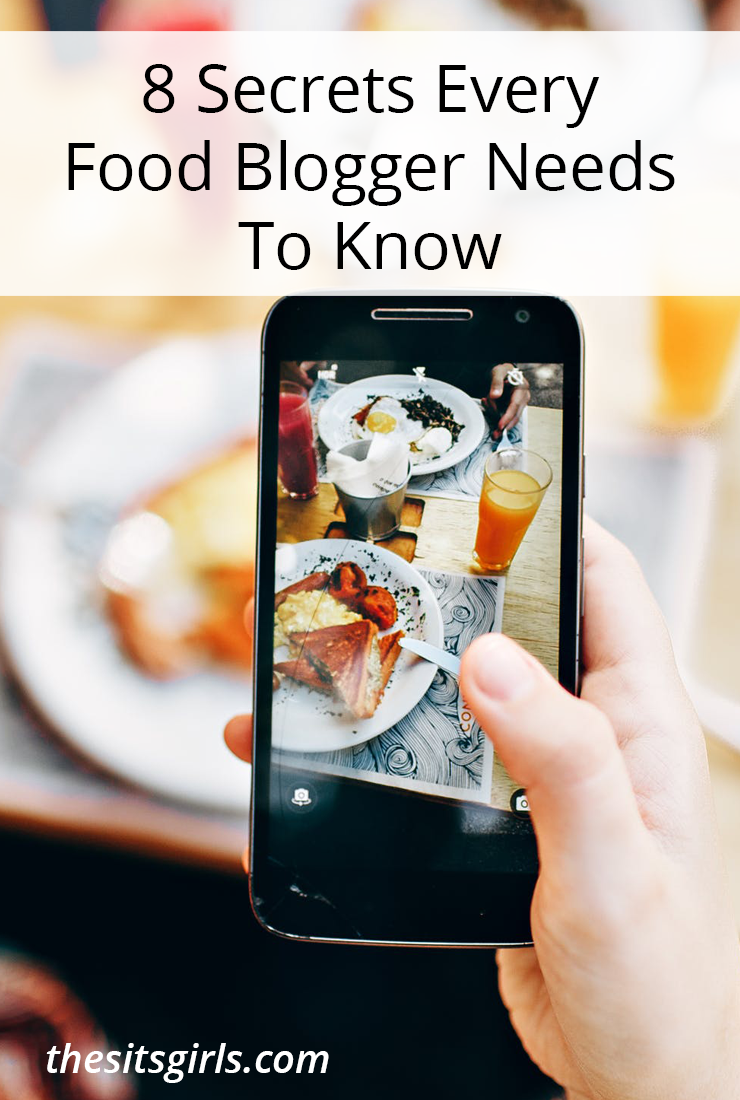 8 Secrets Every Food Blogger Needs To Know
1. Photography matters.
The number one essential ingredient for getting eyes on your food blog content are your photos. In those early days, I would actually use my iPhone to photograph my recipes. I'd then post on my blog, and even on Instagram, without thinking twice. But quickly I learned that my photos weren't cutting it for recipes. So I caved and got my hands on a DSLR camera to use for my food photography.
My husband actually works for Canon. Yes, the international camera company. And yet, I held out on getting a much better camera for far too long. Plus, I shied away from fancy lenses and lighting. I will never forget the first time I used a macro lens and speed light — I was blown away by the photos. Now I pretty much use them exclusively for all my food-related blog content.
2. Make sure to taste test your recipes. 
Yes, those photos do matter, but all the fancy photography won't make up for a lousy recipe. Trust me, you need to make sure you taste the food for yourself before posting. Because if you post a recipe that is subpar, and someone tries it, you will potentially lose a reader and find yourself with bad feedback on your blog or even on Pinterest. Great food photos and delicious recipes go hand-in-hand.
3. Relate to your recipe and audience.
Not only should your food post have gorgeous photography as well as a great tasting recipe, you also need to introduce your recipe with excitement. This means sharing the background of your recipe — adding in a personal story. Dishing on why you not only love this recipe, but while others will, too. You need to lay it all out there for those reading and give a full endorsement to your recipe. It always helps to give the reader further enticement to try your recipe out for themselves.
4. Stay ahead of the seasons.
Right now, for instance, it may be still freezing outside, but that doesn't mean you shouldn't be planning ahead for warmer weather recipes. But why? Food content, I always believe, should be scheduled out at the very least one season or holiday out in your blog's editorial calendar. Think of it as what you will see in your local stores. I know it can be frustrating to see Christmas stuff out in September, but still this is just the way it is. So, the same should apply for food and recipes on a food blog.
5. Be food obsessed.
My husband always jokes that I am obsessed with food. But, you see, in order to be a food blogger or post about food, I truly feel that you need to have a passion for food. When I go grocery shopping I am constantly thinking in terms of what I could make by combining different food ingredients. Plus, I will scour Pinterest a few times a day for inspiration. While I am not recommending copying any one recipe verbatim, I am saying inspiration comes in the most interesting places when you are creating recipes. There are similar recipe ideas all over the Internet, but part of the fun is taking a recipe, recreating it, and putting your own spin on it. You need to have a love and vision for food.
6. SEO is king.
Now that you have created good content, you need to get eyes on your recipes. One of the big ways to do this is to get found when people are using Google to search for a recipe. In order to do this, you need to work on your SEO (search engine optimization). SEO for food bloggers can be very effective to get your recipes seen.
If you are a food blogger on WordPress, I highly recommend using an SEO plugin for this, as it takes out so much of the guess work. My favorite happens to be Yoast SEO, but I will say that the longer you use a plugin, and work with SEO, the more proficient you become. I could pretty much SEO a food recipe with my eyes closed now. The plugin just helps me double check my SEO skills. Bottom line — SEO is a definite advantage in getting others to find your recipes through simple search results.
7. Recipe plugins are the perfect tool for all recipes.
While it helps to always have a great lead in to your recipes on food blogs, a nice concise recipe with ingredients and instructions are truly key. The best way to do this, if you are on WordPress, is to use a recipe plugin to give the best recipe experience for your readers.
My favorite right now is WP Recipe Maker. Not only does this plugin give a very nice and easy recipe reading experience, it even allows for the reader to scroll right to the recipe with a nice little arrow button at the top of the recipe article. Plus, it allows the reader to buy all the ingredients from a recipe widget right inside the recipe. This also give the food blogger the opportunity to make a small commission if the reader purchases the recipe items directly from this same recipe plugin. It's a win-win for everyone in my book!
8. Social sharing helps, too.
Another fabulous way for a food blogger to get their recipes seen is to share them on social media This includes Facebook, Pinterest, Twitter, Instagram, Yummly and StumbleUpon. All of these help boost your food-related content views.
Facebook: share not only gorgeous foodie images, but short form recipes videos, too
Twitter: I am big on sharing horizontal mouth watering images
Pinterest: I have also found much success with Long Pins and even using scheduling tools, such as Tailwind for scheduling your content, as well as participating in "tribes". Tribes are essentially where your share your pins. Others re-share and re-pin on their Pinterest boards. You usually will reciprocate the same for others with their Pinterest content, as well. The key with social sharing is to find others to share with and reciprocate with. Trust me, reciprocation in general with blogging goes a long ways.
There you have it, 8 things food bloggers need to know to make their content go far!