This post may contain affiliate links which may give us a commission at no additional cost to you. As an Amazon Associate we earn from qualifying purchases.
Whether or not you're a food blogger, it can be fun – and so beneficial for your blog – to write food posts.  Especially in the age of Pinterest, well-photographed and well-written food posts can drive thousands of visitors to your blog.
And if you are interested in working with sponsors, there are so many opportunities if you are willing and able to write great food posts.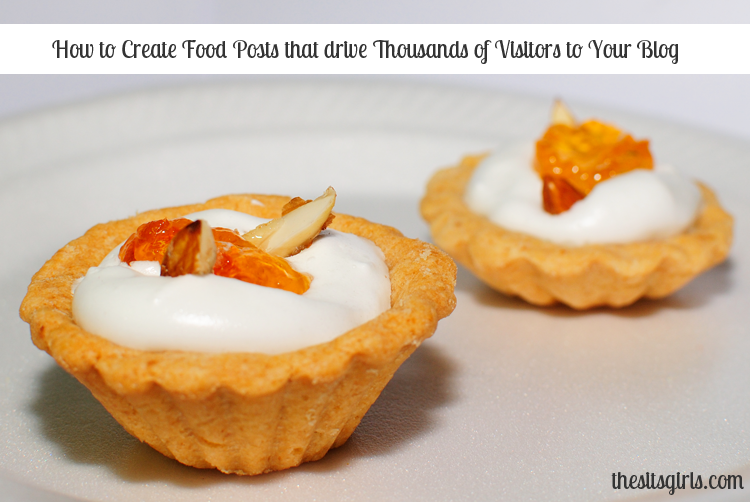 How to Create Food Posts That Drive Thousands of Visits to Your Blog
Even non-food bloggers can learn so much from their favorite food bloggers.  If you (perhaps) spend a lot of time on Pinterest or browsing and reading some of your favorites, you'll notice that there are several things they all have in common. So what are the must-have components of awesome food posts?
High Quality Pictures
This is the most important component of a successful food blog post. Great food pictures draw readers in when they see them shared all over the internet. They make your readers actually want to try the food you're sharing.  And even more important, great pictures give your readers the urge to SHARE your post!
Your food post should have at least one photo, preferably more than one. The photos should be clear and well-lit. And they should be large enough to really entice your reader.  One mistake I've seen frequently in food posts that are otherwise well written about food that sounds appealing is the inclusion of one small grainy picture. I frequently pin recipes I like, but I don't want to pin a picture that's not clear enough for me to know exactly what it is when I see it on my pretty Pinterest boards.
Speaking of Pinterest, take the time to make one pinnable image that includes text.
Step by Step Instructions
The most shared food blog posts include clear step by step instructions that are easy for even an inexperienced reader to follow. One of the advantages of finding a recipe that you are dying to try in a blog post is that the blogger is taking the time to show you exactly what to do. Don't know what it means to deglaze the skillet (I'm talking to my mom here)? Let a great picture and detailed explanation show you. Is it hard to know how browned those rolls should be before you take them out of the oven and add the herbed butter to finish them off? Let your blogging friend explain it to you and show you.
Excellent Writing
While food posts may not be your most wordy, it's always important to write well and use proper grammar. Take the time to review your post for errors. Just like poor photography can send a reader moving on to the next site, so can a post with errors.
A Personal Touch
Your readers want to know a little bit of the story behind the food you're sharing. The stories can often make the recipe even more appealing. If you're writing a food post, you may not want to start it out with a long story about something unrelated before getting to the point – the food! But adding a little something personal and interesting as you write out the steps for your reader can truly add to the appeal. I find that recipes I've made for years have gradually been modified until they've been perfected for my family, and it can be fun to mention that while my grandmother always made this recipe one way, I've found that trying something a little different has made it even better – or something similar.
Make Your Posts Easy to Find
There are a lot of ways to make your posts easier to find when a reader is searching for just the right food post.
Categories and Tags – Think about the proper way to categorize and tag your post within your own site. A food blogger would most likely have several more specific food related categories, but a more general blogger could have one or two about food.
Pinterest – Pin one of those great images (or more than one) and share your post on Pinterest to attract a lot of readers!
Link it up! – Share your post by linking up with many of the weekly link-ups that you see frequently as a blogger. The weekly Saturday Sharefest right here on the SITS Girls is a great place to start.
A search box on your blog – This one isn't only related to food posts, but is part of making all of your blog content searchable. Once a reader has found your blog, you want that fabulous person to stay and read other posts.  Being able to search for your food posts makes it just that little bit easier, and makes your reader want to come back again and again.
SEO – Last but not least is of course SEO. Use good keywords and titles that will make your posts easily searchable.
All of these tips should make your post a pleasure to read and easy to find. However, you should remember to add a note explaining your copyright and your content sharing policy. You can include a detailed content sharing policy on your About Me page, but if you have strong feelings about the sharing of your content, add a quick note directly to your post, such as "Sharing my content is okay with a link back and proper credit given" or something similar.
An excellent food post can draw readers to any type of blog.  What is your favorite food blog? Share your favorite in the comments or share a favorite food blog post!
KEEP READING!
Looking more posts to help you create traffic-driving food posts? Then be sure to click through the links below for food photography and SEO tips!