This post may contain affiliate links which may give us a commission at no additional cost to you. As an Amazon Associate we earn from qualifying purchases.
Do you ever find yourself thinking that there are just not enough hours in a day? Me too! You're not alone. As bloggers, our to-do lists are ever-growing and never-ending. From content creation to website maintenance, there is always something vying for our time and attention. It is easy to feel overwhelmed by all we need to do to keep our blogs running smoothly, especially when it feels like we just don't have enough time. Thankfully, there are few time management tips we can use to help us make the most of our blogging time.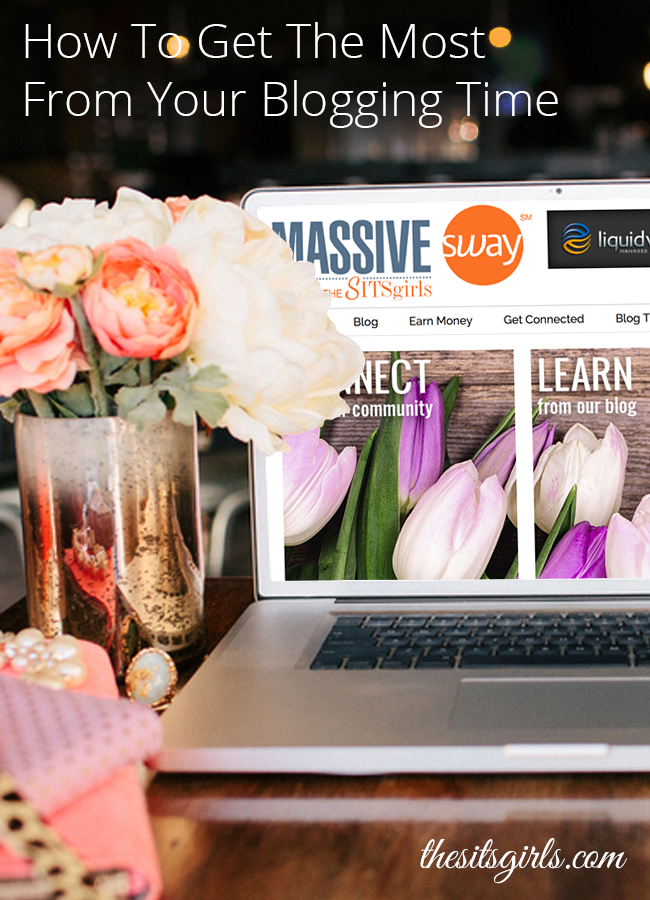 How To Get The Most Of Your Blogging Time
1. Prioritize
There is a lot of work that goes in to running blog.
Creating awesome posts
Editing photos
Sharing and promoting on social media
Responding to comments and emails
Managing affiliate programs and ad networks
Website backups
Website updates
Check out this Daily Blogging Checklist for more ideas
The first step in making the most of your blogging time is to figure out how to spend that time. Start by making a list of everything you need to do for your blog. Every blog is different, and every blogger has a different way of doing things. Once you have your list, figure out what the most important thing for your blog is. What is the one thing you know you need to make time for, even if you have time for nothing else? Don't get caught up on what you think this answer should be, rather, choose the item you know needs to be at the top for you. Once you have your number one, go ahead and go through the rest of your list and rank each item based on where it falls in your priority scale.
Now that your blogging tasks are organized by priority, it's time to take a look at how frequently those tasks need to be completed. Not every task needs to be done on a daily basis. Figure out how often you need to be working on the items on your list and jot that down beside them. This way you'll have a visual reference to refer to when planning out your time.
Start with your top priorities and most frequently need tasks, or in other words, your must do items. Figure out how much time you're going to need to complete these tasks and create a plan of attack that you can follow each day.
2. Set Boundaries
Some would call this setting office hours. Figure out when you're going to be able to work on your blogging. Think about the time you already have to dedicate to your blog. Do you get up before the rest of your family to get a few blogging hours in? Do you stay up late after the kiddos are tucked in? Maybe your blog time is when the little ones are napping and it changes a little day to day. Whatever time you have for blogging, make sure you keep it just for blogging. Set boundaries for that time, and honor them. Let your family and friends know that these are the times when you are working and cannot be interrupted. Eliminate as many distractions as you can during this time so you can focus solely on working on your blog. It might take a little time to get family and friends to respect your boundaries, but stick with them. It's important that you have this time to focus on your blog.
3. Use a Timer
When it comes to making most of your blogging time, a timer is your best friend. Blogging is full of time sucks. Social media alone is a mine field of distractions (I'm looking at you Pinterest), but it's not the only one. Analytics, email, comments, researching, networking…I could go on and on. We know how long we need (or have) to dedicate to certain tasks, and this is where the timer becomes your best friend. Set your timer for that amount of time, and only focus on that one task. When the timer beeps, it's time to stop and move on to the next item. Remember what I said about that never ending to-do list? The timer allows us to keep working on that list without getting lost in one task. Make peace with the fact that none of us can do it all. Devote what time you can, to the tasks you can and don't worry about the rest. It will come in time.
4. Find Your Rhythm
This is where everything comes together and the magic starts to happen. Finding your blogging rhythm, or routine if you prefer, will help you make more efficient use out of your time. You stop thinking so much about what to-do and just start doing. It could be something as simple as a general routine you follow each day, such as – check email first, then social media notifications, then blog comments. Maybe you work best in batches, focusing on writing content one day, editing/creating photos the next, then scheduling social media the next. You need to figure out what works for you and run with it, embrace it. Work with yourself not against yourself and you'll find that you're accomplishing a lot more than if you try to conform to what you think you should be doing.
I have a rhythm I follow when I write my posts, and it's hard to write them when I can't or don't follow that rhythm. I take, edit or make my photos first. All of them. I get them uploaded and fill out all the descriptions and SEO. Then I fill out the SEO data, assign categories, tags, and a feature image. Then, and only then, do I start writing my post. This way, if I find myself at a loss for words, I can insert one of my images and use it for inspiration. If I follow this format, I can write a post, start to finish, in under an hour. When I don't follow this format, sometimes it could take me days to finish a post. It's what works for me, and finding what works for you will save you some time and make your blogging time run more smoothly.
5. Have Fun!
Above all else, have fun! Remember why you started a blog in the first place. Tap into the passion you feel for what you write about. Time flies when you're having fun, but you'd be surprised at how much more productive you can be when you enjoy what you're doing. Blogging is hard work; fun but hard. By figuring out your priorities, setting some boundaries, and using your time in the way that works best for you, you'll find that you're using your blogging time to the best advantage for you.
I would love to hear from you.
How do you get the most from your blogging time?