This post may contain affiliate links which may give us a commission at no additional cost to you. As an Amazon Associate we earn from qualifying purchases.
Yay! You're ready to start a blog. So…now what?
The first thing you need to do is choose a blogging platform. What does that mean? Basically, it means where you are going to write all the fabulous content to share with your readers. The two most popular platforms are Blogger and WordPress.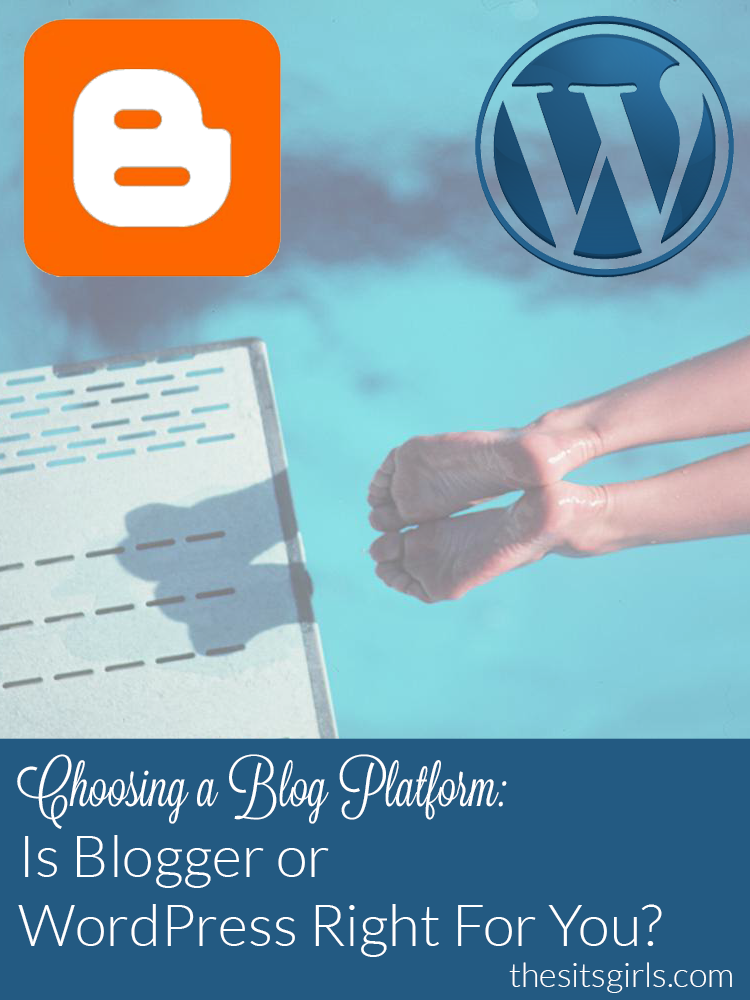 Getting a Blog: Blogger or WordPress?
Blogger
When most people begin blogging, they start with Blogger. The main reason is that Blogger is free, it is pretty user-friendly, and you can have a blog up and running in a matter of minutes- again, free. Although most people tend to move from Blogger to WordPress at some point, most also begin here.
WordPress
Then, there is WordPress, which comes in two forms- the free, .com version and the self-hosted .org version. Here's the deal; there are only so many choices we can handle before our brains explode, so I'm going to make this easy for you. If you want to stick to a free blog, where you are not paying anything, you should have a Blogger blog. WordPress.com is much more restrictive in what you are able to do behind the scenes and also does not allow ads. Monetization is a key goal for many bloggers, so if this is something you ever think you want to do, then wordpress.com is out. In addition, many of the fun plugins for wordpress.org are not available on the .com version, and there about five hundred other restrictions that I will spare you.
Which platform should you choose?
With this in mind, how do you decide which is right for you? It really depends on your blogging goals. With a self-hosted WordPress blog (more on this in our next post!), you own everything about your blog, it appears more professional, and allows you more customization options.
On the other hand, blogging might be just a hobby for you- and that's fine! But, if you want to go further with it, it pays to keep in mind that with Blogger blogs, Google owns your blog. While not a terribly frequent occurrence, Google can decide they don't like your content and delete your blog without warning (backing up is important!). For the record, I only know of one person this has ever happened to, so I'm not sure it's that terribly common. But if you go through all this work & effort on the blog, why risk it? You can even purchase your own domain name for the low price of $10 a year- though keep in mind that even with your own domain, Google still owns your blog.
If you have no intention of ever monetizing your blog and don't want to brand yourself/blog/name, etc., then Blogger is probably a fine choice for you. You can still create custom looks and designs in blogger, you can do a bit of advertising (though with some restrictions, and some prefer not to advertise on Blogger blogs), and there are add ons that can help spruce it up. However, for the blogger looking for future opportunities, to establish a presence, and maybe one day make some money, self-hosted WordPress is the way to go.
Are you on Blogger or WordPress?