This post may contain affiliate links which may give us a commission at no additional cost to you. As an Amazon Associate we earn from qualifying purchases.
Welcome back to another day of 31 Days to Build a Better Blog with The SITS Girls! Here in the Education channel, we are going through a handful of activities from Darren Rowse's Problogger eBook together at a slow downed pace. Day 9 discusses how you can join a forum and start participating. After you read that article, we make it easy for you to get started. Just hop over to the SITS Community discussion on the topic!
Today we're talking about setting up alerts to monitor what's happening in your niche (aka Day 10). If you don't have a niche, you'll still want to monitor your circle of blogs. Chances are you're following a lot of blogs already, so this task should be both educational and fun once you get past the words, "alert" and "monitor"!
What are Google Alerts?
Google Alerts are just automated search results brought directly to you via email or RSS. There are two reasons I use Google Alerts:
To monitor what people on the Internet might be saying about me
To monitor the topics on my blog so that I can keep on top of trends and find blogging inspiration
When you go to the Google Alerts page, you'll see this box: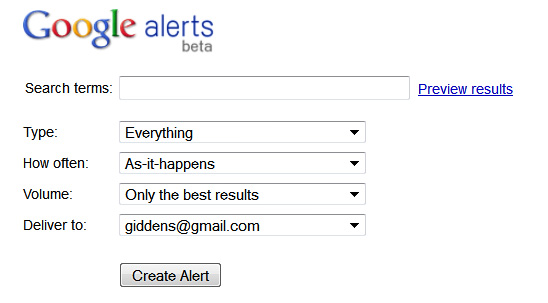 Here's what the fields mean:
Search Terms: These are your search parameters. You can run a few Google searches to test this if needed
Type: Everything, News, Blogs, Realtime, Video, Discussions
How Often: Only relevant to email alerts: As-it-happens, Once a day or Once a Week
Volume: Only the best results or all the results
Deliver it to: Your email or a feed URL
Monitor Yourself
The best use of Google Alerts is to monitor the Internet for what others might be saying about you. I have all of these alerts set up to be delivered to me via email since the results directly effect me. Here are just some examples of what you'll want to set up an alert for:
Links to your sites and social media accounts. Find out when people are linking to your site, Twitter page, Flickr account and more. To search for a link, type: link:http://www.urlhere.com into the search box.
Your name or alias. Even if you don't have a blog, it's a good idea to set up a Google Alert on your name. You never know when people might mention you!
Your site name if it's unique enough.
Monitor Others
Another use for Google Alerts is to help you keep on top of trends on the Internet. I have these alerts set up to be delivered via feed and I check my feed reader once a week to see what I can find.
I have a general photography education blog, so I have two simple alerts set up to be delivered to my feed reader: "photography tips" and "photoshop tips". If you have a very specific blog topic or an unique niche, Google alerts will probably be invaluable to help you keep on top of your market and find content to blog about. There are more targeted ways of monitoring blog content to find topics of interest to you and your readers.
Other Ways to Monitor Topics
Monitter: Pick several topics to filter through on Twitter and monitor them in real time.
Scoop.It: A new free site that allows you to set up multiple RSS feeds and searches to put together an article catalog about a topic.You can set up your own topic or monitor others. For example, you can see what I've put together for the SITS Girls 31DBBB or Photography & Photoshop Tips. (By the way, here's an EXCELLENT example on Marketing Strategy & Business with lots of great social media tips!)
Paper.li: This is like Scoop.It, but Twitter focused and completely automated. It takes a twitter search, hashtags or lists and compiles all the links, videos and photos tweeted out into a regular paper. It also allows you to automatically tweet out the links when the paper is updated, which includes replies for some of the contributing Twitter accounts. Some people don't like being included in these papers, but I find people are generally appreciative. Tweeting the links automatically is optional, but collecting the information in an easy-to-digest paper is undoubtedly a nicely organized way to monitor content! Here's the one I put together for the SITS Girls community on Twitter.
Subscribe via RSS: I use Feedly with Google Reader to subscribe to every well put together, interesting blog I come across. As you can see, my Links page is quite extensive as it lists all my subscriptions! Feedly is a great tool because it organizes the content in a magazine-style layout. I can mark my daily-read blogs as favorites and needn't worry that my unread item count is always maxed out. Feedly also makes it easy to search through all the blog articles fed into it and comes in handy when you're researching a topic.
Get Started Monitoring!
Take these ideas and suggestions from community members via the #SITS31DBBB hashtag on Twitter and tomorrow's forum post to start monitoring topics for your blog!
Make a list of search topics relevant to your blog. Test them out in Google. Remember exact phrases can go in quotes for more targeted results!
Determine how you want to monitor these results. A Google alert, even as an RSS feed, may not be targeted closely enough to the people and blogs that interest you. Consider using your existing blog subscriptions and Twitter friends to feed you this content!
Make a list of every link and search term you want to monitor to find out who's talking about you.

The
31 Days to Build a Better Blog Summer Challenge
is a program that Darren Rowse, aka Problogger, designed so that bloggers can improve their sites in about a month. Follow along
in our Forum
, with the
#SITS31DBBB hashtag on Twitter
, and on
Facebook
. It's never too late to jump in!
Here are the topics we've covered to date: