This post may contain affiliate links which may give us a commission at no additional cost to you. As an Amazon Associate we earn from qualifying purchases.
Any blogger who's worth her pageviews knows to check in on Google Analytics from time to time to see how her site is doing. But have you spent much time delving deeper into your Google Analytics report? There's a treasure trove of information waiting for you! Let's unlock that box!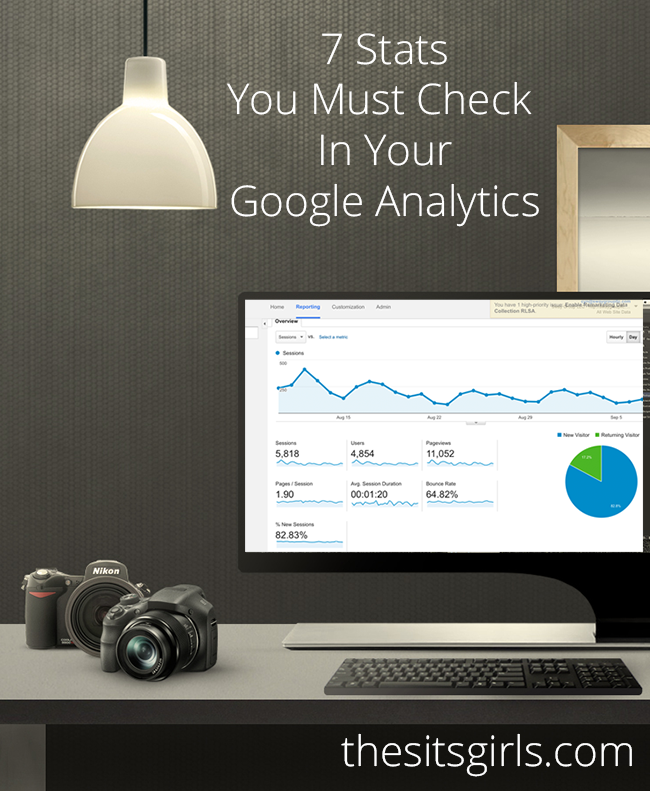 To get started, pay attention to what dates you're studying in your Google Analytics report. When I'm looking at Google Analytics, I like to see at least 30 days worth of traffic and up to a year at a time. Especially if your growth is slow and steady, when you look at a year's worth of data, you can see real progress.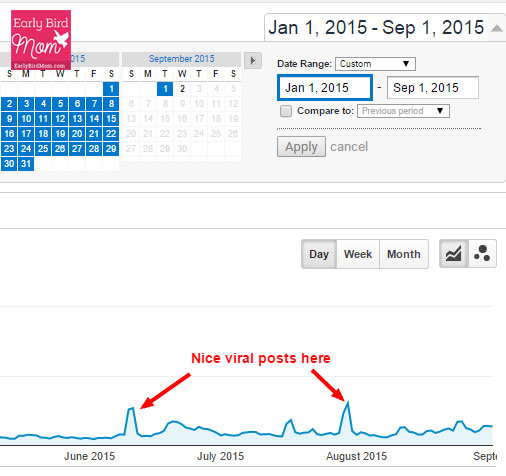 Tip: Switch between the daily, weekly and monthly views for noteworthy information.
Here are 7 must-check figures in your Google Analytics report and what to do with them.
1. What is your most popular social media network?
Is that traffic growing over time as you expected? Are you putting lots of time into a network that isn't giving you a good return? Should you devote more time to a particular network? Pinterest is my number one referrer (48% of traffic) so that's where I spend most of my social media time.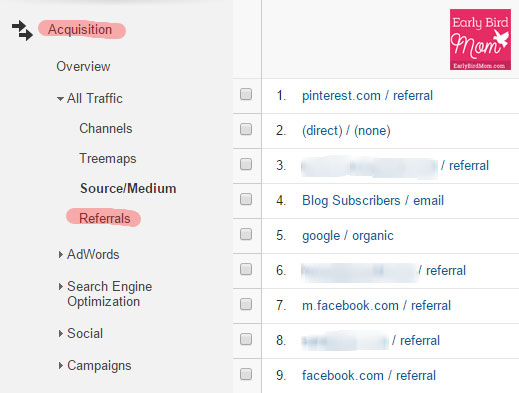 How to get this information: In Google Analytics, navigate to Acquisition – Source/Medium.
2. What are your top 5-10 most popular posts?
Are they newer posts or old ones? Make sure that you're promoting them on social media regularly. Brainstorm new topics around those posts. Go back and revisit them. Do they need editing? Can you add a better graphic for Pinterest? Can you add some affiliate links? Should other posts be linking back to these?
These popular posts are a huge key to what your audience likes. For instance, people love my bedroom cleaning checklists for kids so publishing more of those is on my editorial calendar.
How to get this information: Navigate to Behavior – Site Content – All Pages.
3. What is your time on site?
Is it increasing (or decreasing)? What can you do to increase that time? (See my top blogging secrets for some ideas!)
Look also at the time on page for each of your top pages. If it's below your site average, consider making changes to help people stick around a bit longer. Get this information in the same screen as #2 above.
4. Who's linking to your site?
Are there big sites that link to your content? Have you thanked them recently? Can you offer related posts to them? Offer to guest post for them? Sites that already link to you are a great place to work on getting additional exposure.
How to get this information: Navigate to Acquisition – All traffic – Referrals.
5. What are your top keywords?
What kind of click-through rate are you getting? Can you improve the title of the post to improve click-through? Are you ranking for keywords that fit your niche? Are you writing new posts about those keywords?
How to get this information: Navigate to Acquisition – Search engine optimization – Queries. (Note: this data is approximate and only shows the last 90 days.) Click the column headings to sort by impressions, clicks, and average position.
6. How much of your traffic is mobile?
Is your site mobile-friendly? Have you viewed your site on your phone lately? 72% of my traffic is viewed on a mobile device or a tablet – it's so critical that my site be mobile-friendly. It is also important to have your site set up to be mobile-responsive, as this is taken into account by Google for your search rank.
How to get this information: Navigate to Audience – Device – Overview.
7. Which pages are converting subscribers?
Are they the most popular pages? This is one of my favorite figures. You do have to do a quick set up of Analytics Goals first, but I promise it's not hard. Once you've got Goals configured in your Analytics, you can track email subscriptions, purchases if you have a store, and other fun stuff.
How to get this information: Navigate to Conversions – Goals – Overview.
Bonus tip: click Source / Medium to see where these readers came from before they completed a goal. This information is so valuable. For instance, maybe you notice that you don't get a lot of Pinterest traffic in general, but Pinterest is still your top source for email signups. Good to know, right?

Other useful stats to investigate include the entire Audience section (get an idea of the gender, location and interests of your visitors), And of course, if you have a viral post like I had recently, you simply must pull up the Real-Time section and watch the numbers skyrocket!
Google Analytics isn't just for numbers geeks like me.
Spend a little time digging around in your Analytics and see what treasures you unearth.
Do you like to use Google Analytics? Share your tips in the comments, and tell us what numbers you like to check. 
Keep Reading
Want more information about Google tools and optimizing your site?