This post may contain affiliate links which may give us a commission at no additional cost to you. As an Amazon Associate we earn from qualifying purchases.
New to SITS? Welcome!! Go read this to get started.
Welcome to the weekly blogging tip and comment game! This week I'm talking about Google Webmaster Tools.
We all know that Google is the Queen Bee of online information. When you have a blog or web site, it's important to know – and to control – how Google sees your site. You can do this by signing up with Google Webmaster Tools.
Go to google.com/webmasters, log-in with your Google account, and click on "Add a Site."
Type in your URL and you'll be directed to a verification page. If you use Blogger, the verification should be automatic. For other blog platforms (or if your Blogger blog was not verified automatically), the meta tag verification method is probably the easiest. You'll need to access your blog's HTML code and find the header section. Find the code that says </head> and paste Google's verification code right before that. Save that and then go back to Webmasters Tools and click "Verify."
There's lots of information you can find through Webmaster Tools. Browse around and check things out. For today, your assignment is to set up your sitemap. A sitemap is just what it sounds like — a map of all the pages on your site — but it's written in a language that is easily understood by search engine spiders. By submitting a sitemap to Google, you are helping them "see" your site more easily, crawl your site more easily, and find all your pages more easily.
If you use WordPress, there's a simple plugin that will generate your sitemap for you (yet another reason to switch to WordPress!).
If you're a Blogger user, Google already indexes Blogger blogs pretty well since Blogger and Google are integrated. But it's still a good idea to submit your sitemap to Webmaster Tools. First, type your blog URL in a browser and add /robots.txt at the end (i.e. blogname.blogspot.com/robots.txt). You'll then see a line that starts with "sitemap." Copy that URL. In your Webmaster Tools dashboard, click "Site Configuration," then "Sitemap," then "Submit a Sitemap" and paste in that URL. (If you don't see a "sitemap" line in your robots.txt file, go to the "Submit a Sitemap" page and next to your URL, type in "atom.xml" and click submit.)
Note: I've found a couple different instructions for Blogger users to submit a sitemap. If you have any trouble or need more information, check out this informative tutorial.
Now, let's play a game! Here are the rules for the SITS Saturday Sharefest:
Leave a comment here with a link to one of your best blog posts (or just your main URL if you prefer).
After you leave your comment, visit the link of the person who commented BEFORE you.
Comment on their post and be sure to say "Happy SITS Saturday Sharefest" in your comment.
Now, go leave some comments!
SITS Girls Bloggy Boot Camp now has tickets available for the Phoenix and San Francisco events!
Want to subscribe to SITS and get an email each time we post? Just click here.
And, as always, when you see this: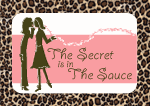 LEAVE A COMMENT.