This post may contain affiliate links which may give us a commission at no additional cost to you. As an Amazon Associate we earn from qualifying purchases.
It's one thing to blog for fun, but it's a whole other ball of wax when you decide to blog professionally. Creating, designing, and running a professional blog is a job, not a hobby. I think that a lot of people jump into blogging because they think it's going to be fun and easy – but then they abandon that blog later when they realize just how much work is really involved in it.
Now that's not to say that blogging professionally isn't fun! It is! But in order for your blog to be successful, you do need to be able to self-motivate and have a decent sense of perseverance — or what I like to call "Stick-to-itivness". I'm adding to our blogging tips and tutorials series with seven guidelines to blogging professionally that can help you create a successful blog.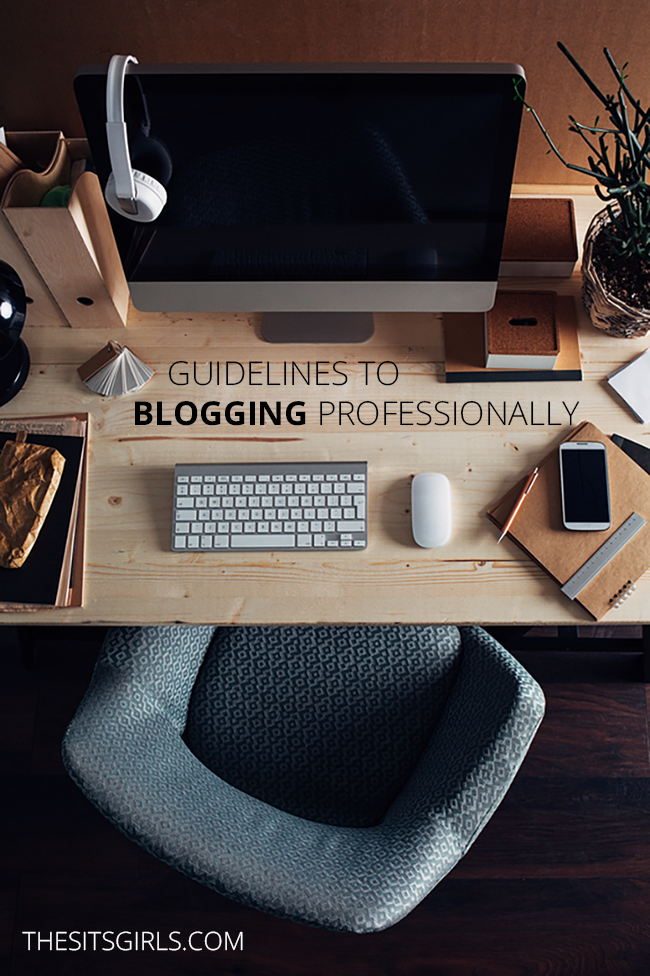 Guidelines To Blogging Professionally
1. Know Why You're Blogging
Why are you going to write this blog? Who is it going to help? You need to have an idea of why people will want to read your blog. The more useful you can be to readers of your blog, the better. It's usually best in the beginning to pick a very narrow focus for your blog — you can't please everyone, but you can build a strong following by focusing on a small group. You can always expand your focus over time.
2. Choose the Right Platform
Most professional bloggers choose to use a self-hosted WordPress blog. I know that upsets a lot of people who are on other platforms, but it's the truth. Owning your own blog shows that you're serious and you take your business seriously.
3. Choose a Professional Looking Design
Don't use the "right out of the box" theme; look for a theme that shows your personality. People are going to connect with your personality, so you want everything about your blog to show that off.
Your design should be clean, without distractions. You also want to make sure that you use a standard font, and a light background with black or dark grey text. Readers wont's take your blog seriously if they can't read it.
4. Create Your Own Voice
Avoid being generic! Use your own voice and style when writing your posts. Readers are more loyal to a blogger when they feel as if they know her.
Never copy another blogger's style. While it's fine to be inspired by someone else's style, you should never try to imitate it. People want to know you, not a carbon copy of someone else.
5. Start Building an Email List
This is one of the most important steps in professional blogging. Have an opt-in form on your blog with an enticing offer. Even if your plan is turn earn ad-based revenue, you should be collecting email addresses. Once you have that email list, it's yours. As long as you build trust and never abuse it by spamming, you'll always have it. An email list is the most valuable thing you can create with your blog.
6. Keep it Fresh
Don't let your blog fall into a rut. Update it regularly with new information, always keeping in mind what is of interest to your readers. The best advice for blogging is to write what your readers want to read — not what you want to tell them.
7. Use Social Media Wisely
Make it easy for your readers to find and follow you on social media. Name your social media accounts after your blog or business, and use similar design elements on your profile images. A unified appearance goes a very long way to creating an air of professionalism around your blog!
Now that you have read our guidelines to blogging professionally, we would love to hear your tips! What would you add to this list?