This post may contain affiliate links which may give us a commission at no additional cost to you. As an Amazon Associate we earn from qualifying purchases.
It's happened to the best of us. Everything is running smoothly and then one day you log over to your blog to find an error page, or your posts appear to be missing, or God forbid you are redirected to a porn site.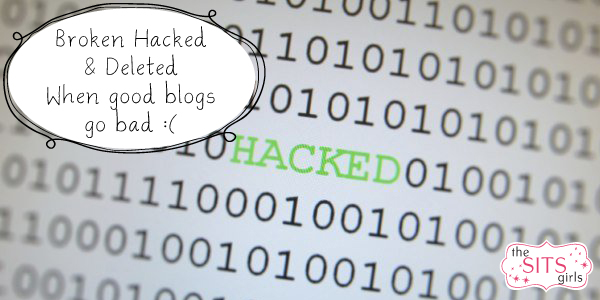 WHAT HAPPENED?
Here are just some of the common problems that might create issues for your site:
1. You installed a widget or a bit of code that is not playing nice with your other widgets and codes and instead of working out their problems they decided to crash your site.
2. Your server is down.
3. You upgraded WordPress and things went downhill from there.
4. Someone hacked your password and slipped in while you were sleeping.
WHY WOULD THEY DO THAT TO ME?
Because they're hackers and that's what hackers do. They want information and ultimately your money. Crooks know your home has your valuables and they know right where to go to find them. Same can be said with your online identity. If they can crack the code to your site it opens the window to so much more valuable information.
WHAT DO YOU DO?
Here are some tips to help get your site back online…
1. Stop hyperventilating.
This has happened to SO many bloggers. Chances are your information is backed up somewhere and someone, somehow, is going to restore it to it's beautiful self. Trust in that and keep reminding yourself that it's going to be okay.
2. Contact your host.
If you're on self hosted WordPress than you probably pay someone to host your blog. You will need to know who your host is and how to access your account with them. Sometimes we have our programmers set that all up for us when we switch from Blogger to WordPress…if you don't already have that information than you should get it from whoever set your blog up for you. I advise you to collect that information now so that you have it ready just in case you need it down the road.
3. Change your admin/Password
And while you're at it, make sure your password varies across the spectrum of accounts you have with the different social media sites, email accounts, banks, etc… Don't make it easy for hackers to access every piece of your identity.
4. Get Help
I can't imagine running into this problem and NOT having someone in my back pocket to turn to for help. Whether it be your site programmer, the friend who helped you switch or your tech savvy spouse…you need someone to help you retrieve your hacked blog. Keep a list of people you can go to for help and if all else fails…ASK TWITTER!
5. Research
While you're waiting for your hacked blog and peace of mind to be restored…read up on other people's experiences. It will help to educate yourself and you will find a ton of other things you can do to make sure this doesn't happen again.
Here are a few to get you started!
FAQ My Site Was Hacked
How to Keep Your Blog Hacker, Spammer, and Spyware-free
Prevent Your WordPress Blog from Being Hacked
15 Things I Did When My Blog Was Hacked
Am I missing anything? Have you had to deal with a hacked blog? What other tips can you share to help someone through this problem?