This post may contain affiliate links which may give us a commission at no additional cost to you. As an Amazon Associate we earn from qualifying purchases.
Storytelling is part of what makes us human and what connects us to other people. We tend to be drawn to people who tell good stories, who make us laugh or always have an interesting point of view to share.
It's true online just as it is true in person. We like storytellers, whether they tell their story in 140 characters, a beautiful shot on Instagram, or a heartfelt blog post.
You might not think of yourself as a storyteller, but storytelling is at the heart of good blogging and sharing online.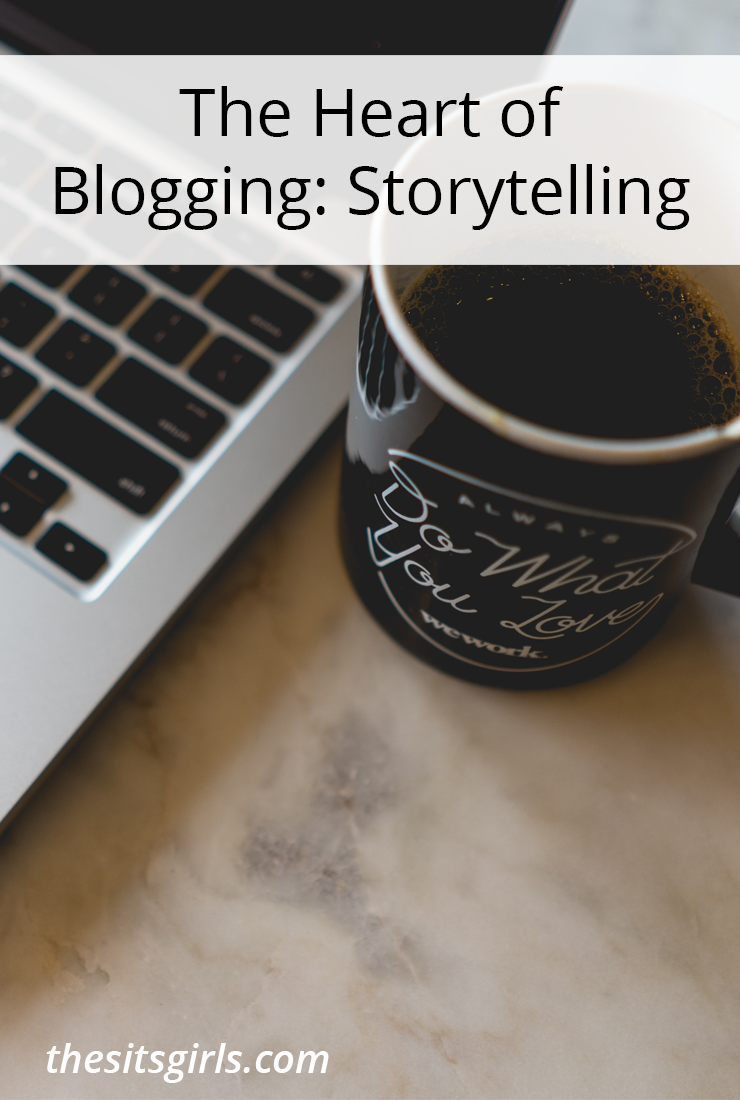 The Heart Of Blogging: Storytelling
Your most popular posts – and the things more likely to go viral in general – are probably stories, things other people can relate to, solutions to problems that other people have.
Whether you blog about family life, engineering, food, crafts, fashion, business, or anything else, you're really telling stories, and your readers will connect and respond more to those posts that contain a story rather than a just-the-facts presentation.
That doesn't mean you have to overshare or tell the world things you aren't comfortable with. You don't have to use family members' real names or post pictures of your kids online if you don't want to.
It does mean giving some back story, some insight into to who you are that allows you to connect with your readers and vice-versa.
How to Add Story to Blog Posts
Instead of just sharing the recipe, talk about how your grandmother used to make meatballs that cooked all day and you wanted to see if you could do it in 20 minutes.
Tell your readers what inspired your latest craft project or how that made-over dresser gets used in your daily life.
Share why you put together that particular outfit and where you wear it.
Instead of publishing a Q&A, weave the answers into a narrative that is more fun to write and to read.
When talking about a cause you care about, include your human connection to that organization instead of just encouraging people to support it.
Think about why you wanted to start a blog. It was probably because you had something to share, a story you wanted to tell.
Even if your particular story has changed in the meantime, there are still stories to tell. That's what blogging is.
It's what life is, really.
Learning How to Tell Stories
To bring more storytelling to your blog, first you need to think about the general story your blog is trying to tell.
How do your posts tie into that story? How can you connect readers to that idea with the pieces you write?
The story of my blog right now, for example, is that I've challenged myself to post and complete a creative challenge each day this year. Each post is part of that story and allows me to share when I'm feeling uninspired, when I'm really excited about what I'm doing, and aspects of my daily life I wouldn't share otherwise.
Readers see the ebb and flow of creativity in these daily posts, which I hope helps them understand when they have similar feelings, and inspires them to bring a little creativity into their everyday lives — even when it's hard or they are tired or not feeling creative. I'm showing them that it's possible.
Just as with any part of your writing that you want to improve, to learn how to tell better stories you probably need to read more. There are a lot of great books for writing inspiration. Exposure to the good stuff rubs off on you, but even less-successful pieces can teach you something.
As you read, think about how the writer is weaving story into their piece and how well they are doing, or how they might have added a story if they didn't.
Before you start writing, think about the story you want to tell with your blog in general and with that particular piece.
Maybe your project solved a problem or your great meal got you through a busy day. Maybe something your child did reminded you of a great truth of parenting. Include those thoughts, that story, in your post.
No matter what you write it's possible to incorporate more stories into your blog, and the more you do it, the more readers will respond.
Do you have any great posts on your site that include a story that readers have really resonated with? (One of my favorites from my site is called Photographs Without Memories and has to do with how we document and remember things in the digital age.) We'd love to see them and hear how you add stories to your pieces or how you might try to do so after reading this post! Feel free to leave links to your best stories in the comments.