This post may contain affiliate links which may give us a commission at no additional cost to you. As an Amazon Associate we earn from qualifying purchases.
If you're like me the mere thought of the holidays makes you want to cringe because this year is just going by way to fast. Yet at the same time, the holiday season is filled with many memory making opportunities that are priceless. Even though I'd much rather put the holiday season on the back burner, as a blogger that option isn't available! The time to start thinking about holiday blog content is NOW!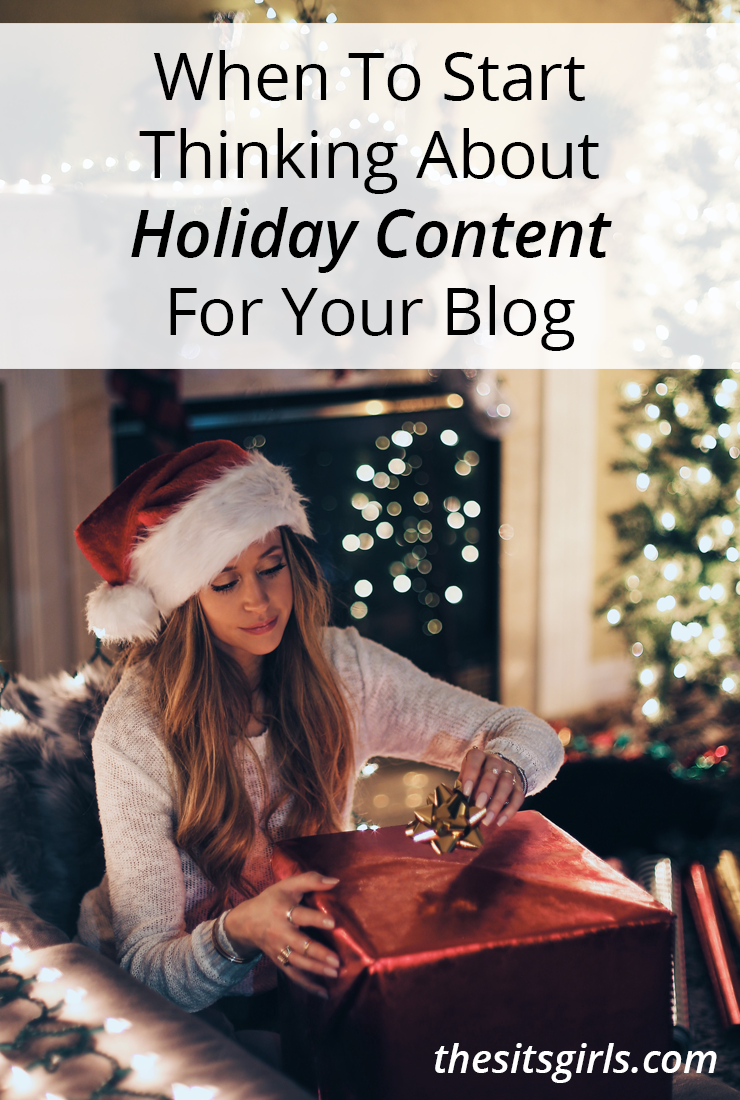 It's Time To Start Planning Holiday Blog Content
Check Local Stores Marketing Trends
The way I know that is by the mere fact that all of my local stores already have Halloween products AND Christmas products filling up their shelves. There was a Learn to Blog Hangout that actually taught me this fact. Crystal stated that she knew what she should be covering on her blog just by what was being promoted in her local Target when she walked in their doors.
It is a good general rule is to start promoting holiday or other big events 30 days ahead of time — especially on Pinterest. There is always some way to incorporate something related to the holidays within your blog posts. Don't wait until the last minute to create holiday blog content.
Here are some very broad ideas to get your mind rolling:
If you're a food blogger, think of all the family favorites you make every year and start sharing them.
If you're a craft blogger, share with us some DIY gift ideas we can make ourselves to give as gifts.
If you're a parenting blogger, tell us some of the best parenting tips you can think of to help us have a smooth holiday with kids of all ages.
If you're a marriage blogger, talk about how the holidays adds additional stress to relationships and how we can stay strong through these stressful times.
Don't Limit Holiday Content To Just Promoting Your Blog Posts
Not only should you think about the topics you're going to cover on your blog, you also need to share other's wonderful holiday ideas across your social media channels. Focus on getting your readers talking to you about how you can help them have a wonderful holiday season by asking questions.
Holiday Time Is Money Making Time
Also, while you're writing and preparing these posts, think about all the products you're an affiliate for and include those links and banners where they fit. If you haven't already started reaching out to companies that you want to work with you need to get on board with doing that before their marketing budgets are gone.
Be sure to check out Blogging-Mama's Sample Pitch Letter-post (she also has other posts that expand on sponsored requests too). This is the PRIME time to be making money with your blog. You can even make a holiday guide. If it's done right, you can be richly blessed from it.
As you can see, it's time to get your fingers rolling and your mind thinking about holiday content already. I hope this post helped you get ready for the holiday season with your blog.
What tips would you add for holiday blog content?
P.S. Starting in October, I'll be sharing blogging tips on my new blog again. If you haven't already visited the new blog, we'd love your company at Sharing Life's Moments.
Keep Reading